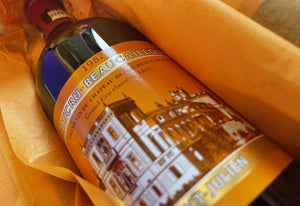 Fine and investment wines
If you are looking to buy some really fine wine, we may be able to help. Through our contacts in France and elsewhere, we have access to a range of what might be considered 'investment' wines. Whether a recent release with years of cellaring ahead of it, or a rare old vintage to mark a special anniversary, these are valuable and sought-after bottles whose value, like that of all rarities, can fluctuate. We aim to offer competitive pricing and a friendly service if any of the wines on this list is of interest to you.
The table below lists first, all our offers from Bordeaux; and then wines from other areas, distinguished by a blue background.
In the packaging details, CB indicates a wooden box, CT the winery's cardboard carton.
Orders for these wines must be placed through our office by e-mail.

We source these wines ex cellars from our partners in Bordeaux.

Prices shown are per bottle for full cases of six or twelve bottles, and include duty and VAT at the prevalent rate.

Stock is supplied at our warehouse in Cork. Handling and shipping charges may apply for onward delivery. Worldwide delivery is possible; please enquire for rates.

In normal circumstances, wines can be delivered in ten days to a fortnight from date of purchase.
The current list of wines is available here as an .xlsx download.
Don't hesitate to get in touch if you need any further information or advice, or are looking for a wine not listed here.
Latest investment wines list
The table below shows the current list of investment wines to which we have access.
Please note that availability is not guaranteed.
Appellation
Wine
Vintage
€/unit
Available
Format
Packaging
Ratings

Appellation

PAUILLAC

Wine

ALIAS CROIZET BAGES

Vintage

2014

€/unit

28.90

Available

> 300

Format

0.75

Packaging

CB 6

Ratings

Appellation

BORDEAUX BLANC

Wine

ALTO DE CANTENAC BROWN

Vintage

2015

€/unit

35.40

Available

6

Format

0.75

Packaging

Unit 1

Ratings

Appellation

BORDEAUX BLANC

Wine

ALTO DE CANTENAC BROWN

Vintage

2018

€/unit

37.30

Available

> 300

Format

0.75

Packaging

CT 6

Ratings

JS: 93-94

Appellation

ST EMILION GRAND CRU

Wine

AROMES DE PAVIE

Vintage

2015

€/unit

143.70

Available

6

Format

0.75

Packaging

CB 6

Ratings

Appellation

ST EMILION GRAND CRU

Wine

AROMES DE PAVIE

Vintage

2017

€/unit

140.10

Available

> 300

Format

0.75

Packaging

CB 6

Ratings

Appellation

ST EMILION GRAND CRU

Wine

AROMES DE PAVIE

Vintage

2018

€/unit

145.00

Available

12

Format

0.75

Packaging

CB 6

Ratings

Appellation

ST EMILION GRAND CRU

Wine

AROMES DE PAVIE

Vintage

2020

€/unit

117.70

Available

102

Format

0.75

Packaging

CB 6

Ratings

Appellation

POMEROL

Wine

BALLADE DE LA POINTE

Vintage

2016

€/unit

37.30

Available

42

Format

0.75

Packaging

CT 6

Ratings

Appellation

POMEROL

Wine

BALLADE DE LA POINTE

Vintage

2017

€/unit

32.60

Available

> 300

Format

0.75

Packaging

CT 6, Unit 1

Ratings

Appellation

POMEROL

Wine

BALLADE DE LA POINTE

Vintage

2018

€/unit

33.20

Available

13

Format

0.75

Packaging

CT 6, Unit 1

Ratings

Appellation

POMEROL

Wine

BALLADE DE LA POINTE

Vintage

2019

€/unit

33.20

Available

> 300

Format

0.75

Packaging

CT 6, Unit 1

Ratings

Appellation

POMEROL

Wine

BALLADE DE LA POINTE

Vintage

2020

€/unit

35.30

Available

> 300

Format

0.75

Packaging

CT 6, Unit 1

Ratings

Appellation

MARGAUX

Wine

BARON DE BRANE

Vintage

2013

€/unit

37.90

Available

> 300

Format

0.75

Packaging

CB 6

Ratings

Appellation

MARGAUX

Wine

BARON DE BRANE

Vintage

2016

€/unit

44.40

Available

1

Format

0.75

Packaging

Unit 1

Ratings

Appellation

MARGAUX

Wine

BARON DE BRANE

Vintage

2018

€/unit

89.30

Available

30

Format

1.5

Packaging

CB 6

Ratings

JS: 91-92 , AG: 89-91

Appellation

BORDEAUX BLANC

Wine

BLANC DE CHASSE SPLEEN

Vintage

2020

€/unit

35.40

Available

12

Format

0.75

Packaging

CB 6

Ratings

Appellation

BORDEAUX BLANC

Wine

BLANC DE CHASSE SPLEEN

Vintage

2021

€/unit

38.70

Available

18

Format

0.75

Packaging

CT 6

Ratings

Appellation

BORDEAUX BLANC

Wine

BLANC DE LA TOUR CARNET

Vintage

2015

€/unit

47.60

Available

225

Format

0.75

Packaging

CB 6, Unit 1

Ratings

Appellation

BORDEAUX BLANC

Wine

BLANC DE LA TOUR CARNET

Vintage

2016

€/unit

49.80

Available

78

Format

0.75

Packaging

CB 6

Ratings

JS: 91-92

Appellation

BORDEAUX BLANC

Wine

BLANC DE LA TOUR CARNET

Vintage

2017

€/unit

49.80

Available

174

Format

0.75

Packaging

CB 6

Ratings

JS: 90-91

Appellation

BORDEAUX BLANC

Wine

BLANC DE LA TOUR CARNET

Vintage

2020

€/unit

49.20

Available

48

Format

0.75

Packaging

CB 6

Ratings

Appellation

MARGAUX

Wine

BLASON D'ISSAN

Vintage

2014

€/unit

46.50

Available

2

Format

0.75

Packaging

Unit 1

Ratings

JS: 92

Appellation

MARGAUX

Wine

BLASON D'ISSAN

Vintage

2017

€/unit

39.90

Available

36

Format

0.75

Packaging

CB 6

Ratings

JS: 93 , LPB: 88

Appellation

MARGAUX

Wine

BLASON D'ISSAN

Vintage

2018

€/unit

42.10

Available

5

Format

0.75

Packaging

CB 1

Ratings

JS: 94 , AG: 90 , JA: 90

Appellation

MARGAUX

Wine

BLASON D'ISSAN

Vintage

2018

€/unit

85.60

Available

96

Format

1.5

Packaging

CB 6

Ratings

JS: 94 , AG: 90 , JA: 90

Appellation

MARGAUX

Wine

BLASON D'ISSAN

Vintage

2019

€/unit

42.80

Available

252

Format

0.75

Packaging

CB 6

Ratings

JS: 93 , AG: 89 - 91 , LPB: 87

Appellation

MARGAUX

Wine

BRIO DE CANTENAC BROWN

Vintage

2017

€/unit

36.90

Available

156

Format

0.75

Packaging

CT 6

Ratings

Appellation

MARGAUX

Wine

BRIO DE CANTENAC BROWN

Vintage

2018

€/unit

38.70

Available

204

Format

0.75

Packaging

CT 6

Ratings

JS: 92 - 93 , AG: 89 - 91

Appellation

MARGAUX

Wine

BRIO DE CANTENAC BROWN

Vintage

2019

€/unit

39.90

Available

> 300

Format

0.75

Packaging

CT 6

Ratings

Appellation

MARGAUX

Wine

BRIO DE CANTENAC BROWN

Vintage

2020

€/unit

42.10

Available

> 300

Format

0.75

Packaging

CT 6

Ratings

AG: 92

Appellation

POMEROL

Wine

BY CLINET

Vintage

2013

€/unit

37.30

Available

87

Format

0.75

Packaging

CT 6, Unit 1

Ratings

Appellation

POMEROL

Wine

BY CLINET

Vintage

2018

€/unit

41.20

Available

1

Format

0.75

Packaging

Unit 1

Ratings

Appellation

SAUTERNES

Wine

CARMES DE RIEUSSEC

Vintage

2017

€/unit

34.40

Available

66

Format

0.75

Packaging

CT 6

Ratings

Appellation

SAUTERNES

Wine

CARMES DE RIEUSSEC

Vintage

2018

€/unit

34.40

Available

> 300

Format

0.75

Packaging

CT 6

Ratings

JS: 90-91

Appellation

SAUTERNES

Wine

CARMES DE RIEUSSEC

Vintage

2019

€/unit

19.60

Available

> 300

Format

0.375

Packaging

CT 12

Ratings

Appellation

SAUTERNES

Wine

CARMES DE RIEUSSEC

Vintage

2019

€/unit

19.60

Available

8

Format

0.375

Packaging

Unit 1

Ratings

Appellation

SAUTERNES

Wine

CARMES DE RIEUSSEC

Vintage

2019

€/unit

39.10

Available

> 300

Format

0.75

Packaging

CT 6

Ratings

Appellation

SAUTERNES

Wine

CARMES DE RIEUSSEC

Vintage

2020

€/unit

20.40

Available

> 300

Format

0.375

Packaging

CT 12

Ratings

Appellation

SAUTERNES

Wine

CARMES DE RIEUSSEC

Vintage

2020

€/unit

41.00

Available

> 300

Format

0.75

Packaging

CT 6

Ratings

Appellation

PAUILLAC

Wine

CARRUADES DE LAFITE

Vintage

2010

€/unit

1226.70

Available

3

Format

1.5

Packaging

CB 3

Ratings

JS: 95 - 96 , JA: 93

Appellation

PAUILLAC

Wine

CARRUADES DE LAFITE

Vintage

2011

€/unit

531.40

Available

48

Format

0.75

Packaging

CB 12

Ratings

JS: 91 - 92 , JA: 92 - 93

Appellation

PAUILLAC

Wine

CARRUADES DE LAFITE

Vintage

2013

€/unit

539.80

Available

6

Format

0.75

Packaging

CB 3

Ratings

JS: 92

Appellation

PAUILLAC

Wine

CARRUADES DE LAFITE

Vintage

2015

€/unit

563.20

Available

120

Format

0.75

Packaging

CB 1, CB 3, CB 6

Ratings

JS: 92 - 93 , AG: 90 - 93 , LPB: 91

Appellation

PAUILLAC

Wine

CARRUADES DE LAFITE

Vintage

2016

€/unit

586.30

Available

6

Format

0.75

Packaging

CB 1

Ratings

JS: 93 , LPB: 94

Appellation

PAUILLAC

Wine

CARRUADES DE LAFITE

Vintage

2018

€/unit

577.90

Available

150

Format

0.75

Packaging

CB 6

Ratings

JS: 97 , AG: 93 , LPB: 93 , JA: 93

Appellation

PAUILLAC

Wine

CARRUADES DE LAFITE

Vintage

2019

€/unit

571.60

Available

210

Format

0.75

Packaging

CB 6

Ratings

JS: 96 , AG: 93 , LPB: 93 , JD: 94

Appellation

PAUILLAC

Wine

CARRUADES DE LAFITE

Vintage

2020

€/unit

563.20

Available

264

Format

0.75

Packaging

CB 6

Ratings

JS: 96 - 97 , AG: 92 , LPB: 93 , JD: 93

Appellation

PAUILLAC

Wine

CARRUADES DE LAFITE

Vintage

2020

€/unit

1145.70

Available

12

Format

1.5

Packaging

CB 3

Ratings

JS: 96 - 97 , AG: 92 , LPB: 93 , JD: 93

Appellation

HAUT MEDOC

Wine

CERES DE HAUT BAGES LIBERAL

Vintage

2020

€/unit

29.90

Available

> 300

Format

0.75

Packaging

CT 6, Unit 1

Ratings

Appellation

HAUT MEDOC

Wine

CERES DE HAUT BAGES LIBERAL

Vintage

2021

€/unit

29.90

Available

300

Format

0.75

Packaging

CT 6

Ratings

Appellation

ST EMILION GRAND CRU

Wine

CH ANGELUS

Vintage

2011

€/unit

514.50

Available

12

Format

0.75

Packaging

CB 6

Ratings

JS: 93 - 94

Appellation

ST EMILION GRAND CRU

Wine

CH ANGELUS

Vintage

2011

€/unit

1020.30

Available

6

Format

1.5

Packaging

CB 3

Ratings

JS: 93 - 94

Appellation

ST EMILION GRAND CRU

Wine

CH ANGELUS

Vintage

2011

€/unit

2230.60

Available

1

Format

3

Packaging

CB 1

Ratings

JS: 93 - 94

Appellation

ST EMILION GRAND CRU

Wine

CH ANGELUS

Vintage

2012

€/unit

778.70

Available

18

Format

0.75

Packaging

CB 6, CB 12

Ratings

JS: 93 - 94

Appellation

ST EMILION GRAND CRU

Wine

CH ANGELUS

Vintage

2012

€/unit

1554.50

Available

6

Format

1.5

Packaging

CB 3

Ratings

JS: 93 - 94

Appellation

ST EMILION GRAND CRU

Wine

CH ANGELUS

Vintage

2012

€/unit

3241.50

Available

2

Format

3

Packaging

CB 1

Ratings

JS: 93 - 94

Appellation

ST EMILION GRAND CRU

Wine

CH ANGELUS

Vintage

2013

€/unit

458.50

Available

6

Format

0.75

Packaging

CB 6

Ratings

JS: 92 - 93 , LPB: 90

Appellation

ST EMILION GRAND CRU

Wine

CH ANGELUS

Vintage

2014

€/unit

499.40

Available

6

Format

0.75

Packaging

CB 6

Ratings

JS: 93 - 94 , AG: 93 - 96

Appellation

ST EMILION GRAND CRU

Wine

CH ANGELUS

Vintage

2014

€/unit

975.30

Available

6

Format

1.5

Packaging

CB 3

Ratings

JS: 93 - 94 , AG: 93 - 96

Appellation

ST EMILION GRAND CRU

Wine

CH ANGELUS

Vintage

2014

€/unit

2010.10

Available

1

Format

3

Packaging

CB 1

Ratings

JS: 93 - 94 , AG: 93 - 96

Appellation

ST EMILION GRAND CRU

Wine

CH ANGELUS

Vintage

2015

€/unit

4852.40

Available

1

Format

6

Packaging

CB 1

Ratings

JS: 99 - 100 , AG: 94 - 96 , LPB: 98

Appellation

ST EMILION GRAND CRU

Wine

CH ANGELUS

Vintage

2016

€/unit

546.40

Available

24

Format

0.75

Packaging

CB 6

Ratings

JS: 99 , LPB: 99

Appellation

ST EMILION GRAND CRU

Wine

CH ANGELUS

Vintage

2016

€/unit

4927.40

Available

1

Format

6

Packaging

CB 1

Ratings

JS: 99 , LPB: 99

Appellation

ST EMILION GRAND CRU

Wine

CH ANGELUS

Vintage

2017

€/unit

475.60

Available

30

Format

0.75

Packaging

CB 6

Ratings

JS: 97 , LPB: 96

Appellation

ST EMILION GRAND CRU

Wine

CH ANGELUS

Vintage

2018

€/unit

546.40

Available

66

Format

0.75

Packaging

CB 6

Ratings

JS: 98 , AG: 97 , LPB: 98 , JA: 97

Appellation

ST EMILION GRAND CRU

Wine

CH ANGELUS

Vintage

2019

€/unit

539.80

Available

60

Format

0.75

Packaging

CB 6

Ratings

JS: 98 , AG: 97 , LPB: 98

Appellation

ST EMILION GRAND CRU

Wine

CH ANGELUS

Vintage

2020

€/unit

539.80

Available

30

Format

0.75

Packaging

CB 6

Ratings

JS: 98 - 99 , LPB: 100 , JD: 98

Appellation

ST EMILION GRAND CRU

Wine

CH ANGELUS

Vintage

2020

€/unit

1117.70

Available

9

Format

1.5

Packaging

CB 3

Ratings

JS: 98 - 99 , LPB: 100 , JD: 98

Appellation

ST EMILION GRAND CRU

Wine

CH ANGELUS

Vintage

2020

€/unit

5430.20

Available

1

Format

6

Packaging

CB 1

Ratings

JS: 98 - 99 , LPB: 100 , JD: 98

Appellation

ST EMILION GRAND CRU

Wine

CH BARDE-HAUT

Vintage

2018

€/unit

56.50

Available

> 300

Format

0.75

Packaging

CB 12

Ratings

JS: 94 , AG: 94 , LPB: 94

Appellation

ST EMILION GRAND CRU

Wine

CH BARDE-HAUT

Vintage

2019

€/unit

52.00

Available

24

Format

0.75

Packaging

CB 6

Ratings

JS: 95 , AG: 95 , LPB: 95

Appellation

PESSAC LEOGNAN BLANC

Wine

CH BARET

Vintage

2013

€/unit

26.60

Available

72

Format

0.75

Packaging

CT 12

Ratings

Appellation

PESSAC LEOGNAN ROUGE

Wine

CH BARET

Vintage

2016

€/unit

28.40

Available

> 300

Format

0.75

Packaging

CT 6, Unit 1

Ratings

JS: 92-93

Appellation

SAUTERNES

Wine

CH BASTOR LAMONTAGNE

Vintage

2011

€/unit

44.60

Available

6

Format

0.75

Packaging

CB 6

Ratings

JS: 90 - 91

Appellation

SAUTERNES

Wine

CH BASTOR LAMONTAGNE

Vintage

2018

€/unit

41.00

Available

6

Format

0.75

Packaging

CB 6

Ratings

JS: 92 , AG: 91 , JA: 92

Appellation

HAUT MEDOC

Wine

CH BEL AIR MA

Vintage

2012

€/unit

19.70

Available

3

Format

0.75

Packaging

Unit 1

Ratings

SILVER BORDEAUX 2014

Appellation

HAUT MEDOC

Wine

CH BEL AIR MA

Vintage

2013

€/unit

17.00

Available

266

Format

0.75

Packaging

CT 6, Unit 1

Ratings

SILVER BORDEAUX 2016

Appellation

HAUT MEDOC

Wine

CH BEL AIR MO

Vintage

2011

€/unit

19.70

Available

10

Format

0.75

Packaging

Unit 1, Unit 1

Ratings

GOLD BORDEAUX 2014

Appellation

ST EMILION GRAND CRU

Wine

CH BELLEFONT-BELCIER

Vintage

2013

€/unit

47.60

Available

24

Format

0.75

Packaging

CB 6

Ratings

JS: 89 - 90 , AG: 88 - 91

Appellation

ST EMILION GRAND CRU

Wine

CH BELLEFONT-BELCIER

Vintage

2017

€/unit

60.90

Available

204

Format

0.75

Packaging

CB 6

Ratings

JS: 94

Appellation

ST EMILION GRAND CRU

Wine

CH BELLEFONT-BELCIER

Vintage

2018

€/unit

63.10

Available

> 300

Format

0.75

Packaging

CB 6, Unit 1

Ratings

JS: 95 , AG: 93 , JA: 94

Appellation

ST EMILION GRAND CRU

Wine

CH BELLEFONT-BELCIER

Vintage

2019

€/unit

63.10

Available

204

Format

0.75

Packaging

CB 6

Ratings

JS: 95 , AG: 94 , LPB: 94

Appellation

ST EMILION GRAND CRU

Wine

CH BELLEFONT-BELCIER

Vintage

2020

€/unit

72.30

Available

90

Format

0.75

Packaging

CB 6

Ratings

JS: 97 , AG: 94 , LPB: 94 , JD: 98

Appellation

ST EMILION GRAND CRU

Wine

CH BELLEVUE

Vintage

2011

€/unit

72.30

Available

17

Format

0.75

Packaging

CB 12, Unit 1

Ratings

JS: 92 - 93

Appellation

ST EMILION GRAND CRU

Wine

CH BELLEVUE

Vintage

2018

€/unit

63.10

Available

60

Format

0.75

Packaging

CB 12

Ratings

JS: 95 , AG: 90 - 93 , LPB: 94

Appellation

ST EMILION GRAND CRU

Wine

CH BELLEVUE

Vintage

2020

€/unit

63.10

Available

288

Format

0.75

Packaging

CB 6

Ratings

JS: 94 , AG: 85

Appellation

HAUT MEDOC

Wine

CH BELLE-VUE

Vintage

2020

€/unit

27.70

Available

6

Format

0.75

Packaging

CB 6

Ratings

JS: 92 , AG: 90 , LPB: 87 , JD: 91

Appellation

ST EMILION GRAND CRU

Wine

CH BELLEVUE MONDOTTE

Vintage

2014

€/unit

199.40

Available

119

Format

0.75

Packaging

CB 6, Unit 1

Ratings

JS: 92 - 93 , AG: 92 - 95

Appellation

ST ESTEPHE

Wine

CH BERNARD MAGREZ

Vintage

2018

€/unit

62.00

Available

> 300

Format

0.75

Packaging

CB 6

Ratings

JS: 92-93

Appellation

ST JULIEN

Wine

CH BEYCHEVELLE

Vintage

2009

€/unit

236.90

Available

18

Format

0.75

Packaging

CB 6

Ratings

JS: 90 - 93 , LPB: 95 , JA: 94

Appellation

ST JULIEN

Wine

CH BEYCHEVELLE

Vintage

2010

€/unit

236.90

Available

6

Format

0.75

Packaging

CB 6

Ratings

JS: 93 - 94 , LPB: 92 , JA: 94

Appellation

ST JULIEN

Wine

CH BEYCHEVELLE

Vintage

2011

€/unit

202.90

Available

24

Format

0.75

Packaging

CB 6

Ratings

JS: 90 - 91 , LPB: 89 , JA: 92

Appellation

ST JULIEN

Wine

CH BEYCHEVELLE

Vintage

2013

€/unit

194.70

Available

18

Format

0.75

Packaging

CB 6

Ratings

JS: 92 , LPB: 86

Appellation

ST JULIEN

Wine

CH BEYCHEVELLE

Vintage

2014

€/unit

202.90

Available

12

Format

0.75

Packaging

CB 6

Ratings

JS: 93 - 94 , AG: 90 - 93 , LPB: 93

Appellation

ST JULIEN

Wine

CH BEYCHEVELLE

Vintage

2015

€/unit

211.80

Available

60

Format

0.75

Packaging

CB 6

Ratings

JS: 92 - 93 , AG: 92 - 94 , LPB: 95

Appellation

ST JULIEN

Wine

CH BEYCHEVELLE

Vintage

2016

€/unit

211.80

Available

30

Format

0.75

Packaging

CB 6

Ratings

JS: 94 , LPB: 95

Appellation

ST JULIEN

Wine

CH BEYCHEVELLE

Vintage

2017

€/unit

194.70

Available

6

Format

0.75

Packaging

CB 6

Ratings

JS: 93 , LPB: 94

Appellation

ST JULIEN

Wine

CH BEYCHEVELLE

Vintage

2018

€/unit

202.90

Available

6

Format

0.75

Packaging

CB 6

Ratings

JS: 94 , AG: 96 , LPB: 94 , JA: 93

Appellation

ST JULIEN

Wine

CH BEYCHEVELLE

Vintage

2019

€/unit

202.90

Available

60

Format

0.75

Packaging

CB 6

Ratings

JS: 96 , AG: 87 , LPB: 94

Appellation

ST JULIEN

Wine

CH BEYCHEVELLE

Vintage

2020

€/unit

185.90

Available

90

Format

0.75

Packaging

CB 6

Ratings

JS: 94 , AG: 96 , LPB: 95 , JD: 97

Appellation

PESSAC LEOGNAN ROUGE

Wine

CH BOUSCAUT

Vintage

2018

€/unit

41.80

Available

> 300

Format

0.75

Packaging

CB 6

Ratings

JS: 91-92 , AG: 86-88

Appellation

PESSAC LEOGNAN BLANC

Wine

CH BOUSCAUT BLC

Vintage

2018

€/unit

44.40

Available

> 300

Format

0.75

Packaging

CB 6

Ratings

JS: 91-92

Appellation

MARGAUX

Wine

CH BOYD CANTENAC

Vintage

2020

€/unit

64.90

Available

138

Format

0.75

Packaging

CB 6

Ratings

JS: 92 , LPB: 93

Appellation

ST JULIEN

Wine

CH BRANAIRE DUCRU

Vintage

2007

€/unit

108.90

Available

36

Format

0.75

Packaging

CB 12

Ratings

Appellation

ST JULIEN

Wine

CH BRANAIRE DUCRU

Vintage

2011

€/unit

88.90

Available

> 300

Format

0.75

Packaging

CB 6

Ratings

JS: 92 , JA: 91 - 92

Appellation

ST JULIEN

Wine

CH BRANAIRE DUCRU

Vintage

2012

€/unit

87.10

Available

36

Format

0.75

Packaging

CB 6

Ratings

AG: 90

Appellation

ST JULIEN

Wine

CH BRANAIRE DUCRU

Vintage

2014

€/unit

83.40

Available

114

Format

0.75

Packaging

CB 6

Ratings

JS: 92 - 93 , AG: 91 - 94

Appellation

ST JULIEN

Wine

CH BRANAIRE DUCRU

Vintage

2015

€/unit

88.90

Available

186

Format

0.75

Packaging

CB 6

Ratings

JS: 93 - 94 , AG: 92 - 94 , LPB: 93

Appellation

ST JULIEN

Wine

CH BRANAIRE DUCRU

Vintage

2017

€/unit

77.90

Available

120

Format

0.75

Packaging

CB 12

Ratings

JS: 91 , AG: 94 , LPB: 94

Appellation

ST JULIEN

Wine

CH BRANAIRE DUCRU

Vintage

2018

€/unit

90.80

Available

54

Format

0.75

Packaging

CB 6

Ratings

JS: 97 , AG: 93 - 96 , LPB: 92 , JA: 92

Appellation

ST JULIEN

Wine

CH BRANAIRE DUCRU

Vintage

2019

€/unit

90.80

Available

180

Format

0.75

Packaging

CB 12, CB 6

Ratings

JS: 95 , AG: 95 , LPB: 95

Appellation

ST JULIEN

Wine

CH BRANAIRE DUCRU

Vintage

2020

€/unit

85.20

Available

288

Format

0.75

Packaging

CB 6

Ratings

JS: 95 , AG: 95 , JD: 93

Appellation

MOULIS

Wine

CH BRANAS GRAND POUJEAUX

Vintage

2007

€/unit

36.70

Available

157

Format

0.75

Packaging

CB 12, Unit 1

Ratings

Appellation

MOULIS

Wine

CH BRANAS GRAND POUJEAUX

Vintage

2011

€/unit

41.00

Available

24

Format

0.75

Packaging

CB 6

Ratings

JS: 89 - 90 , LPB: 88

Appellation

MOULIS

Wine

CH BRANAS GRAND POUJEAUX

Vintage

2018

€/unit

98.50

Available

30

Format

1.5

Packaging

CB 3

Ratings

JS: 92 , AG: 91 , LPB: 92

Appellation

MOULIS

Wine

CH BRANAS GRAND POUJEAUX

Vintage

2018

€/unit

241.40

Available

9

Format

3

Packaging

CB 1

Ratings

JS: 92 , AG: 91 , LPB: 92

Appellation

MOULIS

Wine

CH BRANAS GRAND POUJEAUX

Vintage

2019

€/unit

41.00

Available

12

Format

0.75

Packaging

CB 12

Ratings

JS: 93 , AG: 89 , LPB: 92

Appellation

MARGAUX

Wine

CH BRANE CANTENAC

Vintage

2015

€/unit

120.90

Available

24

Format

0.75

Packaging

CB 12

Ratings

JS: 93 - 94 , AG: 92 - 95 , LPB: 94

Appellation

MARGAUX

Wine

CH BRANE CANTENAC

Vintage

2015

€/unit

252.30

Available

6

Format

1.5

Packaging

CB 6

Ratings

JS: 93 - 94 , AG: 92 - 95 , LPB: 94

Appellation

MARGAUX

Wine

CH BRANE CANTENAC

Vintage

2016

€/unit

956.00

Available

1

Format

6

Packaging

CB 1

Ratings

JS: 96 , LPB: 95

Appellation

MARGAUX

Wine

CH BRANE CANTENAC

Vintage

2017

€/unit

94.10

Available

> 300

Format

0.75

Packaging

CB 6, CB 12

Ratings

JS: 94 , LPB: 92

Appellation

MARGAUX

Wine

CH BRANE CANTENAC

Vintage

2018

€/unit

117.70

Available

60

Format

0.75

Packaging

CB 6

Ratings

JS: 95 , AG: 95 , LPB: 95 , JA: 95

Appellation

MARGAUX

Wine

CH BRANE CANTENAC

Vintage

2018

€/unit

244.30

Available

234

Format

1.5

Packaging

CB 6

Ratings

JS: 95 , AG: 95 , LPB: 95 , JA: 95

Appellation

MARGAUX

Wine

CH BRANE CANTENAC

Vintage

2018

€/unit

471.60

Available

9

Format

3

Packaging

CB 1

Ratings

JS: 95 , AG: 95 , LPB: 95 , JA: 95

Appellation

MARGAUX

Wine

CH BRANE CANTENAC

Vintage

2018

€/unit

918.60

Available

11

Format

6

Packaging

CB 1

Ratings

JS: 95 , AG: 95 , LPB: 95 , JA: 95

Appellation

MARGAUX

Wine

CH BRANE CANTENAC

Vintage

2019

€/unit

117.70

Available

18

Format

0.75

Packaging

CB 6

Ratings

JS: 95 , AG: 97 , LPB: 97 , JA: 96

Appellation

PESSAC LEOGNAN BLANC

Wine

CH BROWN BLANC

Vintage

2014

€/unit

38.10

Available

144

Format

0.75

Packaging

CB 6

Ratings

Appellation

PESSAC LEOGNAN BLANC

Wine

CH BROWN BLANC

Vintage

2019

€/unit

45.00

Available

24

Format

0.75

Packaging

CB 6

Ratings

JS: 93 , JA: 91

Appellation

PESSAC LEOGNAN BLANC

Wine

CH BROWN BLANC

Vintage

2022

€/unit

48.70

Available

36

Format

0.75

Packaging

CT 6

Ratings

JS: 93 - 94 , JA: 92

Appellation

ST ESTEPHE

Wine

CH CALON SEGUR

Vintage

2016

€/unit

245.80

Available

24

Format

0.75

Packaging

CB 12

Ratings

JS: 98 , LPB: 97

Appellation

ST ESTEPHE

Wine

CH CALON SEGUR

Vintage

2018

€/unit

219.90

Available

12

Format

0.75

Packaging

CB 6

Ratings

JS: 97 , AG: 96 - 99 , LPB: 97 , JA: 94

Appellation

ST ESTEPHE

Wine

CH CALON SEGUR

Vintage

2019

€/unit

211.80

Available

6

Format

0.75

Packaging

CB 6

Ratings

JS: 96 , AG: 98 , LPB: 97

Appellation

ST EMILION GRAND CRU

Wine

CH CANON

Vintage

2001

€/unit

211.80

Available

24

Format

0.75

Packaging

CB 6

Ratings

JA: 95

Appellation

ST EMILION GRAND CRU

Wine

CH CANON

Vintage

2001

€/unit

409.10

Available

6

Format

1.5

Packaging

CB 6

Ratings

JA: 95

Appellation

ST EMILION GRAND CRU

Wine

CH CANON

Vintage

2003

€/unit

383.30

Available

6

Format

1.5

Packaging

CB 6

Ratings

Appellation

ST EMILION GRAND CRU

Wine

CH CANON

Vintage

2005

€/unit

245.80

Available

18

Format

0.75

Packaging

CB 6

Ratings

AG: 95

Appellation

ST EMILION GRAND CRU

Wine

CH CANON

Vintage

2005

€/unit

474.30

Available

6

Format

1.5

Packaging

CB 6

Ratings

AG: 95

Appellation

ST EMILION GRAND CRU

Wine

CH CANON

Vintage

2009

€/unit

1082.60

Available

2

Format

3

Packaging

CB 1

Ratings

JS: 95 - 98 , JA: 93

Appellation

ST EMILION GRAND CRU

Wine

CH CANON

Vintage

2015

€/unit

384.70

Available

90

Format

0.75

Packaging

CB 6

Ratings

JS: 100 , AG: 96 - 98 , LPB: 96 , JA: 97

Appellation

ST EMILION GRAND CRU

Wine

CH CANON

Vintage

2016

€/unit

295.60

Available

132

Format

0.75

Packaging

CB 12, CB 6

Ratings

JS: 97 , LPB: 99

Appellation

ST EMILION GRAND CRU

Wine

CH CANON

Vintage

2018

€/unit

228.80

Available

30

Format

0.75

Packaging

CB 6

Ratings

JS: 98 , AG: 98 , LPB: 97 , JA: 98

Appellation

ST EMILION GRAND CRU

Wine

CH CANON

Vintage

2019

€/unit

245.80

Available

60

Format

0.75

Packaging

CB 6

Ratings

AG: 98 , LPB: 98

Appellation

ST EMILION GRAND CRU

Wine

CH CANON

Vintage

2020

€/unit

286.80

Available

30

Format

0.75

Packaging

CB 6

Ratings

JS: 98 , AG: 100 , LPB: 99 , JD: 97

Appellation

ST EMILION GRAND CRU

Wine

CH CANON LA GAFFELIERE

Vintage

2016

€/unit

135.10

Available

54

Format

0.75

Packaging

CB 6

Ratings

JS: 96 , LPB: 98

Appellation

ST EMILION GRAND CRU

Wine

CH CANON LA GAFFELIERE

Vintage

2018

€/unit

121.60

Available

102

Format

0.75

Packaging

CB 6

Ratings

JS: 96 , AG: 97 , LPB: 95 , JA: 95

Appellation

HAUT MEDOC

Wine

CH CANTEMERLE

Vintage

2010

€/unit

74.20

Available

2

Format

0.75

Packaging

Unit 1

Ratings

JA: 89 - 92

Appellation

HAUT MEDOC

Wine

CH CANTEMERLE

Vintage

2012

€/unit

45.50

Available

1

Format

0.75

Packaging

Unit 1

Ratings

JS: 90 - 91

Appellation

HAUT MEDOC

Wine

CH CANTEMERLE

Vintage

2013

€/unit

42.60

Available

65

Format

0.75

Packaging

CB 6, Unit 1

Ratings

LPB: 85

Appellation

HAUT MEDOC

Wine

CH CANTEMERLE

Vintage

2016

€/unit

50.20

Available

> 300

Format

0.75

Packaging

CB 12, CB 6, Unit 1

Ratings

JS: 94 , LPB: 89

Appellation

HAUT MEDOC

Wine

CH CANTEMERLE

Vintage

2017

€/unit

44.00

Available

> 300

Format

0.75

Packaging

CB 6

Ratings

JS: 92 , LPB: 91

Appellation

HAUT MEDOC

Wine

CH CANTEMERLE

Vintage

2018

€/unit

45.40

Available

> 300

Format

0.75

Packaging

CB 6

Ratings

JS: 93 , AG: 86 , LPB: 89 , JA: 91

Appellation

MARGAUX

Wine

CH CANTENAC BROWN

Vintage

2004

€/unit

92.60

Available

> 300

Format

0.75

Packaging

CB 6, CB 12

Ratings

Appellation

MARGAUX

Wine

CH CANTENAC BROWN

Vintage

2004

€/unit

92.60

Available

5

Format

0.75

Packaging

Unit 1

Ratings

Appellation

MARGAUX

Wine

CH CANTENAC BROWN

Vintage

2004

€/unit

180.80

Available

234

Format

1.5

Packaging

CB 6

Ratings

Appellation

MARGAUX

Wine

CH CANTENAC BROWN

Vintage

2004

€/unit

425.30

Available

23

Format

3

Packaging

CB 1

Ratings

Appellation

MARGAUX

Wine

CH CANTENAC BROWN

Vintage

2004

€/unit

684.10

Available

12

Format

5

Packaging

CB 1

Ratings

Appellation

MARGAUX

Wine

CH CANTENAC BROWN

Vintage

2004

€/unit

812.40

Available

12

Format

6

Packaging

CB 1

Ratings

Appellation

MARGAUX

Wine

CH CANTENAC BROWN

Vintage

2007

€/unit

90.80

Available

> 300

Format

0.75

Packaging

CB 6, CB 12

Ratings

Appellation

MARGAUX

Wine

CH CANTENAC BROWN

Vintage

2007

€/unit

90.80

Available

4

Format

0.75

Packaging

Unit 1

Ratings

Appellation

MARGAUX

Wine

CH CANTENAC BROWN

Vintage

2007

€/unit

177.90

Available

> 300

Format

1.5

Packaging

CB 6

Ratings

Appellation

MARGAUX

Wine

CH CANTENAC BROWN

Vintage

2007

€/unit

408.00

Available

19

Format

3

Packaging

CB 1

Ratings

Appellation

MARGAUX

Wine

CH CANTENAC BROWN

Vintage

2007

€/unit

660.00

Available

11

Format

5

Packaging

CB 1

Ratings

Appellation

MARGAUX

Wine

CH CANTENAC BROWN

Vintage

2007

€/unit

780.90

Available

11

Format

6

Packaging

CB 1

Ratings

Appellation

MARGAUX

Wine

CH CANTENAC BROWN

Vintage

2014

€/unit

77.90

Available

4

Format

0.75

Packaging

Unit 1

Ratings

JS: 92 - 93 , AG: 91 - 94

Appellation

MARGAUX

Wine

CH CANTENAC BROWN

Vintage

2019

€/unit

77.90

Available

36

Format

0.75

Packaging

CB 6

Ratings

JS: 95 , AG: 94 , LPB: 94 , JA: 94

Appellation

MARGAUX

Wine

CH CANTENAC BROWN

Vintage

2020

€/unit

81.50

Available

90

Format

0.75

Packaging

CB 6

Ratings

JS: 95 , AG: 97 , LPB: 94 , JD: 96

Appellation

CASTILLON - COTES DE BX

Wine

CH CAP DE FAUGERES

Vintage

2020

€/unit

22.40

Available

6

Format

0.75

Packaging

CT 6

Ratings

Appellation

ST GEORGES ST EMILION

Wine

CH CAP SAINT GEORGE

Vintage

2014

€/unit

27.30

Available

215

Format

0.75

Packaging

CB 12, Unit 1

Ratings

Appellation

ST ESTEPHE

Wine

CH CAPBERN GASQUETON

Vintage

2013

€/unit

27.40

Available

2

Format

0.75

Packaging

Unit 1

Ratings

JS: 87 - 88

Appellation

PESSAC LEOGNAN ROUGE

Wine

CH CARBONNIEUX

Vintage

2017

€/unit

52.00

Available

> 300

Format

0.75

Packaging

CB 12, CB 6, Unit 1

Ratings

JS: 91 , LPB: 88

Appellation

PESSAC LEOGNAN ROUGE

Wine

CH CARBONNIEUX

Vintage

2020

€/unit

52.00

Available

150

Format

0.75

Packaging

CB 6

Ratings

JS: 95 , AG: 94 , LPB: 91 , JD: 94

Appellation

PESSAC LEOGNAN BLANC

Wine

CH CARBONNIEUX BLC

Vintage

2021

€/unit

52.00

Available

258

Format

0.75

Packaging

CB 6

Ratings

JS: 91 - 92 , AG: 88 - 90 , JA: 92

Appellation

PESSAC LEOGNAN BLANC

Wine

CH CARBONNIEUX BLC EXPORT

Vintage

2011

€/unit

50.20

Available

43

Format

0.75

Packaging

CB 12, CB 6, Unit 1

Ratings

Appellation

MOULIS

Wine

CH CHASSE SPLEEN

Vintage

2019

€/unit

48.30

Available

132

Format

0.75

Packaging

CB 12

Ratings

JS: 92 , AG: 88 - 90

Appellation

MOULIS

Wine

CH CHASSE SPLEEN

Vintage

2020

€/unit

100.40

Available

114

Format

1.5

Packaging

CB 6

Ratings

JS: 94 , AG: 90 , JD: 89

Appellation

MOULIS

Wine

CH CHASSE SPLEEN RFSE

Vintage

2013

€/unit

44.60

Available

120

Format

0.75

Packaging

CB 12

Ratings

LPB: 83

Appellation

MOULIS

Wine

CH CHASSE-SPLEEN

Vintage

2009

€/unit

87.10

Available

48

Format

0.75

Packaging

CB 12

Ratings

JS: 90 - 93

Appellation

ST EMILION GRAND CRU

Wine

CH CHAUVIN

Vintage

2018

€/unit

55.40

Available

150

Format

0.75

Packaging

CB 6

Ratings

JS: 92 , AG: 93 , JA: 93

Appellation

ST EMILION GRAND CRU

Wine

CH CHEVAL BLANC

Vintage

2000

€/unit

1515.60

Available

36

Format

0.75

Packaging

CB 12

Ratings

LPB: 100

Appellation

ST EMILION GRAND CRU

Wine

CH CHEVAL BLANC

Vintage

2007

€/unit

732.10

Available

18

Format

0.75

Packaging

CB 6

Ratings

Appellation

ST EMILION GRAND CRU

Wine

CH CHEVAL BLANC

Vintage

2007

€/unit

5182.50

Available

2

Format

6

Packaging

CB 1

Ratings

Appellation

ST EMILION GRAND CRU

Wine

CH CHEVAL BLANC

Vintage

2009

€/unit

805.00

Available

12

Format

0.375

Packaging

CB 12

Ratings

JS: 99 , LPB: 100 , JA: 97 - 98

Appellation

ST EMILION GRAND CRU

Wine

CH CHEVAL BLANC

Vintage

2010

€/unit

805.00

Available

12

Format

0.375

Packaging

CB 12

Ratings

JS: 99 - 100 , LPB: 100 , JA: 97

Appellation

ST EMILION GRAND CRU

Wine

CH CHEVAL BLANC

Vintage

2010

€/unit

1579.80

Available

12

Format

0.75

Packaging

CB 6

Ratings

JS: 99 - 100 , LPB: 100 , JA: 97

Appellation

ST EMILION GRAND CRU

Wine

CH CHEVAL BLANC

Vintage

2011

€/unit

762.20

Available

60

Format

0.75

Packaging

CB 6

Ratings

JS: 93 - 94 , LPB: 96 , JA: 95 - 96

Appellation

ST EMILION GRAND CRU

Wine

CH CHEVAL BLANC

Vintage

2011

€/unit

6598.60

Available

1

Format

6

Packaging

CB 1

Ratings

JS: 93 - 94 , LPB: 96 , JA: 95 - 96

Appellation

ST EMILION GRAND CRU

Wine

CH CHEVAL BLANC

Vintage

2012

€/unit

762.20

Available

6

Format

0.75

Packaging

CB 6

Ratings

JS: 93 - 94 , LPB: 96

Appellation

ST EMILION GRAND CRU

Wine

CH CHEVAL BLANC

Vintage

2014

€/unit

762.20

Available

30

Format

0.75

Packaging

CB 6

Ratings

JS: 96 , AG: 93 - 96

Appellation

ST EMILION GRAND CRU

Wine

CH CHEVAL BLANC

Vintage

2014

€/unit

1538.40

Available

12

Format

1.5

Packaging

CB 3

Ratings

JS: 96 , AG: 93 - 96

Appellation

ST EMILION GRAND CRU

Wine

CH CHEVAL BLANC

Vintage

2015

€/unit

1163.20

Available

18

Format

0.75

Packaging

CB 6

Ratings

JS: 96 - 97 , AG: 95 - 97 , LPB: 100

Appellation

ST EMILION GRAND CRU

Wine

CH CHEVAL BLANC

Vintage

2016

€/unit

1102.70

Available

11

Format

0.75

Packaging

CB 3, CB 1

Ratings

JS: 99 , LPB: 100

Appellation

ST EMILION GRAND CRU

Wine

CH CHEVAL BLANC

Vintage

2016

€/unit

2217.40

Available

4

Format

1.5

Packaging

CB 1

Ratings

JS: 99 , LPB: 100

Appellation

ST EMILION GRAND CRU

Wine

CH CHEVAL BLANC

Vintage

2018

€/unit

1013.40

Available

174

Format

0.75

Packaging

CB 6

Ratings

JS: 99 , AG: 98 , LPB: 98 , JA: 100

Appellation

ST EMILION GRAND CRU

Wine

CH CHEVAL BLANC

Vintage

2018

€/unit

1013.40

Available

11

Format

0.75

Packaging

CB 1

Ratings

JS: 99 , AG: 98 , LPB: 98 , JA: 100

Appellation

ST EMILION GRAND CRU

Wine

CH CHEVAL BLANC

Vintage

2018

€/unit

2068.00

Available

12

Format

1.5

Packaging

CB 1

Ratings

JS: 99 , AG: 98 , LPB: 98 , JA: 100

Appellation

ST EMILION GRAND CRU

Wine

CH CHEVAL BLANC

Vintage

2018

€/unit

2068.00

Available

3

Format

1.5

Packaging

CB 3

Ratings

JS: 99 , AG: 98 , LPB: 98 , JA: 100

Appellation

ST EMILION GRAND CRU

Wine

CH CHEVAL BLANC

Vintage

2019

€/unit

1029.60

Available

15

Format

0.75

Packaging

CB 1, CB 3

Ratings

JS: 100 , AG: 100 , LPB: 100

Appellation

HAUT MEDOC

Wine

CH CITRAN

Vintage

2014

€/unit

24.00

Available

> 300

Format

0.75

Packaging

CB 6, Unit 1

Ratings

AG: 86 - 89

Appellation

HAUT MEDOC

Wine

CH CLEMENT-PICHON

Vintage

2018

€/unit

32.10

Available

108

Format

0.75

Packaging

CB 6

Ratings

JS: 91 , AG: 91 , JA: 90

Appellation

HAUT MEDOC

Wine

CH CLEMENT-PICHON

Vintage

2019

€/unit

35.40

Available

60

Format

0.75

Packaging

CB 12

Ratings

JS: 92 , AG: 90

Appellation

HAUT MEDOC

Wine

CH CLEMENT-PICHON

Vintage

2020

€/unit

29.90

Available

> 300

Format

0.75

Packaging

CB 6

Ratings

JS: 92 , AG: 90 , LPB: 88

Appellation

PAUILLAC

Wine

CH CLERC MILON

Vintage

1988

€/unit

143.70

Available

3

Format

0.75

Packaging

CB 1

Ratings

Appellation

PAUILLAC

Wine

CH CLERC MILON

Vintage

1989

€/unit

177.50

Available

3

Format

0.75

Packaging

CB 1

Ratings

Appellation

PAUILLAC

Wine

CH CLERC MILON

Vintage

1990

€/unit

228.80

Available

2

Format

0.75

Packaging

CB 1

Ratings

Appellation

PAUILLAC

Wine

CH CLERC MILON

Vintage

1991

€/unit

177.50

Available

2

Format

0.75

Packaging

CB 1

Ratings

Appellation

PAUILLAC

Wine

CH CLERC MILON

Vintage

1992

€/unit

135.10

Available

2

Format

0.75

Packaging

CB 1

Ratings

Appellation

PAUILLAC

Wine

CH CLERC MILON

Vintage

1997

€/unit

143.70

Available

1

Format

0.75

Packaging

CB 1

Ratings

Appellation

PAUILLAC

Wine

CH CLERC MILON

Vintage

1998

€/unit

185.90

Available

1

Format

0.75

Packaging

CB 1

Ratings

Appellation

PAUILLAC

Wine

CH CLERC MILON

Vintage

1999

€/unit

169.10

Available

2

Format

0.75

Packaging

CB 1

Ratings

Appellation

PAUILLAC

Wine

CH CLERC MILON

Vintage

2000

€/unit

228.80

Available

1

Format

0.75

Packaging

CB 1

Ratings

Appellation

PAUILLAC

Wine

CH CLERC MILON

Vintage

2001

€/unit

177.50

Available

1

Format

0.75

Packaging

CB 1

Ratings

Appellation

PAUILLAC

Wine

CH CLERC MILON

Vintage

2002

€/unit

169.10

Available

1

Format

0.75

Packaging

CB 1

Ratings

Appellation

PAUILLAC

Wine

CH CLERC MILON

Vintage

2012

€/unit

270.60

Available

30

Format

1.5

Packaging

CB 6

Ratings

JS: 92 - 93

Appellation

PAUILLAC

Wine

CH CLERC MILON

Vintage

2013

€/unit

263.60

Available

3

Format

1.5

Packaging

Unit 1

Ratings

JS: 90 , LPB: 90

Appellation

PAUILLAC

Wine

CH CLERC MILON

Vintage

2014

€/unit

153.50

Available

60

Format

0.75

Packaging

CB 12

Ratings

JS: 91 - 92 , AG: 91 - 94

Appellation

PAUILLAC

Wine

CH CLERC MILON

Vintage

2015

€/unit

160.80

Available

60

Format

0.75

Packaging

CB 6

Ratings

JS: 94 - 95 , AG: 91 - 93 , LPB: 91

Appellation

PAUILLAC

Wine

CH CLERC MILON

Vintage

2016

€/unit

160.80

Available

> 300

Format

0.75

Packaging

CB 6, CB 12

Ratings

JS: 96 , LPB: 95

Appellation

PAUILLAC

Wine

CH CLERC MILON

Vintage

2017

€/unit

148.60

Available

120

Format

0.75

Packaging

CB 6

Ratings

JS: 95 , LPB: 94

Appellation

PAUILLAC

Wine

CH CLERC MILON

Vintage

2018

€/unit

152.30

Available

30

Format

0.75

Packaging

CB 6

Ratings

JS: 95 , AG: 93 , LPB: 93 , JA: 96

Appellation

PAUILLAC

Wine

CH CLERC MILON

Vintage

2018

€/unit

294.10

Available

6

Format

1.5

Packaging

CB 6

Ratings

JS: 95 , AG: 93 , LPB: 93 , JA: 96

Appellation

PAUILLAC

Wine

CH CLERC MILON

Vintage

2018

€/unit

1154.20

Available

1

Format

6

Packaging

CB 1

Ratings

JS: 95 , AG: 93 , LPB: 93 , JA: 96

Appellation

PAUILLAC

Wine

CH CLERC MILON

Vintage

2019

€/unit

152.30

Available

60

Format

0.75

Packaging

CB 6

Ratings

JS: 96 , AG: 94 , LPB: 95

Appellation

PAUILLAC

Wine

CH CLERC MILON

Vintage

2020

€/unit

138.30

Available

60

Format

0.75

Packaging

CB 6, CB 1, CB 3

Ratings

JS: 95 - 96 , AG: 94 , LPB: 92 , JD: 94

Appellation

POMEROL

Wine

CH CLINET

Vintage

2017

€/unit

110.30

Available

150

Format

0.75

Packaging

CB 6

Ratings

JS: 93 , LPB: 93

Appellation

POMEROL

Wine

CH CLINET

Vintage

2017

€/unit

222.10

Available

36

Format

1.5

Packaging

CB 6

Ratings

JS: 93 , LPB: 93

Appellation

POMEROL

Wine

CH CLINET

Vintage

2018

€/unit

158.90

Available

120

Format

0.75

Packaging

CB 6

Ratings

JS: 96 , AG: 94 , LPB: 96 , JA: 97

Appellation

POMEROL

Wine

CH CLINET

Vintage

2018

€/unit

350.30

Available

18

Format

1.5

Packaging

CB 6

Ratings

JS: 96 , AG: 94 , LPB: 96 , JA: 97

Appellation

POMEROL

Wine

CH CLINET

Vintage

2019

€/unit

202.90

Available

60

Format

0.75

Packaging

CB 6

Ratings

JS: 98 , AG: 95 , LPB: 96

Appellation

POMEROL

Wine

CH CLINET

Vintage

2020

€/unit

185.90

Available

108

Format

0.75

Packaging

CB 6

Ratings

JS: 98 , AG: 95 , LPB: 96 , JD: 98

Appellation

ST EMILION GRAND CRU

Wine

CH CLOS DE SARPE

Vintage

2013

€/unit

72.20

Available

60

Format

0.75

Packaging

CB 12

Ratings

JS: 91

Appellation

ST EMILION GRAND CRU

Wine

CH CLOS DE SARPE

Vintage

2014

€/unit

74.20

Available

120

Format

0.75

Packaging

CB 6

Ratings

JS: 91 - 92 , AG: 88 - 91

Appellation

ST ESTEPHE

Wine

CH COS D'ESTOURNEL

Vintage

2008

€/unit

266.80

Available

38

Format

0.75

Packaging

CB 12, Unit 1

Ratings

JA: 95 - 96

Appellation

ST ESTEPHE

Wine

CH COS D'ESTOURNEL

Vintage

2011

€/unit

228.80

Available

108

Format

0.75

Packaging

CB 6

Ratings

JS: 92 - 93 , JA: 92 - 93

Appellation

ST ESTEPHE

Wine

CH COS D'ESTOURNEL

Vintage

2014

€/unit

236.90

Available

12

Format

0.75

Packaging

CB 6

Ratings

JS: 96 - 97 , AG: 92 - 95

Appellation

ST ESTEPHE

Wine

CH COS D'ESTOURNEL

Vintage

2015

€/unit

270.20

Available

180

Format

0.75

Packaging

CB 6

Ratings

JS: 97 - 98 , AG: 92 - 95 , LPB: 93

Appellation

ST ESTEPHE

Wine

CH COS D'ESTOURNEL

Vintage

2016

€/unit

351.70

Available

6

Format

0.75

Packaging

CB 6

Ratings

JS: 100 , LPB: 100

Appellation

ST ESTEPHE

Wine

CH COS D'ESTOURNEL

Vintage

2017

€/unit

216.50

Available

234

Format

0.75

Packaging

CB 6

Ratings

JS: 97 - 98 , LPB: 97

Appellation

ST ESTEPHE

Wine

CH COS D'ESTOURNEL

Vintage

2018

€/unit

286.80

Available

180

Format

0.75

Packaging

CB 6

Ratings

JS: 98 , AG: 98 , LPB: 97 , JA: 97

Appellation

ST ESTEPHE

Wine

CH COS D'ESTOURNEL

Vintage

2019

€/unit

286.80

Available

24

Format

0.75

Packaging

CB 6

Ratings

JS: 99 , AG: 98 , LPB: 99

Appellation

BORDEAUX BLANC

Wine

CH COS D'ESTOURNEL

Vintage

2019

€/unit

177.50

Available

12

Format

0.75

Packaging

CB 6

Ratings

JS: 98 , AG: 94 , LPB: 94

Appellation

ST ESTEPHE

Wine

CH COS LABORY

Vintage

2017

€/unit

49.80

Available

6

Format

0.75

Packaging

Unit 1

Ratings

JS: 91 , LPB: 91

Appellation

COTES DE CASTILLON

Wine

CH COTE MONTPEZAT CV COMPOSTEL

Vintage

2016

€/unit

22.90

Available

24

Format

0.75

Packaging

CT 12

Ratings

JS: 90-91

Appellation

HAUT MEDOC

Wine

CH COUFRAN

Vintage

2017

€/unit

26.40

Available

90

Format

0.75

Packaging

CT 6

Ratings

JS: 90

Appellation

PESSAC LEOGNAN BLANC

Wine

CH COUHINS-LURTON BLC

Vintage

2014

€/unit

42.10

Available

162

Format

0.75

Packaging

CB 6

Ratings

JS: 93

Appellation

PESSAC LEOGNAN BLANC

Wine

CH COUHINS-LURTON BLC

Vintage

2015

€/unit

45.40

Available

12

Format

0.75

Packaging

CB 6

Ratings

JS: 91 - 92

Appellation

PESSAC LEOGNAN BLANC

Wine

CH COUHINS-LURTON BLC

Vintage

2020

€/unit

50.20

Available

3

Format

0.75

Packaging

Unit 1

Ratings

JS: 93 , AG: 89 , LPB: 92 , JD: 94 , JA: 95

Appellation

BARSAC

Wine

CH COUTET

Vintage

2008

€/unit

48.30

Available

108

Format

0.75

Packaging

CB 6

Ratings

Appellation

BARSAC

Wine

CH COUTET

Vintage

2009

€/unit

96.30

Available

42

Format

0.75

Packaging

CB 6

Ratings

JA: 92

Appellation

BARSAC

Wine

CH COUTET

Vintage

2010

€/unit

91.90

Available

6

Format

0.75

Packaging

CB 6

Ratings

JS: 94 , JA: 92 - 93

Appellation

BARSAC

Wine

CH COUTET

Vintage

2011

€/unit

85.20

Available

210

Format

0.75

Packaging

CB 6

Ratings

JS: 93 - 94

Appellation

BARSAC

Wine

CH COUTET

Vintage

2016

€/unit

56.50

Available

294

Format

0.75

Packaging

CB 6

Ratings

JS: 95

Appellation

BARSAC

Wine

CH COUTET

Vintage

2017

€/unit

29.80

Available

273

Format

0.375

Packaging

CB 12, Unit 1

Ratings

JS: 96

Appellation

BARSAC

Wine

CH COUTET

Vintage

2018

€/unit

31.60

Available

180

Format

0.375

Packaging

CB 12

Ratings

JS: 91 , AG: 92 , LPB: 90 , JA: 94

Appellation

BARSAC

Wine

CH COUTET

Vintage

2019

€/unit

29.80

Available

276

Format

0.375

Packaging

CB 12

Ratings

JS: 94 , AG: 87 - 90 , LPB: 95

Appellation

BARSAC

Wine

CH COUTET

Vintage

2020

€/unit

28.80

Available

> 300

Format

0.375

Packaging

CB 12

Ratings

JS: 92 , AG: 94 , LPB: 94

Appellation

BARSAC

Wine

CH COUTET

Vintage

2020

€/unit

56.50

Available

> 300

Format

0.75

Packaging

CB 6

Ratings

JS: 92 , AG: 94 , LPB: 94

Appellation

BARSAC

Wine

CH COUTET

Vintage

2021

€/unit

51.00

Available

42

Format

0.75

Packaging

CB 6

Ratings

JS: 95 - 96 , LPB: 93 - 95 , JA: 95

Appellation

ST EMILION GRAND CRU

Wine

CH CROIX CARDINALE

Vintage

2016

€/unit

42.10

Available

2

Format

0.75

Packaging

Unit 1

Ratings

JS: 91-92

Appellation

ST EMILION GRAND CRU

Wine

CH CROIX CARDINALE

Vintage

2018

€/unit

40.30

Available

> 300

Format

0.75

Packaging

CB 6

Ratings

JS: 91-92

Appellation

ST EMILION GRAND CRU

Wine

CH CROIX CARDINALE

Vintage

2019

€/unit

41.00

Available

> 300

Format

0.75

Packaging

CB 6

Ratings

Appellation

ST EMILION GRAND CRU

Wine

CH CROIX CARDINALE

Vintage

2019

€/unit

81.90

Available

117

Format

1.5

Packaging

CB 3

Ratings

Appellation

ST EMILION GRAND CRU

Wine

CH CROIX CARDINALE

Vintage

2020

€/unit

41.00

Available

> 300

Format

0.75

Packaging

CB 6

Ratings

JS: 92/93 - 2021

Appellation

BORDEAUX SUPERIEUR ROUGE

Wine

CH CROIX-MOUTON

Vintage

2018

€/unit

18.30

Available

> 300

Format

0.75

Packaging

CB 6

Ratings

Appellation

PAUILLAC

Wine

CH CROIZET BAGES

Vintage

2003

€/unit

61.30

Available

4

Format

0.75

Packaging

Unit 1

Ratings

Appellation

PAUILLAC

Wine

CH CROIZET BAGES

Vintage

2014

€/unit

46.50

Available

1

Format

0.75

Packaging

Unit 1

Ratings

AG: 88 - 90

Appellation

PAUILLAC

Wine

CH CROIZET BAGES

Vintage

2019

€/unit

54.70

Available

72

Format

0.75

Packaging

CB 6

Ratings

JS: 93 , AG: 92

Appellation

PAUILLAC

Wine

CH CROIZET BAGES

Vintage

2020

€/unit

48.70

Available

6

Format

0.75

Packaging

CB 6

Ratings

JS: 93 , AG: 94 , LPB: 88 , JD: 90

Appellation

CASTILLON - COTES DE BX

Wine

CH D'AIGUILHE

Vintage

2017

€/unit

33.60

Available

> 300

Format

0.75

Packaging

CB 6

Ratings

Appellation

CASTILLON - COTES DE BX

Wine

CH D'AIGUILHE

Vintage

2018

€/unit

36.50

Available

> 300

Format

0.75

Packaging

CB 6

Ratings

JS: 92-93 , AG: 89-92

Appellation

FRONSAC

Wine

CH DALEM

Vintage

2020

€/unit

35.40

Available

288

Format

0.75

Packaging

CB 6

Ratings

JS: 94 , AG: 92 , LPB: 93 , JD: 91

Appellation

PAUILLAC

Wine

CH D'ARMAILHAC

Vintage

1985

€/unit

177.50

Available

8

Format

0.75

Packaging

CB 6, CB 1

Ratings

Appellation

PAUILLAC

Wine

CH D'ARMAILHAC

Vintage

1988

€/unit

135.10

Available

3

Format

0.75

Packaging

CB 1

Ratings

Appellation

PAUILLAC

Wine

CH D'ARMAILHAC

Vintage

1989

€/unit

162.00

Available

3

Format

0.75

Packaging

CB 1

Ratings

Appellation

PAUILLAC

Wine

CH D'ARMAILHAC

Vintage

1990

€/unit

172.20

Available

3

Format

0.75

Packaging

CB 1

Ratings

Appellation

PAUILLAC

Wine

CH D'ARMAILHAC

Vintage

1991

€/unit

108.90

Available

1

Format

0.75

Packaging

CB 1

Ratings

Appellation

PAUILLAC

Wine

CH D'ARMAILHAC

Vintage

1992

€/unit

117.70

Available

2

Format

0.75

Packaging

CB 1

Ratings

Appellation

PAUILLAC

Wine

CH D'ARMAILHAC

Vintage

1996

€/unit

160.80

Available

1

Format

0.75

Packaging

CB 1

Ratings

Appellation

PAUILLAC

Wine

CH D'ARMAILHAC

Vintage

1997

€/unit

108.90

Available

1

Format

0.75

Packaging

CB 1

Ratings

Appellation

PAUILLAC

Wine

CH D'ARMAILHAC

Vintage

1998

€/unit

152.30

Available

1

Format

0.75

Packaging

CB 1

Ratings

Appellation

PAUILLAC

Wine

CH D'ARMAILHAC

Vintage

2000

€/unit

194.70

Available

1

Format

0.75

Packaging

CB 1

Ratings

Appellation

PAUILLAC

Wine

CH D'ARMAILHAC

Vintage

2001

€/unit

160.80

Available

1

Format

0.75

Packaging

CB 1

Ratings

Appellation

PAUILLAC

Wine

CH D'ARMAILHAC

Vintage

2002

€/unit

126.40

Available

1

Format

0.75

Packaging

CB 1

Ratings

Appellation

PAUILLAC

Wine

CH D'ARMAILHAC

Vintage

2003

€/unit

135.10

Available

1

Format

0.75

Packaging

CB 1

Ratings

Appellation

PAUILLAC

Wine

CH D'ARMAILHAC

Vintage

2010

€/unit

133.20

Available

36

Format

0.75

Packaging

CB 12

Ratings

JS: 92 - 93 , JA: 94

Appellation

PAUILLAC

Wine

CH D'ARMAILHAC

Vintage

2011

€/unit

96.30

Available

12

Format

0.75

Packaging

CB 6

Ratings

JS: 91 - 92 , JA: 92

Appellation

PAUILLAC

Wine

CH D'ARMAILHAC

Vintage

2014

€/unit

100.00

Available

240

Format

0.75

Packaging

CB 6

Ratings

JS: 93 - 94 , AG: 90 - 93

Appellation

PAUILLAC

Wine

CH D'ARMAILHAC

Vintage

2015

€/unit

108.90

Available

150

Format

0.75

Packaging

CB 6

Ratings

JS: 92 - 93 , AG: 90 - 93 , LPB: 92

Appellation

PAUILLAC

Wine

CH D'ARMAILHAC

Vintage

2017

€/unit

100.00

Available

300

Format

0.75

Packaging

CB 6

Ratings

JS: 94 , LPB: 93

Appellation

PAUILLAC

Wine

CH D'ARMAILHAC

Vintage

2018

€/unit

100.00

Available

108

Format

0.75

Packaging

CB 6

Ratings

JS: 95 , AG: 92 , LPB: 92 , JA: 94

Appellation

PAUILLAC

Wine

CH D'ARMAILHAC

Vintage

2018

€/unit

193.40

Available

6

Format

1.5

Packaging

CB 6

Ratings

JS: 95 , AG: 92 , LPB: 92 , JA: 94

Appellation

PAUILLAC

Wine

CH D'ARMAILHAC

Vintage

2019

€/unit

100.00

Available

90

Format

0.75

Packaging

CB 6

Ratings

JS: 94 , AG: 91 , LPB: 94

Appellation

PAUILLAC

Wine

CH D'ARMAILHAC

Vintage

2020

€/unit

100.00

Available

300

Format

0.75

Packaging

CB 6

Ratings

JS: 93 - 94 , AG: 92 , LPB: 92 , JD: 91

Appellation

MARGAUX

Wine

CH D'ARSAC

Vintage

2016

€/unit

35.40

Available

1

Format

0.75

Packaging

Unit 1

Ratings

JS: 92 - AVR 19

Appellation

MARGAUX

Wine

CH DAUZAC

Vintage

2013

€/unit

93.00

Available

2

Format

1.5

Packaging

Unit 1

Ratings

Appellation

MARGAUX

Wine

CH DAUZAC

Vintage

2017

€/unit

66.80

Available

> 300

Format

0.75

Packaging

CB 6

Ratings

JS: 92

Appellation

MARGAUX

Wine

CH DAUZAC

Vintage

2018

€/unit

70.50

Available

> 300

Format

0.75

Packaging

CB 6

Ratings

JS: 94 , AG: 89 , LPB: 90 , JA: 93

Appellation

MARGAUX

Wine

CH DAUZAC

Vintage

2019

€/unit

70.50

Available

60

Format

0.75

Packaging

CB 6

Ratings

JS: 95 , AG: 93

Appellation

HAUT MEDOC

Wine

CH DE CAMENSAC

Vintage

2018

€/unit

47.60

Available

> 300

Format

0.75

Packaging

CB 6

Ratings

JS: 92 , LPB: 90 , JA: 92

Appellation

HAUT MEDOC

Wine

CH DE CAMENSAC

Vintage

2020

€/unit

43.70

Available

126

Format

0.75

Packaging

CB 6

Ratings

JS: 92 , AG: 92 , JD: 88

Appellation

FRONSAC

Wine

CH DE CARLMAGNUS

Vintage

2014

€/unit

23.10

Available

12

Format

0.75

Packaging

CB 6

Ratings

JS: 88 - 89

Appellation

GRAVES BLANC

Wine

CH DE CHANTEGRIVE

Vintage

2014

€/unit

20.20

Available

36

Format

0.75

Packaging

CT 6

Ratings

JS: 91 - 92

Appellation

GRAVES BLANC

Wine

CH DE CHANTEGRIVE CUV CAROLINE

Vintage

2016

€/unit

29.90

Available

24

Format

0.75

Packaging

CB 12

Ratings

JS: 93

Appellation

GRAVES BLANC

Wine

CH DE CHANTEGRIVE CUV CAROLINE

Vintage

2017

€/unit

30.80

Available

> 300

Format

0.75

Packaging

CB 6

Ratings

JS: 92

Appellation

ST EMILION GRAND CRU

Wine

CH DE FERRAND

Vintage

2018

€/unit

43.20

Available

> 300

Format

0.75

Packaging

CB 6

Ratings

JS: 89-90

Appellation

ST EMILION GRAND CRU

Wine

CH DE FERRAND

Vintage

2020

€/unit

38.70

Available

252

Format

0.75

Packaging

CB 6

Ratings

Appellation

PESSAC LEOGNAN ROUGE

Wine

CH DE FIEUZAL

Vintage

2013

€/unit

40.00

Available

> 300

Format

0.75

Packaging

CB 6

Ratings

JS: 90 , LPB: 85

Appellation

PESSAC LEOGNAN ROUGE

Wine

CH DE FIEUZAL

Vintage

2013

€/unit

40.00

Available

> 300

Format

0.75

Packaging

CB 12, Unit 1

Ratings

JS: 90 , LPB: 85

Appellation

PESSAC LEOGNAN ROUGE

Wine

CH DE FIEUZAL

Vintage

2013

€/unit

198.80

Available

24

Format

3

Packaging

CB 1

Ratings

JS: 90 , LPB: 85

Appellation

PESSAC LEOGNAN ROUGE

Wine

CH DE FIEUZAL

Vintage

2015

€/unit

545.30

Available

4

Format

6

Packaging

CB 1

Ratings

JS: 93 - 94 , AG: 87 - 90 , LPB: 92

Appellation

PESSAC LEOGNAN ROUGE

Wine

CH DE FIEUZAL

Vintage

2016

€/unit

307.70

Available

1

Format

3

Packaging

CB 1

Ratings

JS: 94 , LPB: 93

Appellation

PESSAC LEOGNAN BLANC

Wine

CH DE FIEUZAL BLANC

Vintage

2020

€/unit

72.00

Available

18

Format

0.75

Packaging

CB 6

Ratings

JS: 94 , AG: 91 , JD: 96

Appellation

PESSAC LEOGNAN BLANC

Wine

CH DE FIEUZAL BLC

Vintage

2016

€/unit

76.00

Available

1

Format

0.75

Packaging

Unit 1

Ratings

JS: 93 , LPB: 92

Appellation

PESSAC LEOGNAN BLANC

Wine

CH DE FIEUZAL BLC

Vintage

2018

€/unit

85.20

Available

120

Format

0.75

Packaging

CB 6

Ratings

JS: 94 , AG: 88 , LPB: 90 , JA: 92

Appellation

FRANCS - COTES DE BDX ROUGE

Wine

CH DE FRANCS-LES CERISIERS

Vintage

2017

€/unit

18.80

Available

> 300

Format

0.75

Packaging

CT 6

Ratings

JS: 89

Appellation

FRANCS - COTES DE BDX ROUGE

Wine

CH DE FRANCS-LES CERISIERS

Vintage

2018

€/unit

19.70

Available

> 300

Format

0.75

Packaging

CT 6, Unit 1

Ratings

JS: 90 , AG: 90

Appellation

FRANCS - COTES DE BDX ROUGE

Wine

CH DE FRANCS-LES CERISIERS

Vintage

2019

€/unit

22.50

Available

> 300

Format

0.75

Packaging

CT 6

Ratings

JS: 93 , AG: 88 , LPB: 88

Appellation

FRANCS - COTES DE BDX ROUGE

Wine

CH DE FRANCS-LES CERISIERS

Vintage

2020

€/unit

20.70

Available

> 300

Format

0.75

Packaging

CT 6

Ratings

JS: 91 , AG: 88 , LPB: 90

Appellation

FRONSAC

Wine

CH DE LA DAUPHINE

Vintage

2011

€/unit

28.90

Available

> 300

Format

0.75

Packaging

CB 12, Unit 1

Ratings

Appellation

FRONSAC

Wine

CH DE LA DAUPHINE

Vintage

2012

€/unit

30.50

Available

> 300

Format

0.75

Packaging

CB 12

Ratings

JS: 89 - 90

Appellation

FRONSAC

Wine

CH DE LA DAUPHINE

Vintage

2014

€/unit

32.80

Available

> 300

Format

0.75

Packaging

CB 12, Unit 1

Ratings

JS: 92 , AG: 88 - 91

Appellation

FRONSAC

Wine

CH DE LA DAUPHINE

Vintage

2017

€/unit

26.80

Available

> 300

Format

0.75

Packaging

CB 6

Ratings

JS: 89

Appellation

ST ESTEPHE

Wine

CH DE PEZ

Vintage

2016

€/unit

52.60

Available

132

Format

0.75

Packaging

CB 12

Ratings

Appellation

ST ESTEPHE

Wine

CH DE PEZ

Vintage

2017

€/unit

43.20

Available

> 300

Format

0.75

Packaging

CB 6, Unit 1

Ratings

JS: 90-91

Appellation

ST ESTEPHE

Wine

CH DE PEZ

Vintage

2018

€/unit

46.50

Available

> 300

Format

0.75

Packaging

CB 6

Ratings

JS: 93-94

Appellation

ST ESTEPHE

Wine

CH DE PEZ

Vintage

2018

€/unit

93.00

Available

156

Format

1.5

Packaging

CB 6

Ratings

JS: 93-94

Appellation

MARGAUX

Wine

CH DEYREM VALENTIN

Vintage

2016

€/unit

36.90

Available

> 300

Format

0.75

Packaging

CB 6, Unit 1

Ratings

JS: 93

Appellation

MARGAUX

Wine

CH DEYREM VALENTIN

Vintage

2016

€/unit

74.50

Available

48

Format

1.5

Packaging

CB 6

Ratings

JS: 93

Appellation

MARGAUX

Wine

CH DEYREM VALENTIN

Vintage

2017

€/unit

32.30

Available

> 300

Format

0.75

Packaging

CB 6

Ratings

JS: 90

Appellation

MARGAUX

Wine

CH DEYREM VALENTIN

Vintage

2018

€/unit

33.00

Available

> 300

Format

0.75

Packaging

CB 6, Unit 1

Ratings

JS: 92 , AG: 90 , JA: 93

Appellation

MARGAUX

Wine

CH DEYREM VALENTIN

Vintage

2018

€/unit

74.50

Available

48

Format

1.5

Packaging

CB 6

Ratings

JS: 92 , AG: 90 , JA: 93

Appellation

MARGAUX

Wine

CH DEYREM VALENTIN

Vintage

2020

€/unit

34.30

Available

204

Format

0.75

Packaging

CT 6

Ratings

JS: 93 , AG: 90 , JD: 89

Appellation

MARGAUX

Wine

CH D'ISSAN

Vintage

2013

€/unit

74.20

Available

> 300

Format

0.75

Packaging

CB 6

Ratings

JS: 91 - 92 , LPB: 86

Appellation

MARGAUX

Wine

CH D'ISSAN

Vintage

2017

€/unit

85.20

Available

246

Format

0.75

Packaging

CB 6

Ratings

JS: 94 , LPB: 94

Appellation

MARGAUX

Wine

CH D'ISSAN

Vintage

2019

€/unit

96.30

Available

24

Format

0.75

Packaging

CB 6

Ratings

JS: 97 , AG: 95 , LPB: 95

Appellation

MARGAUX

Wine

CH D'ISSAN

Vintage

2020

€/unit

184.40

Available

24

Format

1.5

Packaging

CB 3

Ratings

JS: 97 - 98 , AG: 95 , LPB: 95 , JD: 96

Appellation

MARGAUX

Wine

CH D'ISSAN

Vintage

2020

€/unit

373.30

Available

3

Format

3

Packaging

CB 1

Ratings

JS: 97 - 98 , AG: 95 , LPB: 95 , JD: 96

Appellation

BARSAC

Wine

CH DOISY DAENE BARSAC

Vintage

2013

€/unit

60.40

Available

24

Format

0.75

Packaging

CB 6

Ratings

JS: 87-88

Appellation

BARSAC

Wine

CH DOISY DAENE BARSAC

Vintage

2019

€/unit

59.40

Available

66

Format

0.75

Packaging

CB 6

Ratings

Appellation

ST JULIEN

Wine

CH DU GLANA

Vintage

2013

€/unit

28.00

Available

> 300

Format

0.75

Packaging

CB 12, CB 6, Unit 1

Ratings

Appellation

ST JULIEN

Wine

CH DU GLANA

Vintage

2015

€/unit

78.20

Available

18

Format

1.5

Packaging

CB 6

Ratings

JS: 89 - 90

Appellation

ST JULIEN

Wine

CH DU GLANA

Vintage

2016

€/unit

78.20

Available

> 300

Format

1.5

Packaging

CB 6

Ratings

JS: 92 - 93

Appellation

ST JULIEN

Wine

CH DU GLANA

Vintage

2017

€/unit

33.60

Available

> 300

Format

0.75

Packaging

CB 6

Ratings

JS: 89 - 90

Appellation

ST JULIEN

Wine

CH DU GLANA

Vintage

2019

€/unit

35.40

Available

> 300

Format

0.75

Packaging

CB 6

Ratings

JS: 92 - 93 , LPB: 93

Appellation

ST JULIEN

Wine

CH DU GLANA

Vintage

2020

€/unit

36.00

Available

> 300

Format

0.75

Packaging

CB 6, CB 12

Ratings

JS: 91 , LPB: 89

Appellation

ST JULIEN

Wine

CH DU GLANA

Vintage

2020

€/unit

36.00

Available

1

Format

0.75

Packaging

Unit 1

Ratings

JS: 91 , LPB: 89

Appellation

ST JULIEN

Wine

CH DU GLANA

Vintage

2020

€/unit

79.60

Available

63

Format

1.5

Packaging

CB 3, CB 1

Ratings

JS: 91 , LPB: 89

Appellation

ST JULIEN

Wine

CH DU GLANA

Vintage

2021

€/unit

37.50

Available

> 300

Format

0.75

Packaging

CB 6, CB 6, Unit 1

Ratings

JA: 88

Appellation

HAUT MEDOC

Wine

CH DU MOULIN ROUGE

Vintage

2001

€/unit

9.80

Available

71

Format

0.375

Packaging

CT 12, Unit 1

Ratings

GOLD BORDEAUX 2004

Appellation

MARGAUX

Wine

CH DU TERTRE

Vintage

2001

€/unit

210.50

Available

12

Format

1.5

Packaging

CB 6

Ratings

Appellation

MARGAUX

Wine

CH DU TERTRE

Vintage

2017

€/unit

59.80

Available

> 300

Format

0.75

Packaging

CB 6

Ratings

JS: 91 , LPB: 87

Appellation

ST JULIEN

Wine

CH DUCRU BEAUCAILLOU

Vintage

2008

€/unit

303.20

Available

66

Format

0.75

Packaging

CB 12, CB 6

Ratings

LPB: 93

Appellation

ST JULIEN

Wine

CH DUCRU BEAUCAILLOU

Vintage

2017

€/unit

270.20

Available

12

Format

0.75

Packaging

CB 12

Ratings

JS: 98 , LPB: 96

Appellation

ST JULIEN

Wine

CH DUCRU BEAUCAILLOU

Vintage

2018

€/unit

319.40

Available

30

Format

0.75

Packaging

CB 6

Ratings

JS: 99 , AG: 96 , LPB: 98

Appellation

ST JULIEN

Wine

CH DUCRU BEAUCAILLOU

Vintage

2018

€/unit

1191.70

Available

1

Format

3

Packaging

CB 1

Ratings

JS: 99 , AG: 96 , LPB: 98

Appellation

ST JULIEN

Wine

CH DUCRU BEAUCAILLOU

Vintage

2019

€/unit

328.20

Available

12

Format

0.75

Packaging

CB 6

Ratings

JS: 98 , AG: 97 , LPB: 99

Appellation

ST JULIEN

Wine

CH DUCRU BEAUCAILLOU

Vintage

2020

€/unit

351.70

Available

192

Format

0.75

Packaging

CB 6

Ratings

JS: 98 - 99 , LPB: 99 , JD: 100

Appellation

ST JULIEN

Wine

CH DUCRU BEAUCAILLOU

Vintage

2020

€/unit

828.50

Available

48

Format

1.5

Packaging

CB 3

Ratings

JS: 98 - 99 , LPB: 99 , JD: 100

Appellation

ST JULIEN

Wine

CH DUCRU BEAUCAILLOU

Vintage

2020

€/unit

1930.70

Available

6

Format

3

Packaging

CB 1

Ratings

JS: 98 - 99 , LPB: 99 , JD: 100

Appellation

PAUILLAC

Wine

CH DUHART-MILON

Vintage

2008

€/unit

162.00

Available

24

Format

0.75

Packaging

CB 6

Ratings

JA: 92 - 93

Appellation

PAUILLAC

Wine

CH DUHART-MILON

Vintage

2011

€/unit

141.80

Available

30

Format

0.75

Packaging

CB 6

Ratings

JS: 92 - 93 , JA: 94

Appellation

PAUILLAC

Wine

CH DUHART-MILON

Vintage

2014

€/unit

135.10

Available

179

Format

0.75

Packaging

CB 6, Unit 1

Ratings

JS: 92 - 93 , AG: 88 - 91

Appellation

PAUILLAC

Wine

CH DUHART-MILON

Vintage

2015

€/unit

141.80

Available

12

Format

0.75

Packaging

CB 6

Ratings

JS: 91 - 92 , AG: 90 - 92 , LPB: 90

Appellation

PAUILLAC

Wine

CH DUHART-MILON

Vintage

2016

€/unit

143.70

Available

60

Format

0.75

Packaging

CB 6

Ratings

JS: 95 , LPB: 89

Appellation

PAUILLAC

Wine

CH DUHART-MILON

Vintage

2016

€/unit

294.10

Available

4

Format

1.5

Packaging

CB 1

Ratings

JS: 95 , LPB: 89

Appellation

PAUILLAC

Wine

CH DUHART-MILON

Vintage

2017

€/unit

131.50

Available

30

Format

0.75

Packaging

CB 6

Ratings

JS: 95 , LPB: 92

Appellation

PAUILLAC

Wine

CH DUHART-MILON

Vintage

2018

€/unit

138.30

Available

> 300

Format

0.75

Packaging

CB 6

Ratings

JS: 96 , AG: 94 , LPB: 91 , JA: 95

Appellation

PAUILLAC

Wine

CH DUHART-MILON

Vintage

2019

€/unit

135.10

Available

168

Format

0.75

Packaging

CB 6

Ratings

JS: 95 , AG: 92 , LPB: 92 , JD: 93

Appellation

PAUILLAC

Wine

CH DUHART-MILON

Vintage

2020

€/unit

135.10

Available

> 300

Format

0.75

Packaging

CB 6

Ratings

JS: 95 - 96 , AG: 93 , LPB: 91 , JD: 94

Appellation

PAUILLAC

Wine

CH DUHART-MILON

Vintage

2020

€/unit

277.60

Available

60

Format

1.5

Packaging

CB 3

Ratings

JS: 95 - 96 , AG: 93 , LPB: 91 , JD: 94

Appellation

MARGAUX

Wine

CH DURFORT VIVENS

Vintage

2006

€/unit

189.80

Available

60

Format

1.5

Packaging

CB 6

Ratings

Appellation

MARGAUX

Wine

CH DURFORT VIVENS

Vintage

2009

€/unit

126.40

Available

36

Format

0.75

Packaging

CB 6

Ratings

JS: 89 - 92 , JA: 90 - 92

Appellation

MARGAUX

Wine

CH DURFORT VIVENS

Vintage

2009

€/unit

261.00

Available

6

Format

1.5

Packaging

CB 3

Ratings

JS: 89 - 92 , JA: 90 - 92

Appellation

MARGAUX

Wine

CH DURFORT VIVENS

Vintage

2009

€/unit

535.80

Available

3

Format

3

Packaging

CB 1

Ratings

JS: 89 - 92 , JA: 90 - 92

Appellation

MARGAUX

Wine

CH DURFORT VIVENS

Vintage

2010

€/unit

122.80

Available

48

Format

0.75

Packaging

CB 6

Ratings

JS: 91 - 92 , JA: 90

Appellation

MARGAUX

Wine

CH DURFORT VIVENS

Vintage

2010

€/unit

244.30

Available

12

Format

1.5

Packaging

CB 6

Ratings

JS: 91 - 92 , JA: 90

Appellation

MARGAUX

Wine

CH DURFORT VIVENS

Vintage

2012

€/unit

103.30

Available

18

Format

0.75

Packaging

CB 6

Ratings

JS: 90 - 91

Appellation

MARGAUX

Wine

CH DURFORT VIVENS

Vintage

2017

€/unit

96.30

Available

120

Format

0.75

Packaging

CB 12

Ratings

JS: 95

Appellation

MARGAUX

Wine

CH DURFORT VIVENS

Vintage

2020

€/unit

100.00

Available

174

Format

0.75

Packaging

CB 6

Ratings

JS: 96 , AG: 96

Appellation

SAUTERNES

Wine

CH D'YQUEM

Vintage

1989

€/unit

625.90

Available

36

Format

0.75

Packaging

CB 12

Ratings

LPB: 96

Appellation

SAUTERNES

Wine

CH D'YQUEM

Vintage

2007

€/unit

324.50

Available

108

Format

0.375

Packaging

CB 12

Ratings

LPB: 98

Appellation

SAUTERNES

Wine

CH D'YQUEM

Vintage

2008

€/unit

499.40

Available

96

Format

0.75

Packaging

CB 12

Ratings

LPB: 97

Appellation

SAUTERNES

Wine

CH D'YQUEM

Vintage

2010

€/unit

603.10

Available

286

Format

0.75

Packaging

CB 6, CB 1

Ratings

JS: 97 , LPB: 98 , JA: 97

Appellation

SAUTERNES

Wine

CH D'YQUEM

Vintage

2016

€/unit

546.40

Available

120

Format

0.75

Packaging

CB 6

Ratings

JS: 99 , LPB: 98

Appellation

SAUTERNES

Wine

CH D'YQUEM

Vintage

2016

€/unit

1052.80

Available

18

Format

1.5

Packaging

CB 1

Ratings

JS: 99 , LPB: 98

Appellation

SAUTERNES

Wine

CH D'YQUEM

Vintage

2016

€/unit

2057.70

Available

3

Format

3

Packaging

CB 1

Ratings

JS: 99 , LPB: 98

Appellation

SAUTERNES

Wine

CH D'YQUEM

Vintage

2017

€/unit

507.90

Available

150

Format

0.75

Packaging

CB 6

Ratings

JS: 99 , LPB: 98

Appellation

SAUTERNES

Wine

CH D'YQUEM

Vintage

2018

€/unit

482.40

Available

120

Format

0.75

Packaging

CB 6

Ratings

JS: 97 , LPB: 97 , JA: 97

Appellation

SAUTERNES

Wine

CH D'YQUEM

Vintage

2018

€/unit

3483.00

Available

1

Format

6

Packaging

CB 1

Ratings

JS: 97 , LPB: 97 , JA: 97

Appellation

SAUTERNES

Wine

CH D'YQUEM

Vintage

2019

€/unit

258.80

Available

6

Format

0.375

Packaging

CB 6

Ratings

JS: 96 , LPB: 97

Appellation

SAUTERNES

Wine

CH D'YQUEM

Vintage

2019

€/unit

499.40

Available

36

Format

0.75

Packaging

CB 6

Ratings

JS: 96 , LPB: 97

Appellation

SAUTERNES

Wine

CH D'YQUEM

Vintage

2020

€/unit

507.90

Available

60

Format

0.75

Packaging

CB 6, CB 6

Ratings

LPB: 97

Appellation

ST EMILION GRAND CRU

Wine

CH FAUGERES

Vintage

2018

€/unit

62.00

Available

96

Format

0.75

Packaging

CB 6

Ratings

JS: 97 , AG: 96 , LPB: 90

Appellation

POMEROL

Wine

CH FAYAT

Vintage

2017

€/unit

40.00

Available

> 300

Format

0.75

Packaging

CB 6

Ratings

JS: 91

Appellation

POMEROL

Wine

CH FAYAT

Vintage

2018

€/unit

43.20

Available

> 300

Format

0.75

Packaging

CB 6

Ratings

JS: 93 , AG: 82

Appellation

POMEROL

Wine

CH FAYAT

Vintage

2019

€/unit

41.00

Available

> 300

Format

0.75

Packaging

CT 6

Ratings

JS: 93 - 94 , AG: 88

Appellation

POMEROL

Wine

CH FAYAT

Vintage

2020

€/unit

41.00

Available

> 300

Format

0.75

Packaging

CT 6

Ratings

JS: 94 - 95 , AG: 86 , LPB: 94 , JD: 91

Appellation

MARGAUX

Wine

CH FERRIERE

Vintage

1998

€/unit

189.80

Available

12

Format

1.5

Packaging

CB 6

Ratings

Appellation

MARGAUX

Wine

CH FERRIERE

Vintage

1999

€/unit

100.00

Available

24

Format

0.75

Packaging

CB 12

Ratings

Appellation

MARGAUX

Wine

CH FERRIERE

Vintage

1999

€/unit

210.50

Available

6

Format

1.5

Packaging

CB 6

Ratings

Appellation

MARGAUX

Wine

CH FERRIERE

Vintage

2001

€/unit

107.00

Available

24

Format

0.75

Packaging

CB 12

Ratings

Appellation

MARGAUX

Wine

CH FERRIERE

Vintage

2011

€/unit

67.80

Available

24

Format

0.75

Packaging

CB 12

Ratings

JS: 89 - 90 , JA: 87

Appellation

MARGAUX

Wine

CH FERRIERE

Vintage

2019

€/unit

72.30

Available

> 300

Format

0.75

Packaging

CB 6

Ratings

JS: 96 , AG: 95

Appellation

MARGAUX

Wine

CH FERRIERE VIN BIO ECOCERT

Vintage

2017

€/unit

71.50

Available

96

Format

0.75

Packaging

CB 12

Ratings

JS: 94

Appellation

MARGAUX

Wine

CH FERRIERE VIN BIO ECOCERT

Vintage

2018

€/unit

77.90

Available

120

Format

0.75

Packaging

CB 6

Ratings

JS: 95 , AG: 94 , JA: 92

Appellation

ST EMILION GRAND CRU

Wine

CH FLEUR CARDINALE

Vintage

2014

€/unit

55.70

Available

> 300

Format

0.75

Packaging

CB 6

Ratings

JS: 94 FEB 2017

Appellation

ST EMILION GRAND CRU

Wine

CH FLEUR CARDINALE

Vintage

2019

€/unit

118.10

Available

60

Format

1.5

Packaging

CB 6, CB 3

Ratings

JS: 95-96

Appellation

ST EMILION GRAND CRU

Wine

CH FLEUR CARDINALE

Vintage

2020

€/unit

66.80

Available

> 300

Format

0.75

Packaging

CB 6

Ratings

Appellation

ST EMILION GRAND CRU

Wine

CH FLEUR CARDINALE RUGBYSPIRIT

Vintage

2021

€/unit

170.70

Available

25

Format

1.5

Packaging

CB 1

Ratings

Appellation

ST EMILION GRAND CRU

Wine

CH FLEUR CARDINALE SURF

Vintage

2019

€/unit

159.30

Available

78

Format

1.5

Packaging

CB 1

Ratings

Appellation

ST EMILION GRAND CRU

Wine

CH FOMBRAUGE

Vintage

2018

€/unit

44.30

Available

120

Format

0.75

Packaging

CB 6

Ratings

JS: 94 , AG: 91 - 94 , LPB: 93 , JA: 93

Appellation

ST EMILION GRAND CRU

Wine

CH FOMBRAUGE

Vintage

2020

€/unit

46.10

Available

48

Format

0.75

Packaging

CB 6

Ratings

JS: 94 , AG: 92 , LPB: 93 , JD: 94

Appellation

ST EMILION GRAND CRU

Wine

CH FOMBRAUGE

Vintage

2021

€/unit

44.60

Available

> 300

Format

0.75

Packaging

CB 6

Ratings

JS: 92 - 93 , AG: 91 - 93 , JA: 90

Appellation

PAUILLAC

Wine

CH FONBADET

Vintage

2019

€/unit

55.70

Available

60

Format

0.75

Packaging

CB 12

Ratings

JS: 92 - 93 , AG: 93 , LPB: 93

Appellation

PAUILLAC

Wine

CH FONBADET

Vintage

2020

€/unit

52.00

Available

12

Format

0.75

Packaging

CB 12

Ratings

JS: 93 , AG: 93 , LPB: 92 , JD: 94

Appellation

ST EMILION GRAND CRU

Wine

CH FONPLEGADE

Vintage

2012

€/unit

53.90

Available

30

Format

0.75

Packaging

CB 6

Ratings

JS: 92

Appellation

ST EMILION GRAND CRU

Wine

CH FONPLEGADE

Vintage

2017

€/unit

46.50

Available

> 300

Format

0.75

Packaging

CB 6, Unit 1

Ratings

JS: 93 , LPB: 91

Appellation

ST EMILION GRAND CRU

Wine

CH FONPLEGADE

Vintage

2019

€/unit

57.60

Available

> 300

Format

0.75

Packaging

CB 6, CB 1

Ratings

JS: 95 - 96 , AG: 95 , LPB: 93 , JA: 94

Appellation

ST EMILION GRAND CRU

Wine

CH FONPLEGADE VIN BIO ECOCERT

Vintage

2020

€/unit

57.60

Available

204

Format

0.75

Packaging

CB 6

Ratings

JS: 94 , AG: 94 , LPB: 93 , JD: 94

Appellation

ST EMILION GRAND CRU

Wine

CH FONPLEGADE VIN BIO ECOCERT

Vintage

2020

€/unit

121.30

Available

24

Format

1.5

Packaging

CB 3

Ratings

JS: 94 , AG: 94 , LPB: 93 , JD: 94

Appellation

ST EMILION GRAND CRU

Wine

CH FONPLEGADE VIN BIO ECOCERT

Vintage

2020

€/unit

291.40

Available

4

Format

3

Packaging

CB 1

Ratings

JS: 94 , AG: 94 , LPB: 93 , JD: 94

Appellation

LISTRAC-MEDOC

Wine

CH FONREAUD

Vintage

2012

€/unit

26.40

Available

1

Format

0.75

Packaging

Unit 1

Ratings

Appellation

LISTRAC-MEDOC

Wine

CH FONREAUD

Vintage

2013

€/unit

20.70

Available

11

Format

0.75

Packaging

CB 6, Unit 1

Ratings

Appellation

LISTRAC-MEDOC

Wine

CH FONREAUD

Vintage

2014

€/unit

20.70

Available

> 300

Format

0.75

Packaging

CB 6, Unit 1

Ratings

JS: 90

Appellation

BORDEAUX BLANC

Wine

CH FONREAUD LE CYGNE

Vintage

2015

€/unit

27.70

Available

6

Format

0.75

Packaging

CT 6

Ratings

Appellation

BORDEAUX BLANC

Wine

CH FONREAUD LE CYGNE

Vintage

2016

€/unit

28.40

Available

2

Format

0.75

Packaging

Unit 1

Ratings

Appellation

ST EMILION GRAND CRU

Wine

CH FRANC MAYNE

Vintage

2018

€/unit

49.80

Available

> 300

Format

0.75

Packaging

CB 6, Unit 1

Ratings

JS: 90-91

Appellation

ST EMILION GRAND CRU

Wine

CH FRANC MAYNE

Vintage

2020

€/unit

53.90

Available

> 300

Format

0.75

Packaging

CB 6

Ratings

Appellation

ST EMILION GRAND CRU

Wine

CH FRANC MAYNE

Vintage

2020

€/unit

107.40

Available

96

Format

1.5

Packaging

CB 3

Ratings

Appellation

ST EMILION GRAND CRU

Wine

CH FRANC MAYNE

Vintage

2020

€/unit

241.40

Available

8

Format

3

Packaging

CB 1

Ratings

Appellation

ST EMILION GRAND CRU

Wine

CH FRANC-MAYNE

Vintage

2019

€/unit

44.30

Available

282

Format

0.75

Packaging

CB 6

Ratings

JS: 93-94

Appellation

ST EMILION GRAND CRU

Wine

CH FRANC-MAYNE

Vintage

2021

€/unit

45.40

Available

> 300

Format

0.75

Packaging

CB 6

Ratings

Appellation

BORDEAUX SUPERIEUR ROUGE

Wine

CH FRANCS MAGNUS

Vintage

2018

€/unit

15.10

Available

69

Format

0.75

Packaging

CT 6, Unit 1

Ratings

JS: 91-92

Appellation

PESSAC LEOGNAN BLANC

Wine

CH GAZIN ROCQUENCOURT BLANC

Vintage

2010

€/unit

38.70

Available

12

Format

0.75

Packaging

CB 12

Ratings

JS: 92

Appellation

MARGAUX

Wine

CH GISCOURS

Vintage

1996

€/unit

929.00

Available

5

Format

5

Packaging

CB 1

Ratings

Appellation

MARGAUX

Wine

CH GISCOURS

Vintage

1996

€/unit

1114.70

Available

8

Format

6

Packaging

CB 1

Ratings

Appellation

MARGAUX

Wine

CH GISCOURS

Vintage

2006

€/unit

117.70

Available

36

Format

0.75

Packaging

CB 12

Ratings

Appellation

MARGAUX

Wine

CH GISCOURS

Vintage

2006

€/unit

227.40

Available

42

Format

1.5

Packaging

CB 6

Ratings

Appellation

MARGAUX

Wine

CH GISCOURS

Vintage

2015

€/unit

120.90

Available

156

Format

0.75

Packaging

CB 6

Ratings

JS: 96 - 97 , AG: 91 - 94

Appellation

MARGAUX

Wine

CH GISCOURS

Vintage

2016

€/unit

50.10

Available

12

Format

0.375

Packaging

CB 12

Ratings

JS: 96

Appellation

MARGAUX

Wine

CH GISCOURS

Vintage

2016

€/unit

107.00

Available

60

Format

0.75

Packaging

CB 12

Ratings

JS: 96

Appellation

MARGAUX

Wine

CH GISCOURS

Vintage

2016

€/unit

198.00

Available

54

Format

1.5

Packaging

CB 6

Ratings

JS: 96

Appellation

MARGAUX

Wine

CH GISCOURS

Vintage

2017

€/unit

94.50

Available

54

Format

0.75

Packaging

CB 12, CB 6

Ratings

JS: 94

Appellation

MARGAUX

Wine

CH GISCOURS

Vintage

2017

€/unit

176.10

Available

72

Format

1.5

Packaging

CB 6

Ratings

JS: 94

Appellation

MARGAUX

Wine

CH GISCOURS

Vintage

2017

€/unit

373.30

Available

12

Format

3

Packaging

CB 1

Ratings

JS: 94

Appellation

MARGAUX

Wine

CH GISCOURS

Vintage

2017

€/unit

747.60

Available

6

Format

6

Packaging

CB 1

Ratings

JS: 94

Appellation

MARGAUX

Wine

CH GISCOURS

Vintage

2018

€/unit

105.20

Available

30

Format

0.75

Packaging

CB 12, CB 6

Ratings

JS: 97 , AG: 93 , LPB: 92 , JA: 93

Appellation

MARGAUX

Wine

CH GISCOURS

Vintage

2018

€/unit

193.40

Available

32

Format

1.5

Packaging

CB 6, CB 1

Ratings

JS: 97 , AG: 93 , LPB: 92 , JA: 93

Appellation

MARGAUX

Wine

CH GISCOURS

Vintage

2019

€/unit

100.00

Available

300

Format

0.75

Packaging

CB 12, CB 6

Ratings

JS: 97 , AG: 96 , LPB: 93 , JA: 94

Appellation

MARGAUX

Wine

CH GISCOURS

Vintage

2020

€/unit

193.40

Available

30

Format

1.5

Packaging

CB 3

Ratings

JS: 96 , AG: 96 , LPB: 92 - 94 , JD: 94

Appellation

MARGAUX

Wine

CH GISCOURS

Vintage

2021

€/unit

90.80

Available

222

Format

0.75

Packaging

CB 6

Ratings

JS: 94 - 95 , AG: 94 - 96 , JA: 93

Appellation

ST JULIEN

Wine

CH GLORIA

Vintage

2014

€/unit

60.40

Available

3

Format

0.75

Packaging

Unit 1

Ratings

JS: 92 - 93 , AG: 91 - 94

Appellation

ST JULIEN

Wine

CH GLORIA

Vintage

2016

€/unit

74.20

Available

282

Format

0.75

Packaging

CB 6

Ratings

JS: 94 , LPB: 93

Appellation

ST JULIEN

Wine

CH GLORIA

Vintage

2017

€/unit

55.40

Available

> 300

Format

0.75

Packaging

CB 6

Ratings

JS: 89 , LPB: 90

Appellation

ST JULIEN

Wine

CH GLORIA

Vintage

2017

€/unit

110.70

Available

> 300

Format

1.5

Packaging

CB 6

Ratings

JS: 89 , LPB: 90

Appellation

ST JULIEN

Wine

CH GLORIA

Vintage

2017

€/unit

261.70

Available

15

Format

3

Packaging

CB 1

Ratings

JS: 89 , LPB: 90

Appellation

ST JULIEN

Wine

CH GLORIA

Vintage

2018

€/unit

66.80

Available

> 300

Format

0.75

Packaging

CB 6, CB 3

Ratings

JS: 94 , AG: 93 , LPB: 94

Appellation

ST JULIEN

Wine

CH GLORIA

Vintage

2018

€/unit

120.50

Available

> 300

Format

1.5

Packaging

CB 6, Unit 1

Ratings

JS: 94 , AG: 93 , LPB: 94

Appellation

ST JULIEN

Wine

CH GLORIA

Vintage

2018

€/unit

291.40

Available

4

Format

3

Packaging

CB 1

Ratings

JS: 94 , AG: 93 , LPB: 94

Appellation

ST JULIEN

Wine

CH GLORIA

Vintage

2019

€/unit

63.10

Available

> 300

Format

0.75

Packaging

CB 1, CB 6

Ratings

JS: 94 , AG: 91 , LPB: 93

Appellation

ST JULIEN

Wine

CH GLORIA

Vintage

2020

€/unit

59.40

Available

> 300

Format

0.75

Packaging

CB 6

Ratings

JS: 94 , AG: 93 , LPB: 93 , JD: 93

Appellation

ST JULIEN

Wine

CH GLORIA

Vintage

2020

€/unit

59.40

Available

3

Format

0.75

Packaging

CB 3

Ratings

JS: 94 , AG: 93 , LPB: 93 , JD: 93

Appellation

ST JULIEN

Wine

CH GLORIA

Vintage

2020

€/unit

118.10

Available

294

Format

1.5

Packaging

CB 3

Ratings

JS: 94 , AG: 93 , LPB: 93 , JD: 93

Appellation

ST JULIEN

Wine

CH GLORIA

Vintage

2020

€/unit

291.40

Available

24

Format

3

Packaging

CB 1

Ratings

JS: 94 , AG: 93 , LPB: 93 , JD: 93

Appellation

ST JULIEN

Wine

CH GLORIA

Vintage

2020

€/unit

562.10

Available

4

Format

6

Packaging

CB 1

Ratings

JS: 94 , AG: 93 , LPB: 93 , JD: 93

Appellation

ST EMILION GRAND CRU

Wine

CH GRAND CORBIN DESPAGNE

Vintage

2010

€/unit

72.30

Available

18

Format

0.75

Packaging

CB 6, Unit 1

Ratings

JS: 92 - 93

Appellation

ST EMILION GRAND CRU

Wine

CH GRAND CORBIN DESPAGNE

Vintage

2014

€/unit

52.00

Available

60

Format

0.75

Packaging

CB 12

Ratings

JS: 93 , AG: 88 - 91

Appellation

ST EMILION GRAND CRU

Wine

CH GRAND MAYNE

Vintage

2014

€/unit

55.70

Available

> 300

Format

0.75

Packaging

CB 6

Ratings

JS: 92 , AG: 91 - 94

Appellation

ST EMILION GRAND CRU

Wine

CH GRAND MAYNE

Vintage

2017

€/unit

51.00

Available

> 300

Format

0.75

Packaging

CB 6, Unit 1

Ratings

LPB: 91

Appellation

ST EMILION GRAND CRU

Wine

CH GRAND MAYNE

Vintage

2018

€/unit

60.90

Available

270

Format

0.75

Packaging

CB 6

Ratings

JS: 93 , AG: 93 , LPB: 93 , JA: 92

Appellation

ST EMILION GRAND CRU

Wine

CH GRAND MAYNE

Vintage

2020

€/unit

58.70

Available

204

Format

0.75

Packaging

CB 6

Ratings

LPB: 94 , JD: 94

Appellation

PAUILLAC

Wine

CH GRAND PUY DUCASSE

Vintage

2017

€/unit

54.20

Available

6

Format

0.75

Packaging

CB 6

Ratings

JS: 90 , LPB: 93

Appellation

PAUILLAC

Wine

CH GRAND PUY LACOSTE

Vintage

2017

€/unit

104.80

Available

> 300

Format

0.75

Packaging

CB 6

Ratings

JS: 93 , LPB: 92

Appellation

PAUILLAC

Wine

CH GRAND PUY LACOSTE

Vintage

2018

€/unit

108.90

Available

> 300

Format

0.75

Packaging

CB 6

Ratings

JS: 94 , AG: 96 , LPB: 94 , JA: 95

Appellation

PAUILLAC

Wine

CH GRAND PUY LACOSTE

Vintage

2019

€/unit

108.90

Available

36

Format

0.75

Packaging

CB 6

Ratings

JS: 96 , AG: 94 , LPB: 94

Appellation

PAUILLAC

Wine

CH GRAND PUY LACOSTE

Vintage

2020

€/unit

108.90

Available

126

Format

0.75

Packaging

CB 6

Ratings

JS: 96 - 97 , AG: 96 , LPB: 93

Appellation

PAUILLAC

Wine

CH GRAND PUY LACOSTE

Vintage

2020

€/unit

108.90

Available

36

Format

0.75

Packaging

CB 12

Ratings

JS: 96 - 97 , AG: 96 , LPB: 93

Appellation

PAUILLAC

Wine

CH GRAND PUY LACOSTE

Vintage

2020

€/unit

227.40

Available

30

Format

1.5

Packaging

CB 6

Ratings

JS: 96 - 97 , AG: 96 , LPB: 93

Appellation

ST JULIEN

Wine

CH GRUAUD LAROSE

Vintage

2015

€/unit

143.70

Available

6

Format

0.75

Packaging

CB 6

Ratings

JS: 93 - 94 , LPB: 97

Appellation

ST JULIEN

Wine

CH GRUAUD LAROSE

Vintage

2017

€/unit

131.50

Available

6

Format

0.75

Packaging

CB 6

Ratings

JS: 92 - 93 , LPB: 95

Appellation

ST JULIEN

Wine

CH GRUAUD LAROSE

Vintage

2019

€/unit

135.10

Available

120

Format

0.75

Packaging

CB 6

Ratings

JS: 94 , AG: 94 , LPB: 95

Appellation

ST JULIEN

Wine

CH GRUAUD LAROSE

Vintage

2020

€/unit

135.10

Available

120

Format

0.75

Packaging

CB 6

Ratings

JS: 96 , AG: 95 , LPB: 96 , JD: 96

Appellation

ST JULIEN

Wine

CH GRUAUD LAROSE

Vintage

2020

€/unit

277.60

Available

36

Format

1.5

Packaging

CB 3

Ratings

JS: 96 , AG: 95 , LPB: 96 , JD: 96

Appellation

ST JULIEN

Wine

CH GRUAUD LAROSE

Vintage

2020

€/unit

573.90

Available

3

Format

3

Packaging

CB 1

Ratings

JS: 96 , AG: 95 , LPB: 96 , JD: 96

Appellation

PAUILLAC

Wine

CH HAUT BAGES LIBERAL

Vintage

2000

€/unit

503.80

Available

6

Format

3

Packaging

CB 1

Ratings

Appellation

PAUILLAC

Wine

CH HAUT BAGES LIBERAL

Vintage

2006

€/unit

176.10

Available

54

Format

1.5

Packaging

CB 6

Ratings

Appellation

PAUILLAC

Wine

CH HAUT BAGES LIBERAL

Vintage

2008

€/unit

167.80

Available

60

Format

1.5

Packaging

CB 6

Ratings

JA: 90 - 91

Appellation

PAUILLAC

Wine

CH HAUT BAGES LIBERAL

Vintage

2009

€/unit

227.40

Available

30

Format

1.5

Packaging

CB 6

Ratings

JS: 94 , JA: 90

Appellation

PAUILLAC

Wine

CH HAUT BAGES LIBERAL

Vintage

2017

€/unit

61.30

Available

> 300

Format

0.75

Packaging

CB 6, CB 12

Ratings

JS: 94

Appellation

PAUILLAC

Wine

CH HAUT BAGES LIBERAL

Vintage

2018

€/unit

68.60

Available

54

Format

0.75

Packaging

CB 6

Ratings

JS: 97 , AG: 94 , LPB: 92 , JA: 92

Appellation

PAUILLAC

Wine

CH HAUT BAGES LIBERAL

Vintage

2019

€/unit

66.80

Available

54

Format

0.75

Packaging

CB 6

Ratings

JS: 96 , AG: 94

Appellation

PAUILLAC

Wine

CH HAUT BAGES LIBERAL

Vintage

2020

€/unit

63.10

Available

12

Format

0.75

Packaging

CB 6

Ratings

JS: 97 , AG: 96

Appellation

PESSAC LEOGNAN ROUGE

Wine

CH HAUT BAILLY

Vintage

2007

€/unit

105.20

Available

96

Format

0.75

Packaging

CB 12

Ratings

Appellation

PESSAC LEOGNAN ROUGE

Wine

CH HAUT BAILLY

Vintage

2013

€/unit

87.10

Available

162

Format

0.75

Packaging

CB 6

Ratings

JS: 91 - 92 , AG: 90 - 93 , LPB: 85

Appellation

PESSAC LEOGNAN ROUGE

Wine

CH HAUT BAILLY

Vintage

2015

€/unit

180.40

Available

60

Format

0.75

Packaging

CB 6

Ratings

JS: 98 - 99 , AG: 95 - 97

Appellation

PESSAC LEOGNAN ROUGE

Wine

CH HAUT BAILLY

Vintage

2016

€/unit

202.90

Available

6

Format

0.75

Packaging

CB 6

Ratings

JS: 98

Appellation

PESSAC LEOGNAN ROUGE

Wine

CH HAUT BAILLY

Vintage

2017

€/unit

138.30

Available

204

Format

0.75

Packaging

CB 12, CB 6

Ratings

JS: 95

Appellation

PESSAC LEOGNAN ROUGE

Wine

CH HAUT BAILLY

Vintage

2018

€/unit

194.70

Available

120

Format

0.75

Packaging

CB 12

Ratings

JS: 99 , AG: 97 , LPB: 95

Appellation

PESSAC LEOGNAN ROUGE

Wine

CH HAUT BAILLY

Vintage

2019

€/unit

178.70

Available

24

Format

0.75

Packaging

CB 6

Ratings

JS: 99 , AG: 96 , LPB: 98 , JA: 97

Appellation

PAUILLAC

Wine

CH HAUT BATAILLEY

Vintage

2017

€/unit

85.20

Available

> 300

Format

0.75

Packaging

CB 6

Ratings

JS: 93 , LPB: 92

Appellation

PAUILLAC

Wine

CH HAUT BATAILLEY

Vintage

2018

€/unit

89.70

Available

> 300

Format

0.75

Packaging

CB 6

Ratings

JS: 94 - 95 , AG: 92 , LPB: 95 , JA: 94

Appellation

PAUILLAC

Wine

CH HAUT BATAILLEY

Vintage

2019

€/unit

79.70

Available

6

Format

0.75

Packaging

CB 6

Ratings

JS: 95 , AG: 94 , LPB: 95

Appellation

PAUILLAC

Wine

CH HAUT BATAILLEY

Vintage

2020

€/unit

80.80

Available

172

Format

0.75

Packaging

CB 6, Unit 1

Ratings

JS: 94 - 95 , AG: 93 , JD: 94

Appellation

PAUILLAC

Wine

CH HAUT BATAILLEY

Vintage

2020

€/unit

167.80

Available

48

Format

1.5

Packaging

CB 3

Ratings

JS: 94 - 95 , AG: 93 , JD: 94

Appellation

PAUILLAC

Wine

CH HAUT BATAILLEY

Vintage

2020

€/unit

373.30

Available

6

Format

3

Packaging

CB 1

Ratings

JS: 94 - 95 , AG: 93 , JD: 94

Appellation

PAUILLAC

Wine

CH HAUT BATAILLEY

Vintage

2020

€/unit

717.30

Available

3

Format

6

Packaging

CB 1

Ratings

JS: 94 - 95 , AG: 93 , JD: 94

Appellation

PESSAC LEOGNAN ROUGE

Wine

CH HAUT BRION

Vintage

2000

€/unit

1392.50

Available

24

Format

0.75

Packaging

CB 6

Ratings

Appellation

PESSAC LEOGNAN ROUGE

Wine

CH HAUT BRION

Vintage

2007

€/unit

701.70

Available

6

Format

0.75

Packaging

CB 6

Ratings

Appellation

PESSAC LEOGNAN ROUGE

Wine

CH HAUT BRION

Vintage

2009

€/unit

1336.10

Available

12

Format

0.75

Packaging

CB 6

Ratings

JS: 97 - 100 , JA: 97 - 98

Appellation

PESSAC LEOGNAN ROUGE

Wine

CH HAUT BRION

Vintage

2011

€/unit

718.30

Available

48

Format

0.75

Packaging

CB 6

Ratings

JS: 94 - 95 , JA: 95

Appellation

PESSAC LEOGNAN ROUGE

Wine

CH HAUT BRION

Vintage

2011

€/unit

1431.50

Available

1

Format

1.5

Packaging

CB 1

Ratings

JS: 94 - 95 , JA: 95

Appellation

PESSAC LEOGNAN ROUGE

Wine

CH HAUT BRION

Vintage

2015

€/unit

919.50

Available

6

Format

0.75

Packaging

CB 1

Ratings

JS: 97 - 98 , AG: 95 - 97 , LPB: 100

Appellation

PESSAC LEOGNAN ROUGE

Wine

CH HAUT BRION

Vintage

2016

€/unit

952.10

Available

12

Format

0.75

Packaging

CB 3

Ratings

JS: 100 , LPB: 100

Appellation

PESSAC LEOGNAN ROUGE

Wine

CH HAUT BRION

Vintage

2017

€/unit

665.30

Available

24

Format

0.75

Packaging

CB 6

Ratings

JS: 98 , LPB: 97

Appellation

PESSAC LEOGNAN ROUGE

Wine

CH HAUT BRION

Vintage

2018

€/unit

816.60

Available

126

Format

0.75

Packaging

CB 6

Ratings

JS: 99 , AG: 97 , LPB: 98 , JA: 98

Appellation

PESSAC LEOGNAN ROUGE

Wine

CH HAUT BRION

Vintage

2018

€/unit

1612.40

Available

6

Format

1.5

Packaging

CB 3

Ratings

JS: 99 , AG: 97 , LPB: 98 , JA: 98

Appellation

PESSAC LEOGNAN ROUGE

Wine

CH HAUT BRION

Vintage

2019

€/unit

838.00

Available

180

Format

0.75

Packaging

CB 6

Ratings

JS: 100 , AG: 98 , LPB: 100 , JA: 97

Appellation

PESSAC LEOGNAN ROUGE

Wine

CH HAUT BRION

Vintage

2019

€/unit

1692.40

Available

21

Format

1.5

Packaging

CB 1

Ratings

JS: 100 , AG: 98 , LPB: 100 , JA: 97

Appellation

PESSAC LEOGNAN ROUGE

Wine

CH HAUT BRION

Vintage

2020

€/unit

821.80

Available

60

Format

0.75

Packaging

CB 3, CB 1, CB 6

Ratings

JS: 99 - 100 , LPB: 99 , JD: 100

Appellation

PESSAC LEOGNAN ROUGE

Wine

CH HAUT BRION

Vintage

2020

€/unit

1692.40

Available

12

Format

1.5

Packaging

CB 3, CB 1

Ratings

JS: 99 - 100 , LPB: 99 , JD: 100

Appellation

PESSAC LEOGNAN BLANC

Wine

CH HAUT BRION BLC

Vintage

2020

€/unit

1139.00

Available

36

Format

0.75

Packaging

CB 6

Ratings

JS: 97 - 98 , LPB: 98 , JD: 98

Appellation

ST EMILION GRAND CRU

Wine

CH HAUT BRISSON

Vintage

2018

€/unit

41.80

Available

148

Format

0.75

Packaging

CB 1, CT 6

Ratings

Appellation

ST EMILION GRAND CRU

Wine

CH HAUT BRISSON

Vintage

2019

€/unit

36.30

Available

9

Format

0.75

Packaging

CB 6, CB 3

Ratings

JS: 93-94 , AG: 96 , LPB: 97
Appellation

ST EMILION GRAND CRU

Wine

CH HAUT BRISSON

Vintage

2020

€/unit

36.50

Available

288

Format

0.75

Packaging

CT 6

Ratings

AG: 98 , JD: 100

Appellation

ST EMILION GRAND CRU

Wine

CH HAUT BRISSON

Vintage

2020

€/unit

80.10

Available

2

Format

1.5

Packaging

CB 1

Ratings

AG: 98 , JD: 100

Appellation

POMEROL

Wine

CH HAUT MAILLET

Vintage

2018

€/unit

39.90

Available

> 300

Format

0.75

Packaging

CB 6, Unit 1

Ratings

JS: 91 - 92 , AG: 91 - 2021

Appellation

ST ESTEPHE

Wine

CH HAUT MARBUZET

Vintage

2018

€/unit

65.90

Available

> 300

Format

0.75

Packaging

CB 6

Ratings

JS: 96 , AG: 91 - 94 , LPB: 90 , JA: 92

Appellation

ST ESTEPHE

Wine

CH HAUT MARBUZET

Vintage

2020

€/unit

63.10

Available

150

Format

0.75

Packaging

CB 6

Ratings

JS: 96 , LPB: 86

Appellation

PESSAC LEOGNAN ROUGE

Wine

CH HAUT VIGNEAU

Vintage

2017

€/unit

21.00

Available

> 300

Format

0.75

Packaging

CT 6, Unit 1

Ratings

JS: 90

Appellation

PESSAC LEOGNAN BLANC

Wine

CH HAUT-BERGEY BLANC

Vintage

2011

€/unit

44.60

Available

12

Format

0.75

Packaging

CT 12

Ratings

Appellation

PESSAC LEOGNAN BLANC

Wine

CH HAUT-BERGEY BLANC

Vintage

2015

€/unit

42.40

Available

42

Format

0.75

Packaging

CT 6

Ratings

JS: 92 - 93

Appellation

POMEROL

Wine

CH LA CONSEILLANTE

Vintage

2019

€/unit

384.70

Available

12

Format

0.75

Packaging

CB 6

Ratings

JS: 99 , AG: 98 , LPB: 98 , JA: 97

Appellation

ST EMILION GRAND CRU

Wine

CH LA COUSPAUDE

Vintage

2016

€/unit

59.40

Available

> 300

Format

0.75

Packaging

CB 6

Ratings

JS: 94 , LPB: 94

Appellation

ST EMILION GRAND CRU

Wine

CH LA COUSPAUDE

Vintage

2018

€/unit

53.90

Available

> 300

Format

0.75

Packaging

CB 6

Ratings

JS: 94 , LPB: 89 , JA: 91

Appellation

ST EMILION GRAND CRU

Wine

CH LA COUSPAUDE

Vintage

2019

€/unit

53.90

Available

> 300

Format

0.75

Packaging

CB 6

Ratings

JS: 91 , AG: 88

Appellation

POMEROL

Wine

CH LA CROIX DE GAY

Vintage

2020

€/unit

54.20

Available

162

Format

0.75

Packaging

CB 6

Ratings

JS: 94 , AG: 89 , JD: 90

Appellation

POMEROL

Wine

CH LA CROIX DU CASSE

Vintage

2016

€/unit

61.30

Available

> 300

Format

0.75

Packaging

CB 12

Ratings

JS: 94

Appellation

POMEROL

Wine

CH LA CROIX DU CASSE

Vintage

2018

€/unit

52.00

Available

300

Format

0.75

Packaging

CB 12

Ratings

JS: 94 , AG: 88 - 91

Appellation

ST EMILION GRAND CRU

Wine

CH LA DOMINIQUE

Vintage

2012

€/unit

77.90

Available

5

Format

0.75

Packaging

Unit 1

Ratings

JS: 89 - 90

Appellation

ST EMILION GRAND CRU

Wine

CH LA DOMINIQUE

Vintage

2014

€/unit

66.80

Available

> 300

Format

0.75

Packaging

CB 12

Ratings

JS: 93 , AG: 89 - 92

Appellation

ST EMILION GRAND CRU

Wine

CH LA DOMINIQUE

Vintage

2016

€/unit

87.10

Available

99

Format

0.75

Packaging

CB 12, Unit 1

Ratings

JS: 94 , LPB: 94

Appellation

ST EMILION GRAND CRU

Wine

CH LA DOMINIQUE

Vintage

2017

€/unit

80.80

Available

189

Format

0.75

Packaging

CB 6, Unit 1

Ratings

JS: 92 , LPB: 90

Appellation

ST EMILION GRAND CRU

Wine

CH LA DOMINIQUE

Vintage

2018

€/unit

80.80

Available

> 300

Format

0.75

Packaging

CB 6

Ratings

JS: 95 , AG: 94 , LPB: 93 , JA: 94

Appellation

ST EMILION GRAND CRU

Wine

CH LA DOMINIQUE

Vintage

2019

€/unit

74.20

Available

> 300

Format

0.75

Packaging

CB 6

Ratings

JS: 95 , AG: 95 , LPB: 93

Appellation

ST EMILION GRAND CRU

Wine

CH LA DOMINIQUE

Vintage

2020

€/unit

74.20

Available

> 300

Format

0.75

Packaging

CB 6

Ratings

JS: 94 - 95 , AG: 96 , JD: 95

Appellation

LALANDE DE POMEROL

Wine

CH LA FLEUR DE BOUARD

Vintage

2005

€/unit

88.90

Available

72

Format

0.75

Packaging

CB 12

Ratings

Appellation

LALANDE DE POMEROL

Wine

CH LA FLEUR DE BOUARD

Vintage

2005

€/unit

179.10

Available

18

Format

1.5

Packaging

CB 6

Ratings

Appellation

LALANDE DE POMEROL

Wine

CH LA FLEUR DE BOUARD

Vintage

2013

€/unit

36.20

Available

3

Format

0.75

Packaging

Unit 1

Ratings

JS: 91 FEB 2016

Appellation

LALANDE DE POMEROL

Wine

CH LA FLEUR DE BOUARD

Vintage

2017

€/unit

167.80

Available

29

Format

1.5

Packaging

CB 1

Ratings

JS: 88-89

Appellation

POMEROL

Wine

CH LA FLEUR DE GAY

Vintage

2015

€/unit

131.50

Available

36

Format

0.75

Packaging

CB 6

Ratings

JS: 94 - 95 , AG: 92 - 95 , LPB: 94

Appellation

POMEROL

Wine

CH LA FLEUR DE GAY

Vintage

2017

€/unit

116.60

Available

168

Format

0.75

Packaging

CB 6

Ratings

JS: 93 , LPB: 89

Appellation

POMEROL

Wine

CH LA FLEUR DE GAY

Vintage

2018

€/unit

140.50

Available

240

Format

0.75

Packaging

CB 6

Ratings

JS: 93 , AG: 84 , LPB: 92

Appellation

POMEROL

Wine

CH LA FLEUR PETRUS

Vintage

2009

€/unit

539.80

Available

12

Format

0.75

Packaging

CB 12

Ratings

JS: 95 - 98 , JA: 94

Appellation

ST EMILION GRAND CRU

Wine

CH LA GAFFELIERE

Vintage

2010

€/unit

194.70

Available

12

Format

0.75

Packaging

CB 6

Ratings

JS: 92 - 93 , JA: 93

Appellation

ST EMILION GRAND CRU

Wine

CH LA GAFFELIERE

Vintage

2010

€/unit

391.90

Available

12

Format

1.5

Packaging

CB 6

Ratings

JS: 92 - 93 , JA: 93

Appellation

ST EMILION GRAND CRU

Wine

CH LA GAFFELIERE

Vintage

2014

€/unit

100.00

Available

264

Format

0.75

Packaging

CB 6, CB 12

Ratings

JS: 93 - 94 , AG: 92 - 95

Appellation

ST EMILION GRAND CRU

Wine

CH LA GAFFELIERE

Vintage

2015

€/unit

126.40

Available

> 300

Format

0.75

Packaging

CB 6, CB 12

Ratings

JS: 94 - 95 , AG: 94 - 97 , LPB: 96

Appellation

ST EMILION GRAND CRU

Wine

CH LA GAFFELIERE

Vintage

2016

€/unit

126.40

Available

> 300

Format

0.75

Packaging

CB 6

Ratings

JS: 96 , LPB: 95

Appellation

ST EMILION GRAND CRU

Wine

CH LA GAFFELIERE

Vintage

2018

€/unit

132.30

Available

240

Format

0.75

Packaging

CB 6

Ratings

JS: 95 , AG: 99 , LPB: 96 , JA: 96

Appellation

ST EMILION GRAND CRU

Wine

CH LA GAFFELIERE

Vintage

2018

€/unit

268.90

Available

60

Format

1.5

Packaging

CB 3

Ratings

JS: 95 , AG: 99 , LPB: 96 , JA: 96

Appellation

ST EMILION GRAND CRU

Wine

CH LA GAFFELIERE

Vintage

2019

€/unit

252.30

Available

30

Format

1.5

Packaging

CB 3

Ratings

JS: 96 , AG: 96 , LPB: 96 , JA: 96

Appellation

ST EMILION GRAND CRU

Wine

CH LA GAFFELIERE

Vintage

2020

€/unit

126.40

Available

192

Format

0.75

Packaging

CB 6

Ratings

JS: 97 , AG: 98 , JD: 94

Appellation

ST EMILION GRAND CRU

Wine

CH LA GAFFELIERE

Vintage

2020

€/unit

277.60

Available

30

Format

1.5

Packaging

CB 3

Ratings

JS: 97 , AG: 98 , JD: 94

Appellation

PESSAC LEOGNAN ROUGE

Wine

CH LA MISSION HAUT BRION

Vintage

1995

€/unit

546.40

Available

12

Format

0.75

Packaging

CB 12

Ratings

Appellation

PESSAC LEOGNAN ROUGE

Wine

CH LA MISSION HAUT BRION

Vintage

2004

€/unit

351.70

Available

12

Format

0.75

Packaging

CB 12

Ratings

Appellation

PESSAC LEOGNAN ROUGE

Wine

CH LA MISSION HAUT BRION

Vintage

2011

€/unit

401.80

Available

36

Format

0.75

Packaging

CB 6

Ratings

JS: 94 - 95 , JA: 94

Appellation

PESSAC LEOGNAN ROUGE

Wine

CH LA MISSION HAUT BRION

Vintage

2011

€/unit

769.10

Available

6

Format

1.5

Packaging

CB 1

Ratings

JS: 94 - 95 , JA: 94

Appellation

PESSAC LEOGNAN ROUGE

Wine

CH LA MISSION HAUT BRION

Vintage

2014

€/unit

335.70

Available

30

Format

0.75

Packaging

CB 6

Ratings

JS: 94 - 95 , AG: 93 - 96

Appellation

PESSAC LEOGNAN ROUGE

Wine

CH LA MISSION HAUT BRION

Vintage

2016

€/unit

571.20

Available

90

Format

0.75

Packaging

CB 6

Ratings

JS: 97 , LPB: 99

Appellation

PESSAC LEOGNAN ROUGE

Wine

CH LA MISSION HAUT BRION

Vintage

2017

€/unit

417.50

Available

126

Format

0.75

Packaging

CB 6

Ratings

JS: 97 , LPB: 96

Appellation

PESSAC LEOGNAN ROUGE

Wine

CH LA MISSION HAUT BRION

Vintage

2018

€/unit

490.90

Available

60

Format

0.75

Packaging

CB 6

Ratings

JS: 98 , AG: 94 , LPB: 100 , JA: 97

Appellation

PESSAC LEOGNAN ROUGE

Wine

CH LA MISSION HAUT BRION

Vintage

2019

€/unit

534.80

Available

180

Format

0.75

Packaging

CB 6

Ratings

JS: 98 , AG: 97 , LPB: 98 , JA: 96

Appellation

PESSAC LEOGNAN ROUGE

Wine

CH LA MISSION HAUT BRION

Vintage

2019

€/unit

1028.40

Available

6

Format

1.5

Packaging

CB 1

Ratings

JS: 98 , AG: 97 , LPB: 98 , JA: 96

Appellation

PESSAC LEOGNAN ROUGE

Wine

CH LA MISSION HAUT BRION

Vintage

2020

€/unit

490.90

Available

240

Format

0.75

Packaging

CB 6

Ratings

JS: 97 - 98 , LPB: 99 , JD: 99

Appellation

PESSAC LEOGNAN ROUGE

Wine

CH LA MISSION HAUT BRION

Vintage

2020

€/unit

987.80

Available

39

Format

1.5

Packaging

CB 1, CB 3

Ratings

JS: 97 - 98 , LPB: 99 , JD: 99

Appellation

PESSAC LEOGNAN ROUGE

Wine

CH LA MISSION HAUT BRION

Vintage

2020

€/unit

1930.70

Available

2

Format

3

Packaging

CB 1

Ratings

JS: 97 - 98 , LPB: 99 , JD: 99

Appellation

PESSAC LEOGNAN ROUGE

Wine

CH LA MISSION HAUT BRION

Vintage

2009

€/unit

2637.50

Available

9

Format

1.5

Packaging

CB 3

Ratings

JS: 94 - 97 , JA: 96 - 97

Appellation

PESSAC LEOGNAN ROUGE

Wine

CH LA MISSION HAUT BRION

Vintage

2009

€/unit

5067.20

Available

2

Format

3

Packaging

CB 1

Ratings

JS: 94 - 97 , JA: 96 - 97

Appellation

PESSAC LEOGNAN ROUGE

Wine

CH LA MISSION HAUT BRION

Vintage

2009

€/unit

9858.30

Available

1

Format

6

Packaging

CB 1

Ratings

JS: 94 - 97 , JA: 96 - 97

Appellation

PESSAC LEOGNAN BLANC

Wine

CH LA MISSION HAUT BRION BLC

Vintage

2011

€/unit

916.20

Available

12

Format

0.75

Packaging

CB 6

Ratings

JS: 99 - 100

Appellation

PESSAC LEOGNAN BLANC

Wine

CH LA MISSION HAUT BRION BLC

Vintage

2017

€/unit

792.10

Available

6

Format

0.75

Packaging

CB 1, Unit 1

Ratings

JS: 96 , LPB: 99

Appellation

PESSAC LEOGNAN BLANC

Wine

CH LA MISSION HAUT BRION BLC

Vintage

2018

€/unit

792.10

Available

90

Format

0.75

Packaging

CB 6

Ratings

JS: 98 , AG: 93 , LPB: 95 , JA: 94

Appellation

PESSAC LEOGNAN BLANC

Wine

CH LA MISSION HAUT BRION BLC

Vintage

2020

€/unit

792.10

Available

60

Format

0.75

Packaging

CB 6

Ratings

JS: 98 - 99 , LPB: 96 , JD: 96

Appellation

PESSAC LEOGNAN BLANC

Wine

CH LA MISSION HAUT BRION BLC

Vintage

2021

€/unit

870.60

Available

24

Format

0.75

Packaging

CB 6

Ratings

JS: 95 - 96 , AG: 94 - 96 , LPB: 93 - 95 , JA: 96

Appellation

POMEROL

Wine

CH LA POINTE

Vintage

2013

€/unit

44.40

Available

> 300

Format

0.75

Packaging

CB 6, Unit 1

Ratings

JS: 86-87-APR 14 , LPB: 87

Appellation

POMEROL

Wine

CH LA POINTE

Vintage

2019

€/unit

59.40

Available

60

Format

0.75

Packaging

CB 6

Ratings

JS: 95 , AG: 91 , LPB: 94

Appellation

POMEROL

Wine

CH LA POINTE

Vintage

2019

€/unit

123.10

Available

24

Format

1.5

Packaging

CB 6

Ratings

JS: 95 , AG: 91 , LPB: 94

Appellation

POMEROL

Wine

CH LA POINTE

Vintage

2020

€/unit

63.10

Available

126

Format

0.75

Packaging

CB 6

Ratings

JS: 93 , AG: 90 , LPB: 94 , JD: 91

Appellation

POMEROL

Wine

CH LA POINTE

Vintage

2020

€/unit

63.10

Available

5

Format

0.75

Packaging

Unit 1

Ratings

JS: 93 , AG: 90 , LPB: 94 , JD: 91

Appellation

POMEROL

Wine

CH LA POINTE

Vintage

2020

€/unit

128.20

Available

72

Format

1.5

Packaging

CB 6

Ratings

JS: 93 , AG: 90 , LPB: 94 , JD: 91

Appellation

HAUT MEDOC

Wine

CH LA TOUR CARNET

Vintage

2011

€/unit

51.80

Available

2

Format

0.75

Packaging

Unit 1

Ratings

JA: 85

Appellation

HAUT MEDOC

Wine

CH LA TOUR CARNET

Vintage

2013

€/unit

51.80

Available

15

Format

0.75

Packaging

CB 6, Unit 1

Ratings

JS: 88

Appellation

HAUT MEDOC

Wine

CH LA TOUR CARNET

Vintage

2018

€/unit

53.90

Available

26

Format

0.75

Packaging

CB 1, CB 12

Ratings

JS: 92 , AG: 92 , LPB: 89 , JA: 92

Appellation

HAUT MEDOC

Wine

CH LA TOUR CARNET

Vintage

2018

€/unit

107.40

Available

246

Format

1.5

Packaging

CB 6

Ratings

JS: 92 , AG: 92 , LPB: 89 , JA: 92

Appellation

HAUT MEDOC

Wine

CH LA TOUR CARNET

Vintage

2019

€/unit

53.90

Available

> 300

Format

0.75

Packaging

CB 1, CB 6

Ratings

JS: 94 , AG: 93 , LPB: 91

Appellation

HAUT MEDOC

Wine

CH LA TOUR CARNET

Vintage

2020

€/unit

52.00

Available

> 300

Format

0.75

Packaging

CB 3, CB 6

Ratings

JS: 94 , AG: 87 , LPB: 86 , JD: 91

Appellation

MARGAUX

Wine

CH LABEGORCE

Vintage

2015

€/unit

520.30

Available

2

Format

6

Packaging

CB 1

Ratings

JS: 93 - 94 , AG: 90 - 92

Appellation

MARGAUX

Wine

CH LABEGORCE

Vintage

2017

€/unit

41.80

Available

> 300

Format

0.75

Packaging

CB 12, CB 6, Unit 1

Ratings

JS: 92

Appellation

MARGAUX

Wine

CH LABEGORCE

Vintage

2020

€/unit

43.20

Available

294

Format

0.75

Packaging

CB 6

Ratings

JS: 92 - 93 , AG: 93 , LPB: 93 , JD: 93

Appellation

SAUTERNES

Wine

CH LAFAURIE PEYRAGUEY

Vintage

2019

€/unit

44.50

Available

60

Format

0.375

Packaging

CB 12

Ratings

JS: 93 , AG: 96 , LPB: 95

Appellation

SAUTERNES

Wine

CH LAFAURIE PEYRAGUEY GOLD EDI

Vintage

2019

€/unit

182.00

Available

3

Format

0.375

Packaging

CB 1

Ratings

Appellation

SAUTERNES

Wine

CH LAFAURIE PEYRAGUEY GOLD EDI

Vintage

2019

€/unit

521.60

Available

3

Format

1.5

Packaging

CB 1

Ratings

Appellation

PAUILLAC

Wine

CH LAFITE ROTHSCHILD

Vintage

1985

€/unit

1822.50

Available

6

Format

0.75

Packaging

CB 1, CB 3

Ratings

JS: 96

Appellation

PAUILLAC

Wine

CH LAFITE ROTHSCHILD

Vintage

1987

€/unit

2559.40

Available

6

Format

1.5

Packaging

CB 6

Ratings

Appellation

PAUILLAC

Wine

CH LAFITE ROTHSCHILD

Vintage

1990

€/unit

1838.50

Available

24

Format

0.75

Packaging

CB 3, CB 6

Ratings

Appellation

PAUILLAC

Wine

CH LAFITE ROTHSCHILD

Vintage

1990

€/unit

3506.60

Available

2

Format

1.5

Packaging

CB 1

Ratings

Appellation

PAUILLAC

Wine

CH LAFITE ROTHSCHILD

Vintage

1990

€/unit

6842.70

Available

1

Format

3

Packaging

CB 1

Ratings

Appellation

PAUILLAC

Wine

CH LAFITE ROTHSCHILD

Vintage

1990

€/unit

13174.50

Available

1

Format

6

Packaging

CB 1

Ratings

Appellation

PAUILLAC

Wine

CH LAFITE ROTHSCHILD

Vintage

1998

€/unit

1483.50

Available

27

Format

0.75

Packaging

CB 3, CB 6, CB 1

Ratings

Appellation

PAUILLAC

Wine

CH LAFITE ROTHSCHILD

Vintage

2000

€/unit

2289.50

Available

12

Format

0.75

Packaging

CB 12

Ratings

Appellation

PAUILLAC

Wine

CH LAFITE ROTHSCHILD

Vintage

2004

€/unit

1171.30

Available

60

Format

0.75

Packaging

CB 12

Ratings

Appellation

PAUILLAC

Wine

CH LAFITE ROTHSCHILD

Vintage

2005

€/unit

1499.50

Available

18

Format

0.75

Packaging

CB 6

Ratings

AG: 97 , LPB: 95

Appellation

PAUILLAC

Wine

CH LAFITE ROTHSCHILD

Vintage

2005

€/unit

3084.80

Available

1

Format

1.5

Packaging

CB 1

Ratings

AG: 97 , LPB: 95

Appellation

PAUILLAC

Wine

CH LAFITE ROTHSCHILD

Vintage

2006

€/unit

1171.30

Available

18

Format

0.75

Packaging

CB 6

Ratings

JS: 95

Appellation

PAUILLAC

Wine

CH LAFITE ROTHSCHILD

Vintage

2006

€/unit

2365.50

Available

30

Format

1.5

Packaging

CB 1

Ratings

JS: 95

Appellation

PAUILLAC

Wine

CH LAFITE ROTHSCHILD

Vintage

2007

€/unit

1135.20

Available

6

Format

0.75

Packaging

CB 6

Ratings

Appellation

PAUILLAC

Wine

CH LAFITE ROTHSCHILD

Vintage

2008

€/unit

1292.60

Available

12

Format

0.75

Packaging

CB 6

Ratings

JA: 94

Appellation

PAUILLAC

Wine

CH LAFITE ROTHSCHILD

Vintage

2008

€/unit

2365.50

Available

6

Format

1.5

Packaging

CB 6

Ratings

JA: 94

Appellation

PAUILLAC

Wine

CH LAFITE ROTHSCHILD

Vintage

2009

€/unit

1499.50

Available

24

Format

0.75

Packaging

CB 3, CB 1

Ratings

JS: 96 - 99 , JA: 97 - 99

Appellation

PAUILLAC

Wine

CH LAFITE ROTHSCHILD

Vintage

2009

€/unit

3164.80

Available

3

Format

1.5

Packaging

CB 1

Ratings

JS: 96 - 99 , JA: 97 - 99

Appellation

PAUILLAC

Wine

CH LAFITE ROTHSCHILD

Vintage

2010

€/unit

1467.40

Available

18

Format

0.75

Packaging

CB 6

Ratings

JS: 100 , JA: 99

Appellation

PAUILLAC

Wine

CH LAFITE ROTHSCHILD

Vintage

2010

€/unit

3164.80

Available

6

Format

1.5

Packaging

CB 1

Ratings

JS: 100 , JA: 99

Appellation

PAUILLAC

Wine

CH LAFITE ROTHSCHILD

Vintage

2011

€/unit

1155.20

Available

48

Format

0.75

Packaging

CB 6

Ratings

JS: 94 - 95 , JA: 97

Appellation

PAUILLAC

Wine

CH LAFITE ROTHSCHILD

Vintage

2014

€/unit

1118.90

Available

32

Format

0.75

Packaging

CB 1, CB 3, CB 6

Ratings

JS: 97 - 98 , AG: 92 - 95

Appellation

PAUILLAC

Wine

CH LAFITE ROTHSCHILD

Vintage

2014

€/unit

2359.10

Available

3

Format

1.5

Packaging

CB 1

Ratings

JS: 97 - 98 , AG: 92 - 95

Appellation

PAUILLAC

Wine

CH LAFITE ROTHSCHILD

Vintage

2014

€/unit

2359.10

Available

3

Format

1.5

Packaging

CB 3

Ratings

JS: 97 - 98 , AG: 92 - 95

Appellation

PAUILLAC

Wine

CH LAFITE ROTHSCHILD

Vintage

2015

€/unit

1203.70

Available

78

Format

0.75

Packaging

CB 6

Ratings

JS: 97 - 98 , AG: 94 - 97 , LPB: 95

Appellation

PAUILLAC

Wine

CH LAFITE ROTHSCHILD

Vintage

2015

€/unit

1203.70

Available

12

Format

0.75

Packaging

CB 3

Ratings

JS: 97 - 98 , AG: 94 - 97 , LPB: 95

Appellation

PAUILLAC

Wine

CH LAFITE ROTHSCHILD

Vintage

2015

€/unit

2543.80

Available

3

Format

1.5

Packaging

CB 1

Ratings

JS: 97 - 98 , AG: 94 - 97 , LPB: 95

Appellation

PAUILLAC

Wine

CH LAFITE ROTHSCHILD

Vintage

2015

€/unit

4947.20

Available

1

Format

3

Packaging

CB 1

Ratings

JS: 97 - 98 , AG: 94 - 97 , LPB: 95

Appellation

PAUILLAC

Wine

CH LAFITE ROTHSCHILD

Vintage

2015

€/unit

10208.50

Available

1

Format

6

Packaging

CB 1

Ratings

JS: 97 - 98 , AG: 94 - 97 , LPB: 95

Appellation

PAUILLAC

Wine

CH LAFITE ROTHSCHILD

Vintage

2016

€/unit

1448.90

Available

24

Format

0.75

Packaging

CB 6, CB 1

Ratings

JS: 100 , LPB: 98

Appellation

PAUILLAC

Wine

CH LAFITE ROTHSCHILD

Vintage

2016

€/unit

1448.90

Available

12

Format

0.75

Packaging

CB 3

Ratings

JS: 100 , LPB: 98

Appellation

PAUILLAC

Wine

CH LAFITE ROTHSCHILD

Vintage

2016

€/unit

2802.70

Available

12

Format

1.5

Packaging

CB 6, CB 1

Ratings

JS: 100 , LPB: 98

Appellation

PAUILLAC

Wine

CH LAFITE ROTHSCHILD

Vintage

2016

€/unit

11466.10

Available

1

Format

6

Packaging

CB 1

Ratings

JS: 100 , LPB: 98

Appellation

PAUILLAC

Wine

CH LAFITE ROTHSCHILD

Vintage

2017

€/unit

1135.20

Available

258

Format

0.75

Packaging

CB 3, CB 6

Ratings

JS: 98 , LPB: 97

Appellation

PAUILLAC

Wine

CH LAFITE ROTHSCHILD

Vintage

2018

€/unit

1268.40

Available

234

Format

0.75

Packaging

CB 6

Ratings

JS: 99 , AG: 98 , LPB: 100 , JA: 98

Appellation

PAUILLAC

Wine

CH LAFITE ROTHSCHILD

Vintage

2019

€/unit

1219.90

Available

114

Format

0.75

Packaging

CB 6

Ratings

JS: 100 , AG: 98 , LPB: 97 , JD: 98

Appellation

PAUILLAC

Wine

CH LAFITE ROTHSCHILD

Vintage

2019

€/unit

5255.70

Available

5

Format

3

Packaging

CB 1

Ratings

JS: 100 , AG: 98 , LPB: 97 , JD: 98

Appellation

PAUILLAC

Wine

CH LAFITE ROTHSCHILD

Vintage

2020

€/unit

1219.90

Available

114

Format

0.75

Packaging

CB 6

Ratings

JS: 99 - 100 , AG: 97 , LPB: 98 , JD: 100

Appellation

PAUILLAC

Wine

CH LAFITE ROTHSCHILD

Vintage

2020

€/unit

3087.90

Available

24

Format

1.5

Packaging

CB 3

Ratings

JS: 99 - 100 , AG: 97 , LPB: 98 , JD: 100

Appellation

PAUILLAC

Wine

CH LAFITE ROTHSCHILD

Vintage

2020

€/unit

3087.90

Available

6

Format

1.5

Packaging

CB 1

Ratings

JS: 99 - 100 , AG: 97 , LPB: 98 , JD: 100

Appellation

PAUILLAC

Wine

CH LAFITE ROTHSCHILD

Vintage

2020

€/unit

6694.50

Available

6

Format

3

Packaging

CB 1

Ratings

JS: 99 - 100 , AG: 97 , LPB: 98 , JD: 100

Appellation

PAUILLAC

Wine

CH LAFITE ROTHSCHILD

Vintage

2020

€/unit

12889.20

Available

3

Format

6

Packaging

CB 1

Ratings

JS: 99 - 100 , AG: 97 , LPB: 98 , JD: 100

Appellation

ST ESTEPHE

Wine

CH LAFON ROCHET

Vintage

2017

€/unit

63.10

Available

> 300

Format

0.75

Packaging

CB 6

Ratings

JS: 91 , LPB: 91

Appellation

ST ESTEPHE

Wine

CH LAFON ROCHET

Vintage

2018

€/unit

65.30

Available

48

Format

0.75

Packaging

CB 6

Ratings

JS: 94 , AG: 94 , LPB: 91 , JA: 94

Appellation

ST ESTEPHE

Wine

CH LAFON ROCHET

Vintage

2020

€/unit

64.90

Available

12

Format

0.75

Packaging

CB 6

Ratings

JS: 91 , AG: 96 , LPB: 92 , JD: 93

Appellation

ST JULIEN

Wine

CH LAGRANGE

Vintage

2010

€/unit

133.20

Available

36

Format

0.75

Packaging

CB 12

Ratings

JS: 95 , JA: 92 - 93

Appellation

ST JULIEN

Wine

CH LAGRANGE

Vintage

2011

€/unit

81.50

Available

> 300

Format

0.75

Packaging

CB 6

Ratings

JA: 88 - 89

Appellation

ST JULIEN

Wine

CH LAGRANGE

Vintage

2016

€/unit

88.90

Available

5

Format

0.75

Packaging

Unit 1

Ratings

JS: 95 , LPB: 95

Appellation

ST JULIEN

Wine

CH LAGRANGE

Vintage

2018

€/unit

77.90

Available

69

Format

0.75

Packaging

CB 12, CB 3, CB 6

Ratings

JS: 93 , AG: 94 , LPB: 90 , JA: 94

Appellation

ST JULIEN

Wine

CH LAGRANGE

Vintage

2020

€/unit

72.30

Available

> 300

Format

0.75

Packaging

CB 6

Ratings

JS: 94 , AG: 94 , LPB: 94 , JD: 95

Appellation

ST JULIEN

Wine

CH LAGRANGE

Vintage

2020

€/unit

150.80

Available

54

Format

1.5

Packaging

CB 6

Ratings

JS: 94 , AG: 94 , LPB: 94 , JD: 95

Appellation

ST JULIEN

Wine

CH LALANDE BORIE

Vintage

2013

€/unit

33.00

Available

1

Format

0.75

Packaging

Unit 1

Ratings

JS: 89

Appellation

ST JULIEN

Wine

CH LALANDE BORIE

Vintage

2014

€/unit

39.10

Available

1

Format

0.75

Packaging

Unit 1

Ratings

JS: 91 - 92 , AG: 88 - 91

Appellation

ST JULIEN

Wine

CH LALANDE BORIE

Vintage

2015

€/unit

46.50

Available

244

Format

0.75

Packaging

CB 6, Unit 1

Ratings

JS: 91 - 92 , AG: 88 - 90

Appellation

ST JULIEN

Wine

CH LALANDE BORIE

Vintage

2016

€/unit

47.40

Available

> 300

Format

0.75

Packaging

CB 6, Unit 1

Ratings

JS: 93

Appellation

HAUT MEDOC

Wine

CH LAMOTHE BERGERON

Vintage

2011

€/unit

18.70

Available

5

Format

0.75

Packaging

Unit 1

Ratings

JS: 88 - 89

Appellation

ST JULIEN

Wine

CH LANGOA BARTON

Vintage

2006

€/unit

92.60

Available

12

Format

0.75

Packaging

CB 6

Ratings

Appellation

ST JULIEN

Wine

CH LANGOA BARTON

Vintage

2014

€/unit

77.90

Available

6

Format

0.75

Packaging

CB 6

Ratings

JS: 92 - 93 , AG: 90 - 92

Appellation

ST JULIEN

Wine

CH LANGOA BARTON

Vintage

2016

€/unit

88.90

Available

150

Format

0.75

Packaging

CB 6

Ratings

JS: 96 , LPB: 93

Appellation

ST JULIEN

Wine

CH LANGOA BARTON

Vintage

2018

€/unit

79.70

Available

> 300

Format

0.75

Packaging

CB 6

Ratings

JS: 94 , AG: 92 , LPB: 93 , JA: 94

Appellation

ST JULIEN

Wine

CH LANGOA BARTON

Vintage

2019

€/unit

79.70

Available

12

Format

0.75

Packaging

CB 6

Ratings

JS: 96 , AG: 93 , LPB: 92

Appellation

ST EMILION GRAND CRU

Wine

CH LARCIS DUCASSE

Vintage

2013

€/unit

63.10

Available

84

Format

0.75

Packaging

CB 12

Ratings

JS: 91 - 92 , AG: 90 - 92 , LPB: 87

Appellation

ST EMILION GRAND CRU

Wine

CH LARCIS DUCASSE

Vintage

2017

€/unit

96.30

Available

204

Format

0.75

Packaging

CB 6

Ratings

JS: 96 , LPB: 95

Appellation

ST EMILION GRAND CRU

Wine

CH LARCIS DUCASSE

Vintage

2019

€/unit

135.10

Available

24

Format

0.75

Packaging

CB 6

Ratings

JS: 98 , AG: 96 , LPB: 97

Appellation

ST EMILION GRAND CRU

Wine

CH LARMANDE

Vintage

2016

€/unit

50.20

Available

192

Format

0.75

Packaging

CB 6

Ratings

JS: 92 , LPB: 91

Appellation

ST EMILION GRAND CRU

Wine

CH LARMANDE

Vintage

2019

€/unit

44.60

Available

> 300

Format

0.75

Packaging

CB 6

Ratings

JS: 93 , AG: 93 , LPB: 93

Appellation

ST EMILION GRAND CRU

Wine

CH LAROZE

Vintage

2018

€/unit

44.30

Available

72

Format

0.75

Packaging

CB 6

Ratings

JS: 92 , AG: 93 , LPB: 87 , JA: 92

Appellation

PESSAC LEOGNAN BLANC

Wine

CH LARRIVET HAUT BRION BLC

Vintage

2021

€/unit

60.90

Available

78

Format

0.75

Packaging

CB 6

Ratings

Appellation

MARGAUX

Wine

CH LASCOMBES

Vintage

2004

€/unit

138.30

Available

60

Format

0.75

Packaging

CB 12

Ratings

JS: 85 - 88

Appellation

MARGAUX

Wine

CH LASCOMBES

Vintage

2005

€/unit

169.10

Available

150

Format

0.75

Packaging

CB 6

Ratings

JS: 92 - 94 , LPB: 92

Appellation

MARGAUX

Wine

CH LASCOMBES

Vintage

2007

€/unit

126.40

Available

> 300

Format

0.75

Packaging

CB 12

Ratings

Appellation

MARGAUX

Wine

CH LASCOMBES

Vintage

2007

€/unit

229.10

Available

108

Format

1.5

Packaging

CB 6

Ratings

Appellation

MARGAUX

Wine

CH LASCOMBES

Vintage

2014

€/unit

107.00

Available

2

Format

0.75

Packaging

Unit 1

Ratings

JS: 93 , AG: 91 - 94

Appellation

MARGAUX

Wine

CH LASCOMBES

Vintage

2015

€/unit

114.00

Available

4

Format

0.75

Packaging

Unit 1

Ratings

JS: 94 - 95 , AG: 92 - 95 , LPB: 94

Appellation

MARGAUX

Wine

CH LASCOMBES

Vintage

2018

€/unit

107.00

Available

> 300

Format

0.75

Packaging

CB 6

Ratings

JS: 95 , AG: 93 , LPB: 91 , JD: 94 , JA: 93

Appellation

PESSAC LEOGNAN BLANC

Wine

CH LATOUR MARTILLAC

Vintage

2020

€/unit

52.00

Available

6

Format

0.75

Packaging

CB 6

Ratings

JS: 93 , AG: 87

Appellation

POMEROL

Wine

CH LE PIN

Vintage

2015

€/unit

5685.20

Available

1

Format

0.75

Packaging

CB 1

Ratings

JS: 100 , LPB: 100

Appellation

POMEROL

Wine

CH LE PIN

Vintage

2017

€/unit

4883.20

Available

1

Format

0.75

Packaging

CB 1

Ratings

JS: 97 , LPB: 97

Appellation

POMEROL

Wine

CH LE PIN

Vintage

2018

€/unit

5108.30

Available

1

Format

0.75

Packaging

CB 1

Ratings

JS: 98 , AG: 98 , LPB: 100

Appellation

POMEROL

Wine

CH LE PIN

Vintage

2019

€/unit

5108.30

Available

1

Format

0.75

Packaging

CB 1

Ratings

AG: 98 , LPB: 98

Appellation

POMEROL

Wine

CH LE PIN

Vintage

2020

€/unit

5236.80

Available

1

Format

0.75

Packaging

CB 1

Ratings

AG: 100 , LPB: 99 , JD: 98

Appellation

POMEROL

Wine

CH L'EGLISE CLINET

Vintage

2018

€/unit

417.50

Available

39

Format

0.75

Packaging

CB 1, CB 6

Ratings

JS: 98 , AG: 98 , LPB: 98 , JA: 97

Appellation

POMEROL

Wine

CH L'EGLISE CLINET

Vintage

2020

€/unit

514.50

Available

24

Format

0.75

Packaging

CB 3

Ratings

JS: 98 - 99 , AG: 98 , LPB: 99 , JD: 97

Appellation

POMEROL

Wine

CH L'EGLISE-CLINET

Vintage

2014

€/unit

245.80

Available

18

Format

0.75

Packaging

CB 6

Ratings

JS: 94 - 95 , AG: 94 - 97

Appellation

POMEROL

Wine

CH L'ENCLOS

Vintage

2020

€/unit

43.20

Available

> 300

Format

0.75

Packaging

CB 6

Ratings

JS: 94 - 95 , AG: 92 , LPB: 93 , JD: 90

Appellation

POMEROL

Wine

CH L'ENCLOS

Vintage

2020

€/unit

89.30

Available

120

Format

1.5

Packaging

CB 3

Ratings

JS: 94 - 95 , AG: 92 , LPB: 93 , JD: 90

Appellation

ST JULIEN

Wine

CH LEOVILLE BARTON

Vintage

2016

€/unit

194.70

Available

36

Format

0.75

Packaging

CB 12

Ratings

JS: 97 , LPB: 95

Appellation

ST JULIEN

Wine

CH LEOVILLE BARTON

Vintage

2017

€/unit

124.60

Available

78

Format

0.75

Packaging

CB 6

Ratings

JS: 95 , LPB: 95

Appellation

ST JULIEN

Wine

CH LEOVILLE BARTON

Vintage

2018

€/unit

148.60

Available

90

Format

0.75

Packaging

CB 6

Ratings

JS: 97 , AG: 96 , LPB: 95 , JA: 96

Appellation

ST JULIEN

Wine

CH LEOVILLE BARTON

Vintage

2019

€/unit

160.80

Available

120

Format

0.75

Packaging

CB 6

Ratings

JS: 96 , AG: 96 , LPB: 96

Appellation

ST JULIEN

Wine

CH LEOVILLE LAS CASES

Vintage

2002

€/unit

319.40

Available

30

Format

0.75

Packaging

CB 6

Ratings

Appellation

ST JULIEN

Wine

CH LEOVILLE LAS CASES

Vintage

2006

€/unit

319.40

Available

30

Format

0.75

Packaging

CB 6

Ratings

JS: 95

Appellation

ST JULIEN

Wine

CH LEOVILLE LAS CASES

Vintage

2007

€/unit

295.60

Available

12

Format

0.75

Packaging

CB 12

Ratings

Appellation

ST JULIEN

Wine

CH LEOVILLE LAS CASES

Vintage

2008

€/unit

319.40

Available

60

Format

0.75

Packaging

CB 6

Ratings

LPB: 93

Appellation

ST JULIEN

Wine

CH LEOVILLE LAS CASES

Vintage

2010

€/unit

450.10

Available

5

Format

0.75

Packaging

CB 1

Ratings

JS: 95 - 96 , JA: 99

Appellation

ST JULIEN

Wine

CH LEOVILLE LAS CASES

Vintage

2011

€/unit

311.90

Available

12

Format

0.75

Packaging

CB 6

Ratings

JS: 93 - 94 , JA: 96 - 97

Appellation

ST JULIEN

Wine

CH LEOVILLE LAS CASES

Vintage

2012

€/unit

311.90

Available

12

Format

0.75

Packaging

CB 6

Ratings

JS: 94 - 95

Appellation

ST JULIEN

Wine

CH LEOVILLE LAS CASES

Vintage

2012

€/unit

624.60

Available

6

Format

1.5

Packaging

CB 6

Ratings

JS: 94 - 95

Appellation

ST JULIEN

Wine

CH LEOVILLE LAS CASES

Vintage

2014

€/unit

311.90

Available

6

Format

0.75

Packaging

CB 6

Ratings

JS: 96 - 97 , AG: 91 - 94

Appellation

ST JULIEN

Wine

CH LEOVILLE LAS CASES

Vintage

2015

€/unit

335.70

Available

24

Format

0.75

Packaging

CB 12

Ratings

JS: 96 - 97 , AG: 95 - 98 , LPB: 97

Appellation

ST JULIEN

Wine

CH LEOVILLE LAS CASES

Vintage

2015

€/unit

669.90

Available

12

Format

1.5

Packaging

CB 6

Ratings

JS: 96 - 97 , AG: 95 - 98 , LPB: 97

Appellation

ST JULIEN

Wine

CH LEOVILLE LAS CASES

Vintage

2015

€/unit

1316.10

Available

5

Format

3

Packaging

CB 1

Ratings

JS: 96 - 97 , AG: 95 - 98 , LPB: 97

Appellation

ST JULIEN

Wine

CH LEOVILLE LAS CASES

Vintage

2016

€/unit

523.00

Available

12

Format

0.75

Packaging

CB 12

Ratings

JS: 100 , LPB: 100

Appellation

ST JULIEN

Wine

CH LEOVILLE LAS CASES

Vintage

2017

€/unit

303.20

Available

30

Format

0.75

Packaging

CB 6

Ratings

JS: 98 , LPB: 97

Appellation

ST JULIEN

Wine

CH LEOVILLE LAS CASES

Vintage

2018

€/unit

450.10

Available

30

Format

0.75

Packaging

CB 6

Ratings

JS: 99 , AG: 97 , LPB: 98 , JA: 99

Appellation

ST JULIEN

Wine

CH LEOVILLE LAS CASES

Vintage

2018

€/unit

861.10

Available

12

Format

1.5

Packaging

CB 6

Ratings

JS: 99 , AG: 97 , LPB: 98 , JA: 99

Appellation

ST JULIEN

Wine

CH LEOVILLE LAS CASES

Vintage

2018

€/unit

1689.80

Available

2

Format

3

Packaging

CB 1

Ratings

JS: 99 , AG: 97 , LPB: 98 , JA: 99

Appellation

ST JULIEN

Wine

CH LEOVILLE LAS CASES

Vintage

2019

€/unit

360.30

Available

30

Format

0.75

Packaging

CB 6

Ratings

JS: 98 , AG: 96 , LPB: 98

Appellation

ST JULIEN

Wine

CH LEOVILLE LAS CASES

Vintage

2020

€/unit

417.50

Available

261

Format

0.75

Packaging

CB 3, CB 6

Ratings

JS: 98 - 99 , AG: 98 , LPB: 99 , JD: 98

Appellation

ST JULIEN

Wine

CH LEOVILLE LAS CASES

Vintage

2020

€/unit

828.50

Available

39

Format

1.5

Packaging

CB 2, CB 3

Ratings

JS: 98 - 99 , AG: 98 , LPB: 99 , JD: 98

Appellation

ST JULIEN

Wine

CH LEOVILLE POYFERRE

Vintage

2010

€/unit

253.60

Available

12

Format

0.75

Packaging

CB 6

Ratings

JS: 93 - 94 , LPB: 96 , JA: 98

Appellation

ST JULIEN

Wine

CH LEOVILLE POYFERRE

Vintage

2011

€/unit

141.80

Available

12

Format

0.75

Packaging

CB 6

Ratings

JS: 91 - 92 , LPB: 91 , JA: 94

Appellation

ST JULIEN

Wine

CH LEOVILLE POYFERRE

Vintage

2015

€/unit

150.40

Available

84

Format

0.75

Packaging

CB 6

Ratings

JS: 95 - 96 , AG: 93 - 96 , LPB: 96

Appellation

ST JULIEN

Wine

CH LEOVILLE POYFERRE

Vintage

2016

€/unit

172.20

Available

12

Format

0.75

Packaging

CB 6

Ratings

JS: 97 , LPB: 97

Appellation

ST JULIEN

Wine

CH LEOVILLE POYFERRE

Vintage

2018

€/unit

185.90

Available

30

Format

0.75

Packaging

CB 6

Ratings

JS: 97 , AG: 97 , LPB: 97 , JA: 96

Appellation

ST JULIEN

Wine

CH LEOVILLE POYFERRE

Vintage

2018

€/unit

376.10

Available

6

Format

1.5

Packaging

CB 6

Ratings

JS: 97 , AG: 97 , LPB: 97 , JA: 96

Appellation

ST JULIEN

Wine

CH LEOVILLE POYFERRE

Vintage

2019

€/unit

152.30

Available

30

Format

0.75

Packaging

CB 6

Ratings

JS: 95 , AG: 97 , LPB: 95

Appellation

ST JULIEN

Wine

CH LEOVILLE POYFERRE

Vintage

2020

€/unit

219.90

Available

105

Format

0.75

Packaging

CB 6, CB 3

Ratings

JS: 96 , AG: 97 , JD: 98

Appellation

PESSAC LEOGNAN ROUGE

Wine

CH LES CARMES HAUT BRION

Vintage

2012

€/unit

202.90

Available

72

Format

0.75

Packaging

CB 12, CB 6

Ratings

JS: 92 - 93 , JD: 95

Appellation

PESSAC LEOGNAN ROUGE

Wine

CH LES CARMES HAUT BRION

Vintage

2014

€/unit

172.20

Available

150

Format

0.75

Packaging

CB 6, CB 12

Ratings

JS: 92 - 93 , AG: 92 - 95 , LPB: 94

Appellation

PESSAC LEOGNAN ROUGE

Wine

CH LES CARMES HAUT BRION

Vintage

2016

€/unit

265.10

Available

180

Format

0.75

Packaging

CB 6

Ratings

JS: 97 , LPB: 97

Appellation

PESSAC LEOGNAN ROUGE

Wine

CH LES CARMES HAUT BRION

Vintage

2017

€/unit

178.70

Available

240

Format

0.75

Packaging

CB 6

Ratings

JS: 94 , LPB: 95

Appellation

PESSAC LEOGNAN ROUGE

Wine

CH LES CARMES HAUT BRION

Vintage

2018

€/unit

245.80

Available

120

Format

0.75

Packaging

CB 6

Ratings

JS: 97 , AG: 97 , LPB: 96

Appellation

PESSAC LEOGNAN ROUGE

Wine

CH LES CARMES HAUT BRION

Vintage

2019

€/unit

245.80

Available

156

Format

0.75

Packaging

CB 6

Ratings

JS: 97 , AG: 97 , LPB: 98

Appellation

PESSAC LEOGNAN ROUGE

Wine

CH LES CARMES HAUT BRION

Vintage

2020

€/unit

270.20

Available

90

Format

0.75

Packaging

CB 6, CB 12

Ratings

JS: 97 - 98 , AG: 100 , LPB: 98 , JA: 94

Appellation

ST EMILION GRAND CRU

Wine

CH LES GRANDES MURAILLES

Vintage

2015

€/unit

68.60

Available

192

Format

0.75

Packaging

CB 12

Ratings

Appellation

MEDOC

Wine

CH LES GRANDS CHENES

Vintage

2012

€/unit

26.80

Available

25

Format

0.75

Packaging

CB 12, Unit 1

Ratings

JS: 87 - 88

Appellation

MEDOC

Wine

CH LES GRANDS CHENES

Vintage

2016

€/unit

30.30

Available

1

Format

0.75

Packaging

Unit 1

Ratings

JS: 92

Appellation

MEDOC

Wine

CH LES GRANDS CHENES

Vintage

2017

€/unit

23.10

Available

4

Format

0.75

Packaging

Unit 1

Ratings

JS: 93

Appellation

MEDOC

Wine

CH LES GRANDS CHENES

Vintage

2018

€/unit

24.40

Available

4

Format

0.75

Packaging

Unit 1

Ratings

JS: 93 , AG: 90

Appellation

MEDOC

Wine

CH LES GRANDS CHENES

Vintage

2019

€/unit

25.80

Available

132

Format

0.75

Packaging

CB 12

Ratings

JS: 91 , AG: 93 , LPB: 89

Appellation

MEDOC

Wine

CH LES GRANDS CHENES

Vintage

2020

€/unit

26.40

Available

> 300

Format

0.75

Packaging

CB 6, CB 12, Unit 1

Ratings

JS: 94 , AG: 92 , LPB: 88 , JD: 87

Appellation

PESSAC LEOGNAN ROUGE

Wine

CH LESPAULT MARTILLAC

Vintage

2016

€/unit

41.70

Available

6

Format

0.75

Packaging

CT 6

Ratings

Appellation

PESSAC LEOGNAN ROUGE

Wine

CH LESPAULT MARTILLAC

Vintage

2018

€/unit

38.70

Available

126

Format

0.75

Packaging

CT 6

Ratings

JS: 93-94

Appellation

PESSAC LEOGNAN ROUGE

Wine

CH LESPAULT MARTILLAC

Vintage

2020

€/unit

36.00

Available

90

Format

0.75

Packaging

CT 6

Ratings

Appellation

POMEROL

Wine

CH L'EVANGILE

Vintage

2009

€/unit

586.30

Available

12

Format

0.75

Packaging

CB 6

Ratings

JS: 96 - 99

Appellation

POMEROL

Wine

CH L'EVANGILE

Vintage

2011

€/unit

223.50

Available

120

Format

0.75

Packaging

CB 6

Ratings

JS: 93 - 94 , JA: - 92

Appellation

POMEROL

Wine

CH L'EVANGILE

Vintage

2012

€/unit

245.80

Available

72

Format

0.75

Packaging

CB 6

Ratings

JS: 94 - 95

Appellation

POMEROL

Wine

CH L'EVANGILE

Vintage

2013

€/unit

218.20

Available

120

Format

0.75

Packaging

CB 12, CB 6, CB 3

Ratings

JS: 91 , LPB: 85

Appellation

POMEROL

Wine

CH L'EVANGILE

Vintage

2015

€/unit

368.90

Available

60

Format

0.75

Packaging

CB 6

Ratings

JS: 99 - 100 , AG: 94 - 97 , LPB: 95

Appellation

POMEROL

Wine

CH L'EVANGILE

Vintage

2016

€/unit

360.30

Available

36

Format

0.75

Packaging

CB 6

Ratings

JS: 99 , LPB: 96

Appellation

POMEROL

Wine

CH L'EVANGILE

Vintage

2017

€/unit

319.40

Available

150

Format

0.75

Packaging

CB 6

Ratings

JS: 95 , LPB: 94

Appellation

POMEROL

Wine

CH L'EVANGILE

Vintage

2018

€/unit

351.70

Available

180

Format

0.75

Packaging

CB 6

Ratings

JS: 98 , AG: 96 , LPB: 95

Appellation

ST ESTEPHE

Wine

CH LILIAN LADOUYS

Vintage

2017

€/unit

175.00

Available

10

Format

3

Packaging

CB 1

Ratings

JS: 93 , LPB: 90

Appellation

ST ESTEPHE

Wine

CH LILIAN LADOUYS

Vintage

2017

€/unit

331.10

Available

2

Format

6

Packaging

CB 1

Ratings

JS: 93 , LPB: 90

Appellation

ST ESTEPHE

Wine

CH LILIAN LADOUYS

Vintage

2019

€/unit

33.50

Available

173

Format

0.75

Packaging

CB 6, Unit 1

Ratings

JS: 92 , AG: 92 , LPB: 91

Appellation

ST ESTEPHE

Wine

CH LILIAN LADOUYS

Vintage

2020

€/unit

29.90

Available

> 300

Format

0.75

Packaging

CT 6

Ratings

JS: 92 , AG: 93 , LPB: 89 , JD: 92

Appellation

ST ESTEPHE

Wine

CH LILIAN LADOUYS

Vintage

2020

€/unit

61.60

Available

57

Format

1.5

Packaging

CB 3

Ratings

JS: 92 , AG: 93 , LPB: 89 , JD: 92

Appellation

PAUILLAC

Wine

CH LYNCH-BAGES

Vintage

1990

€/unit

665.30

Available

12

Format

0.75

Packaging

Unit 1

Ratings

Appellation

PAUILLAC

Wine

CH LYNCH-BAGES

Vintage

2008

€/unit

219.90

Available

24

Format

0.75

Packaging

CB 6, CB 12

Ratings

JA: 94

Appellation

PAUILLAC

Wine

CH LYNCH-BAGES

Vintage

2010

€/unit

319.40

Available

60

Format

0.75

Packaging

CB 6

Ratings

JS: 98 - 99 , JA: 94 - 95

Appellation

PAUILLAC

Wine

CH LYNCH-BAGES

Vintage

2012

€/unit

211.80

Available

18

Format

0.75

Packaging

CB 12, CB 6

Ratings

JS: 93 - 94

Appellation

PAUILLAC

Wine

CH LYNCH-BAGES

Vintage

2015

€/unit

211.80

Available

66

Format

0.75

Packaging

CB 6, CB 12

Ratings

JS: 95 - 96 , AG: 91 - 94 , LPB: 93

Appellation

PAUILLAC

Wine

CH LYNCH-BAGES

Vintage

2015

€/unit

211.80

Available

1

Format

0.75

Packaging

Unit 1

Ratings

JS: 95 - 96 , AG: 91 - 94 , LPB: 93

Appellation

PAUILLAC

Wine

CH LYNCH-BAGES

Vintage

2015

€/unit

5236.60

Available

2

Format

15

Packaging

CB 1

Ratings

JS: 95 - 96 , AG: 91 - 94 , LPB: 93

Appellation

PAUILLAC

Wine

CH LYNCH-BAGES

Vintage

2016

€/unit

253.60

Available

42

Format

0.75

Packaging

CB 3

Ratings

JS: 97 , LPB: 97

Appellation

PAUILLAC

Wine

CH LYNCH-BAGES

Vintage

2017

€/unit

184.00

Available

12

Format

0.75

Packaging

CB 12

Ratings

JS: 95 , LPB: 94

Appellation

PAUILLAC

Wine

CH LYNCH-BAGES

Vintage

2017

€/unit

661.40

Available

1

Format

3

Packaging

CB 1

Ratings

JS: 95 , LPB: 94

Appellation

PAUILLAC

Wine

CH LYNCH-BAGES

Vintage

2018

€/unit

211.80

Available

192

Format

0.75

Packaging

CB 6, CB 12

Ratings

JS: 97 , AG: 96 , LPB: 97 , JA: 96

Appellation

PAUILLAC

Wine

CH LYNCH-BAGES

Vintage

2019

€/unit

228.80

Available

6

Format

0.75

Packaging

CB 6

Ratings

JS: 97 , AG: 99 , LPB: 97

Appellation

PAUILLAC

Wine

CH LYNCH-BAGES

Vintage

2020

€/unit

211.80

Available

> 300

Format

0.75

Packaging

CB 6

Ratings

JS: 99 , AG: 95 , JD: 96

Appellation

PAUILLAC

Wine

CH LYNCH-BAGES

Vintage

2020

€/unit

424.70

Available

45

Format

1.5

Packaging

CB 3

Ratings

JS: 99 , AG: 95 , JD: 96

Appellation

PAUILLAC

Wine

CH LYNCH-BAGES

Vintage

2020

€/unit

842.30

Available

6

Format

3

Packaging

CB 1

Ratings

JS: 99 , AG: 95 , JD: 96

Appellation

PAUILLAC

Wine

CH LYNCH-BAGES

Vintage

2020

€/unit

1805.60

Available

3

Format

6

Packaging

CB 1

Ratings

JS: 99 , AG: 95 , JD: 96

Appellation

PAUILLAC

Wine

CH LYNCH-MOUSSAS

Vintage

2000

€/unit

105.20

Available

228

Format

0.75

Packaging

CB 6

Ratings

Appellation

PAUILLAC

Wine

CH LYNCH-MOUSSAS

Vintage

2003

€/unit

90.80

Available

174

Format

0.75

Packaging

CB 6

Ratings

Appellation

PAUILLAC

Wine

CH LYNCH-MOUSSAS

Vintage

2016

€/unit

30.60

Available

2

Format

0.375

Packaging

Unit 1

Ratings

JS: 93 , LPB: 84

Appellation

PAUILLAC

Wine

CH LYNCH-MOUSSAS

Vintage

2018

€/unit

58.70

Available

2

Format

0.75

Packaging

Unit 1

Ratings

JS: 93 , AG: 93 , LPB: 91 , JA: 91

Appellation

PAUILLAC

Wine

CH LYNCH-MOUSSAS

Vintage

2020

€/unit

52.00

Available

30

Format

0.75

Packaging

CB 6

Ratings

JS: 94 , AG: 91 , JD: 91

Appellation

PAUILLAC

Wine

CH LYNCH-MOUSSAS

Vintage

2020

€/unit

107.40

Available

54

Format

1.5

Packaging

CB 3

Ratings

JS: 94 , AG: 91 , JD: 91

Appellation

ST EMILION GRAND CRU

Wine

CH MAGREZ FOMBRAUGE

Vintage

2017

€/unit

148.60

Available

36

Format

0.75

Packaging

CB 6

Ratings

JS: 92-93

Appellation

BORDEAUX BLANC

Wine

CH MAGREZ FOMBRAUGE BLC

Vintage

2014

€/unit

34.30

Available

6

Format

0.75

Packaging

CT 6

Ratings

Appellation

BORDEAUX BLANC

Wine

CH MAGREZ FOMBRAUGE BLC

Vintage

2015

€/unit

39.40

Available

6

Format

0.75

Packaging

CT 6

Ratings

Appellation

BORDEAUX BLANC

Wine

CH MAGREZ FOMBRAUGE BLC

Vintage

2018

€/unit

42.10

Available

36

Format

0.75

Packaging

CT 6

Ratings

JS: 92-93

Appellation

PESSAC LEOGNAN ROUGE

Wine

CH MALARTIC LAGRAVIERE

Vintage

2017

€/unit

67.50

Available

> 300

Format

0.75

Packaging

CB 6

Ratings

JS: 93 , AG: 91 , LPB: 90

Appellation

PESSAC LEOGNAN ROUGE

Wine

CH MALARTIC LAGRAVIERE

Vintage

2018

€/unit

72.00

Available

48

Format

0.75

Packaging

CB 6

Ratings

JS: 94 , AG: 95 , LPB: 92 , JA: 95

Appellation

PESSAC LEOGNAN ROUGE

Wine

CH MALARTIC LAGRAVIERE

Vintage

2019

€/unit

64.90

Available

> 300

Format

0.75

Packaging

CB 6, CB 12

Ratings

JS: 96 , AG: 94 , LPB: 93

Appellation

PESSAC LEOGNAN BLANC

Wine

CH MALARTIC LAGRAVIERE BLC

Vintage

2011

€/unit

81.50

Available

72

Format

0.75

Packaging

CB 6

Ratings

Appellation

PESSAC LEOGNAN BLANC

Wine

CH MALARTIC LAGRAVIERE BLC

Vintage

2013

€/unit

70.50

Available

6

Format

0.75

Packaging

CB 6

Ratings

JS: 94 - 95

Appellation

MARGAUX

Wine

CH MALESCOT SAINT EXUPERY

Vintage

2005

€/unit

194.70

Available

6

Format

0.75

Packaging

CT 6

Ratings

LPB: 96

Appellation

MARGAUX

Wine

CH MALESCOT SAINT-EXUPERY

Vintage

2013

€/unit

58.70

Available

5

Format

0.75

Packaging

Unit 1

Ratings

JS: 91 - 92 , LPB: 87

Appellation

MARGAUX

Wine

CH MALESCOT SAINT-EXUPERY

Vintage

2014

€/unit

96.30

Available

180

Format

0.75

Packaging

CB 6, CB 12

Ratings

JS: 93 - 94 , AG: 91 - 94

Appellation

MARGAUX

Wine

CH MALESCOT SAINT-EXUPERY

Vintage

2015

€/unit

120.90

Available

84

Format

0.75

Packaging

CB 6

Ratings

JS: 97 - 98 , AG: 92 - 95 , LPB: 93

Appellation

MARGAUX

Wine

CH MALESCOT SAINT-EXUPERY

Vintage

2016

€/unit

114.00

Available

288

Format

0.75

Packaging

CB 12, CB 6

Ratings

JS: 97 , LPB: 94

Appellation

MARGAUX

Wine

CH MALESCOT SAINT-EXUPERY

Vintage

2017

€/unit

72.00

Available

48

Format

0.75

Packaging

CB 12

Ratings

JS: 94 , LPB: 92

Appellation

MARGAUX

Wine

CH MALESCOT SAINT-EXUPERY

Vintage

2018

€/unit

103.30

Available

222

Format

0.75

Packaging

CB 6

Ratings

JS: 97 , AG: 95 , LPB: 94 , JA: 93

Appellation

MARGAUX

Wine

CH MARGAUX

Vintage

1996

€/unit

1376.40

Available

12

Format

0.75

Packaging

CB 6

Ratings

Appellation

MARGAUX

Wine

CH MARGAUX

Vintage

2006

€/unit

748.60

Available

36

Format

0.75

Packaging

CB 6

Ratings

Appellation

MARGAUX

Wine

CH MARGAUX

Vintage

2008

€/unit

1458.20

Available

6

Format

1.5

Packaging

CB 3

Ratings

JA: 97

Appellation

MARGAUX

Wine

CH MARGAUX

Vintage

2009

€/unit

1236.00

Available

30

Format

0.75

Packaging

CB 6

Ratings

JS: 96 - 99 , JA: 98 - 100

Appellation

MARGAUX

Wine

CH MARGAUX

Vintage

2012

€/unit

732.10

Available

60

Format

0.75

Packaging

CB 6

Ratings

JS: 93 - 94

Appellation

MARGAUX

Wine

CH MARGAUX

Vintage

2015

€/unit

2061.40

Available

6

Format

0.75

Packaging

CB 6

Ratings

JS: 100 , AG: 95 - 98 , LPB: 98

Appellation

MARGAUX

Wine

CH MARGAUX

Vintage

2015

€/unit

24867.50

Available

4

Format

6

Packaging

CB 1

Ratings

JS: 100 , AG: 95 - 98 , LPB: 98

Appellation

MARGAUX

Wine

CH MARGAUX

Vintage

2016

€/unit

976.50

Available

58

Format

0.75

Packaging

CB 3, CB 1, CB 6

Ratings

JS: 99 , LPB: 100 , JD: 98

Appellation

MARGAUX

Wine

CH MARGAUX

Vintage

2017

€/unit

710.10

Available

24

Format

0.75

Packaging

CB 6

Ratings

JS: 99 , LPB: 97

Appellation

MARGAUX

Wine

CH MARGAUX

Vintage

2018

€/unit

1029.60

Available

24

Format

0.75

Packaging

CB 6

Ratings

JS: 100 , AG: 98 , LPB: 99

Appellation

MARGAUX

Wine

CH MARGAUX

Vintage

2018

€/unit

2012.50

Available

9

Format

1.5

Packaging

CB 3

Ratings

JS: 100 , AG: 98 , LPB: 99

Appellation

MARGAUX

Wine

CH MARGAUX

Vintage

2018

€/unit

3867.50

Available

1

Format

3

Packaging

CB 1

Ratings

JS: 100 , AG: 98 , LPB: 99

Appellation

MARGAUX

Wine

CH MARGAUX

Vintage

2018

€/unit

7488.60

Available

1

Format

6

Packaging

CB 1

Ratings

JS: 100 , AG: 98 , LPB: 99

Appellation

MARGAUX

Wine

CH MARGAUX

Vintage

2019

€/unit

1062.10

Available

123

Format

0.75

Packaging

CB 6, CB 3

Ratings

JS: 100 , AG: 99 , LPB: 100 , JD: 100

Appellation

MARGAUX

Wine

CH MARGAUX

Vintage

2020

€/unit

1029.60

Available

38

Format

0.75

Packaging

CB 6, CB 1, CB 3

Ratings

JS: 99 - 100 , AG: 98 , LPB: 99 , JD: 97

Appellation

MARGAUX

Wine

CH MARGAUX

Vintage

2020

€/unit

8831.40

Available

1

Format

6

Packaging

CB 1

Ratings

JS: 99 - 100 , AG: 98 , LPB: 99 , JD: 97

Appellation

BORDEAUX ROUGE

Wine

CH MARJOSSE

Vintage

2018

€/unit

19.20

Available

1

Format

0.75

Packaging

Unit 1

Ratings

JS: 91 - 92 , LPB: 92

Appellation

ENTRE DEUX MERS

Wine

CH MARJOSSE BLANC

Vintage

2011

€/unit

16.60

Available

96

Format

0.75

Packaging

CT 12

Ratings

JS: 89 - 90

Appellation

ENTRE DEUX MERS

Wine

CH MARJOSSE BLANC

Vintage

2014

€/unit

16.60

Available

72

Format

0.75

Packaging

CT 6

Ratings

AG: 87 - 89

Appellation

MARGAUX

Wine

CH MARQUIS D'ALESME BECKER

Vintage

2014

€/unit

60.40

Available

60

Format

0.75

Packaging

CT 6

Ratings

JS: 90-91

Appellation

MARGAUX

Wine

CH MARQUIS D'ALESME BECKER

Vintage

2017

€/unit

56.50

Available

4

Format

0.75

Packaging

CB 1

Ratings

JS: 91-92

Appellation

MARGAUX

Wine

CH MARQUIS DE TERME

Vintage

1990

€/unit

194.70

Available

6

Format

0.75

Packaging

CB 6

Ratings

Appellation

MARGAUX

Wine

CH MARQUIS DE TERME

Vintage

2018

€/unit

65.30

Available

> 300

Format

0.75

Packaging

CB 6

Ratings

JS: 94 , AG: 91 , LPB: 90 , JD: 93 , JA: 91

Appellation

MARGAUX

Wine

CH MARQUIS DE TERME

Vintage

2019

€/unit

64.90

Available

> 300

Format

0.75

Packaging

CB 6

Ratings

JS: 94 , AG: 94 , LPB: 92 , JD: 91

Appellation

MARGAUX

Wine

CH MARQUIS DE TERME

Vintage

2020

€/unit

62.20

Available

> 300

Format

0.75

Packaging

CB 6

Ratings

JS: 94 , AG: 89 , JD: 94

Appellation

MARGAUX

Wine

CH MARSAC SEGUINEAU

Vintage

2015

€/unit

27.10

Available

1

Format

0.75

Packaging

Unit 1

Ratings

Appellation

MARGAUX

Wine

CH MARSAC SEGUINEAU

Vintage

2016

€/unit

28.90

Available

> 300

Format

0.75

Packaging

CT 6, Unit 1

Ratings

JS: 90-91

Appellation

MARGAUX

Wine

CH MARSAC SEGUINEAU

Vintage

2017

€/unit

28.30

Available

1

Format

0.75

Packaging

Unit 1

Ratings

Appellation

MOULIS

Wine

CH MAUCAILLOU

Vintage

2014

€/unit

33.60

Available

1

Format

0.75

Packaging

Unit 1

Ratings

JS: 93 , AG: 90 - 92

Appellation

MOULIS

Wine

CH MAUCAILLOU

Vintage

2016

€/unit

36.70

Available

4

Format

0.75

Packaging

Unit 1

Ratings

JS: 90

Appellation

MOULIS

Wine

CH MAUCAILLOU

Vintage

2019

€/unit

35.10

Available

> 300

Format

0.75

Packaging

CB 6, Unit 1

Ratings

JS: 90 , AG: 90 , LPB: 89

Appellation

MOULIS

Wine

CH MAUVESIN BARTON

Vintage

2011

€/unit

23.10

Available

> 300

Format

0.75

Packaging

CB 12, Unit 1

Ratings

Appellation

ST ESTEPHE

Wine

CH MEYNEY

Vintage

2012

€/unit

50.20

Available

3

Format

0.75

Packaging

Unit 1

Ratings

JS: 90 - 91 , AG: 91

Appellation

ST ESTEPHE

Wine

CH MEYNEY

Vintage

2017

€/unit

41.30

Available

5

Format

0.75

Packaging

Unit 1

Ratings

JS: 92 , LPB: 92

Appellation

ST ESTEPHE

Wine

CH MEYNEY

Vintage

2020

€/unit

44.00

Available

> 300

Format

0.75

Packaging

CB 6

Ratings

JS: 93 , AG: 94 , LPB: 89 , JD: 94

Appellation

ST ESTEPHE

Wine

CH MEYNEY

Vintage

2020

€/unit

93.00

Available

66

Format

1.5

Packaging

CB 3

Ratings

JS: 93 , AG: 94 , LPB: 89 , JD: 94

Appellation

ST ESTEPHE

Wine

CH MEYNEY

Vintage

2020

€/unit

241.40

Available

6

Format

3

Packaging

CB 1

Ratings

JS: 93 , AG: 94 , LPB: 89 , JD: 94

Appellation

ST ESTEPHE

Wine

CH MEYNEY

Vintage

2020

€/unit

481.40

Available

3

Format

6

Packaging

CB 1

Ratings

JS: 93 , AG: 94 , LPB: 89 , JD: 94

Appellation

BORDEAUX BLANC

Wine

CH MONBOUSQUET

Vintage

2014

€/unit

77.90

Available

120

Format

0.75

Packaging

CB 6

Ratings

JS: 90 - 91 , AG: 88 - 91

Appellation

BORDEAUX BLANC

Wine

CH MONBOUSQUET

Vintage

2016

€/unit

78.60

Available

60

Format

0.75

Packaging

CB 6

Ratings

JS: 93

Appellation

BORDEAUX BLANC

Wine

CH MONBOUSQUET

Vintage

2017

€/unit

77.90

Available

102

Format

0.75

Packaging

CB 6

Ratings

JS: 93

Appellation

BORDEAUX BLANC

Wine

CH MONBOUSQUET

Vintage

2019

€/unit

66.80

Available

12

Format

0.75

Packaging

CB 6

Ratings

JS: 93

Appellation

ST EMILION GRAND CRU

Wine

CH MONBOUSQUET

Vintage

2020

€/unit

67.50

Available

> 300

Format

0.75

Packaging

CB 6

Ratings

JS: 93 - 94 , LPB: 92 , JD: 96

Appellation

ST ESTEPHE

Wine

CH MONTROSE

Vintage

2012

€/unit

358.90

Available

6

Format

1.5

Packaging

CB 3

Ratings

JS: 93 - 94

Appellation

ST ESTEPHE

Wine

CH MONTROSE

Vintage

2013

€/unit

138.30

Available

24

Format

0.75

Packaging

CB 6

Ratings

JS: 91 - 92 , LPB: 93

Appellation

ST ESTEPHE

Wine

CH MONTROSE

Vintage

2014

€/unit

194.70

Available

92

Format

0.75

Packaging

CB 6, CB 12, Unit 1

Ratings

JS: 94 - 95 , AG: 93 - 96 , LPB: 96

Appellation

ST ESTEPHE

Wine

CH MONTROSE

Vintage

2018

€/unit

286.80

Available

234

Format

0.75

Packaging

CB 6, CB 12

Ratings

JS: 98 , AG: 97 , LPB: 99 , JA: 98

Appellation

ST ESTEPHE

Wine

CH MONTROSE

Vintage

2019

€/unit

295.60

Available

252

Format

0.75

Packaging

CB 6, CB 12

Ratings

JS: 97 , AG: 100 , LPB: 100

Appellation

ST ESTEPHE

Wine

CH MONTROSE

Vintage

2020

€/unit

311.90

Available

30

Format

0.75

Packaging

CB 6

Ratings

AG: 99 , LPB: 99 , JD: 98

Appellation

PAUILLAC

Wine

CH MOUTON ROTHSCHILD

Vintage

1985

€/unit

903.20

Available

3

Format

0.75

Packaging

CB 3

Ratings

Appellation

PAUILLAC

Wine

CH MOUTON ROTHSCHILD

Vintage

1986

€/unit

1758.80

Available

2

Format

0.75

Packaging

CB 1

Ratings

Appellation

PAUILLAC

Wine

CH MOUTON ROTHSCHILD

Vintage

1988

€/unit

887.00

Available

3

Format

0.75

Packaging

CB 3

Ratings

Appellation

PAUILLAC

Wine

CH MOUTON ROTHSCHILD

Vintage

1989

€/unit

919.50

Available

3

Format

0.75

Packaging

CB 3

Ratings

Appellation

PAUILLAC

Wine

CH MOUTON ROTHSCHILD

Vintage

1990

€/unit

870.60

Available

3

Format

0.75

Packaging

CB 1

Ratings

Appellation

PAUILLAC

Wine

CH MOUTON ROTHSCHILD

Vintage

1991

€/unit

710.10

Available

1

Format

0.75

Packaging

CB 1

Ratings

Appellation

PAUILLAC

Wine

CH MOUTON ROTHSCHILD

Vintage

1992

€/unit

838.00

Available

2

Format

0.75

Packaging

CB 1

Ratings

Appellation

PAUILLAC

Wine

CH MOUTON ROTHSCHILD

Vintage

1993

€/unit

838.00

Available

3

Format

0.75

Packaging

CB 3

Ratings

Appellation

PAUILLAC

Wine

CH MOUTON ROTHSCHILD

Vintage

1994

€/unit

838.00

Available

3

Format

0.75

Packaging

CB 3

Ratings

Appellation

PAUILLAC

Wine

CH MOUTON ROTHSCHILD

Vintage

1995

€/unit

968.40

Available

6

Format

0.75

Packaging

CB 6

Ratings

Appellation

PAUILLAC

Wine

CH MOUTON ROTHSCHILD

Vintage

1996

€/unit

1062.10

Available

3

Format

0.75

Packaging

CB 3

Ratings

Appellation

PAUILLAC

Wine

CH MOUTON ROTHSCHILD

Vintage

1997

€/unit

887.00

Available

2

Format

0.75

Packaging

CB 1

Ratings

Appellation

PAUILLAC

Wine

CH MOUTON ROTHSCHILD

Vintage

1998

€/unit

980.90

Available

2

Format

0.75

Packaging

CB 1

Ratings

Appellation

PAUILLAC

Wine

CH MOUTON ROTHSCHILD

Vintage

1999

€/unit

903.20

Available

2

Format

0.75

Packaging

CB 1

Ratings

Appellation

PAUILLAC

Wine

CH MOUTON ROTHSCHILD

Vintage

2001

€/unit

927.70

Available

2

Format

0.75

Packaging

CB 1

Ratings

JA: 95

Appellation

PAUILLAC

Wine

CH MOUTON ROTHSCHILD

Vintage

2002

€/unit

887.00

Available

2

Format

0.75

Packaging

CB 1

Ratings

Appellation

PAUILLAC

Wine

CH MOUTON ROTHSCHILD

Vintage

2003

€/unit

997.20

Available

2

Format

0.75

Packaging

CB 1

Ratings

Appellation

PAUILLAC

Wine

CH MOUTON ROTHSCHILD

Vintage

2004

€/unit

952.10

Available

2

Format

0.75

Packaging

CB 1

Ratings

Appellation

PAUILLAC

Wine

CH MOUTON ROTHSCHILD

Vintage

2009

€/unit

1155.20

Available

30

Format

0.75

Packaging

CB 6, CB 12

Ratings

JS: 97 - 100 , JA: 97 - 98

Appellation

PAUILLAC

Wine

CH MOUTON ROTHSCHILD

Vintage

2009

€/unit

2637.50

Available

6

Format

1.5

Packaging

CB 1

Ratings

JS: 97 - 100 , JA: 97 - 98

Appellation

PAUILLAC

Wine

CH MOUTON ROTHSCHILD

Vintage

2010

€/unit

1203.70

Available

6

Format

0.75

Packaging

CB 6

Ratings

JS: 100 , JA: 99 - 100

Appellation

PAUILLAC

Wine

CH MOUTON ROTHSCHILD

Vintage

2011

€/unit

800.20

Available

60

Format

0.75

Packaging

CB 6

Ratings

JS: 94 - 95 , JA: 96 - 97

Appellation

PAUILLAC

Wine

CH MOUTON ROTHSCHILD

Vintage

2014

€/unit

808.50

Available

90

Format

0.75

Packaging

CB 6

Ratings

JS: 96 - 97 , AG: 93 - 96

Appellation

PAUILLAC

Wine

CH MOUTON ROTHSCHILD

Vintage

2015

€/unit

854.40

Available

82

Format

0.75

Packaging

CB 6

Ratings

JS: 96 - 97 , AG: 94 - 97 , LPB: 97

Appellation

PAUILLAC

Wine

CH MOUTON ROTHSCHILD

Vintage

2015

€/unit

1996.70

Available

6

Format

1.5

Packaging

CB 6

Ratings

JS: 96 - 97 , AG: 94 - 97 , LPB: 97

Appellation

PAUILLAC

Wine

CH MOUTON ROTHSCHILD

Vintage

2015

€/unit

7429.60

Available

1

Format

6

Packaging

CB 1

Ratings

JS: 96 - 97 , AG: 94 - 97 , LPB: 97

Appellation

PAUILLAC

Wine

CH MOUTON ROTHSCHILD

Vintage

2016

€/unit

1110.80

Available

92

Format

0.75

Packaging

CB 1

Ratings

JS: 100 , LPB: 100

Appellation

PAUILLAC

Wine

CH MOUTON ROTHSCHILD

Vintage

2016

€/unit

8721.60

Available

1

Format

6

Packaging

CB 1

Ratings

JS: 100 , LPB: 100

Appellation

PAUILLAC

Wine

CH MOUTON ROTHSCHILD

Vintage

2017

€/unit

770.50

Available

216

Format

0.75

Packaging

CB 6

Ratings

JS: 98 , LPB: 95

Appellation

PAUILLAC

Wine

CH MOUTON ROTHSCHILD

Vintage

2018

€/unit

1078.30

Available

148

Format

0.75

Packaging

CB 6, CB 3, CB 1

Ratings

JS: 100 , AG: 99 , LPB: 98 , JA: 100

Appellation

PAUILLAC

Wine

CH MOUTON ROTHSCHILD

Vintage

2018

€/unit

2099.60

Available

30

Format

1.5

Packaging

CB 3

Ratings

JS: 100 , AG: 99 , LPB: 98 , JA: 100

Appellation

PAUILLAC

Wine

CH MOUTON ROTHSCHILD

Vintage

2018

€/unit

4093.60

Available

1

Format

3

Packaging

CB 1

Ratings

JS: 100 , AG: 99 , LPB: 98 , JA: 100

Appellation

PAUILLAC

Wine

CH MOUTON ROTHSCHILD

Vintage

2018

€/unit

6711.10

Available

1

Format

5

Packaging

CB 1

Ratings

JS: 100 , AG: 99 , LPB: 98 , JA: 100

Appellation

PAUILLAC

Wine

CH MOUTON ROTHSCHILD

Vintage

2018

€/unit

8280.60

Available

1

Format

6

Packaging

CB 1

Ratings

JS: 100 , AG: 99 , LPB: 98 , JA: 100

Appellation

PAUILLAC

Wine

CH MOUTON ROTHSCHILD

Vintage

2019

€/unit

1045.90

Available

65

Format

0.75

Packaging

CB 1, CB 6

Ratings

JS: 99 , AG: 99 , LPB: 100

Appellation

PAUILLAC

Wine

CH MOUTON ROTHSCHILD

Vintage

2019

€/unit

2068.00

Available

23

Format

1.5

Packaging

CB 1

Ratings

JS: 99 , AG: 99 , LPB: 100

Appellation

PAUILLAC

Wine

CH MOUTON ROTHSCHILD

Vintage

2019

€/unit

4394.90

Available

8

Format

3

Packaging

CB 1

Ratings

JS: 99 , AG: 99 , LPB: 100

Appellation

PAUILLAC

Wine

CH MOUTON ROTHSCHILD

Vintage

2019

€/unit

8831.40

Available

3

Format

6

Packaging

CB 1

Ratings

JS: 99 , AG: 99 , LPB: 100

Appellation

PAUILLAC

Wine

CH MOUTON ROTHSCHILD

Vintage

2020

€/unit

1029.60

Available

64

Format

0.75

Packaging

CB 1, CB 6, CB 3

Ratings

JS: 99 - 100 , AG: 99 , LPB: 96 , JD: 97

Appellation

PAUILLAC

Wine

CH MOUTON ROTHSCHILD

Vintage

2020

€/unit

2068.00

Available

3

Format

1.5

Packaging

CB 3

Ratings

JS: 99 - 100 , AG: 99 , LPB: 96 , JD: 97

Appellation

PAUILLAC

Wine

CH MOUTON ROTHSCHILD

Vintage

2020

€/unit

8721.60

Available

1

Format

6

Packaging

CB 1

Ratings

JS: 99 - 100 , AG: 99 , LPB: 96 , JD: 97

Appellation

POMEROL

Wine

CH NENIN

Vintage

2014

€/unit

81.50

Available

210

Format

0.75

Packaging

CB 12, CB 6

Ratings

JS: 90 - 91 , AG: 89 - 92 , JA: 93

Appellation

POMEROL

Wine

CH NENIN

Vintage

2017

€/unit

96.30

Available

> 300

Format

0.75

Packaging

CB 12, CB 6

Ratings

JS: 93 , LPB: 94

Appellation

POMEROL

Wine

CH NENIN

Vintage

2018

€/unit

96.30

Available

264

Format

0.75

Packaging

CB 6

Ratings

JS: 97 , AG: 93 , LPB: 93 , JA: 95

Appellation

POMEROL

Wine

CH NENIN

Vintage

2019

€/unit

96.30

Available

276

Format

0.75

Packaging

CB 6

Ratings

JS: 95 , AG: 93 , LPB: 94 , JA: 94

Appellation

POMEROL

Wine

CH NENIN

Vintage

2020

€/unit

108.90

Available

18

Format

0.75

Packaging

CB 6

Ratings

JS: 97 - 98 , AG: 94 , LPB: 95 , JD: 94

Appellation

PESSAC LEOGNAN BLANC

Wine

CH OLIVIER BLC

Vintage

2017

€/unit

45.40

Available

44

Format

0.75

Packaging

CB 6, Unit 1

Ratings

JS: 92-93

Appellation

PESSAC LEOGNAN ROUGE

Wine

CH OLIVIER ROUGE

Vintage

2010

€/unit

67.80

Available

192

Format

0.75

Packaging

CB 12, CB 6

Ratings

JS: 95 , JA: 93

Appellation

PESSAC LEOGNAN ROUGE

Wine

CH OLIVIER ROUGE

Vintage

2018

€/unit

47.60

Available

288

Format

0.75

Packaging

CB 6

Ratings

JS: 92-93 , AG: 88-91

Appellation

PESSAC LEOGNAN ROUGE

Wine

CH OLIVIER ROUGE

Vintage

2020

€/unit

42.10

Available

132

Format

0.75

Packaging

CB 6

Ratings

Appellation

PESSAC LEOGNAN ROUGE

Wine

CH OLIVIER ROUGE

Vintage

2021

€/unit

42.10

Available

> 300

Format

0.75

Packaging

CB 6

Ratings

Appellation

ST ESTEPHE

Wine

CH ORMES DE PEZ

Vintage

2020

€/unit

42.10

Available

> 300

Format

0.75

Packaging

CB 6

Ratings

JS: 92 , AG: 90 , JD: 92

Appellation

ST ESTEPHE

Wine

CH ORMES DE PEZ

Vintage

2020

€/unit

89.30

Available

24

Format

1.5

Packaging

CB 3

Ratings

JS: 92 , AG: 90 , JD: 92

Appellation

ST ESTEPHE

Wine

CH ORMES DE PEZ

Vintage

2020

€/unit

232.60

Available

6

Format

3

Packaging

CB 1

Ratings

JS: 92 , AG: 90 , JD: 92

Appellation

ST ESTEPHE

Wine

CH ORMES DE PEZ

Vintage

2020

€/unit

449.10

Available

3

Format

6

Packaging

CB 1

Ratings

JS: 92 , AG: 90 , JD: 92

Appellation

MARGAUX

Wine

CH PALMER

Vintage

2015

€/unit

531.40

Available

54

Format

0.75

Packaging

CB 6

Ratings

JS: 99 - 100 , AG: 94 - 97 , LPB: 98

Appellation

MARGAUX

Wine

CH PALMER

Vintage

2020

€/unit

479.00

Available

12

Format

0.75

Packaging

CB 6

Ratings

AG: 98 , LPB: 97 , JD: 97

Appellation

PESSAC LEOGNAN ROUGE

Wine

CH PAPE CLEMENT

Vintage

2009

€/unit

311.90

Available

24

Format

0.75

Packaging

CB 12

Ratings

JS: 94 - 97 , JA: 92 - 93

Appellation

PESSAC LEOGNAN ROUGE

Wine

CH PAPE CLEMENT

Vintage

2015

€/unit

150.40

Available

124

Format

0.75

Packaging

CB 12, Unit 1

Ratings

JS: 97 - 98 , AG: 93 - 96 , LPB: 97

Appellation

PESSAC LEOGNAN ROUGE

Wine

CH PAPE CLEMENT

Vintage

2016

€/unit

160.80

Available

> 300

Format

0.75

Packaging

CB 12, CB 6

Ratings

JS: 98 , LPB: 96

Appellation

PESSAC LEOGNAN ROUGE

Wine

CH PAPE CLEMENT

Vintage

2018

€/unit

247.00

Available

234

Format

1.5

Packaging

CB 6

Ratings

JS: 97 , AG: 96 , LPB: 95 , JA: 94

Appellation

PESSAC LEOGNAN ROUGE

Wine

CH PAPE CLEMENT

Vintage

2019

€/unit

126.40

Available

276

Format

0.75

Packaging

CB 12, CB 6

Ratings

JS: 97 , AG: 97 , LPB: 96 , JA: 95

Appellation

PESSAC LEOGNAN ROUGE

Wine

CH PAPE CLEMENT

Vintage

2019

€/unit

261.00

Available

81

Format

1.5

Packaging

CB 3

Ratings

JS: 97 , AG: 97 , LPB: 96 , JA: 95

Appellation

PESSAC LEOGNAN ROUGE

Wine

CH PAPE CLEMENT

Vintage

2020

€/unit

121.60

Available

162

Format

0.75

Packaging

CB 6

Ratings

JS: 98 , AG: 98 , LPB: 94 , JD: 97

Appellation

PESSAC LEOGNAN ROUGE

Wine

CH PAPE CLEMENT

Vintage

2020

€/unit

121.60

Available

2

Format

0.75

Packaging

CB 1

Ratings

JS: 98 , AG: 98 , LPB: 94 , JD: 97

Appellation

PESSAC LEOGNAN ROUGE

Wine

CH PAPE CLEMENT

Vintage

2020

€/unit

244.30

Available

231

Format

1.5

Packaging

CB 3

Ratings

JS: 98 , AG: 98 , LPB: 94 , JD: 97

Appellation

PESSAC LEOGNAN ROUGE

Wine

CH PAPE CLEMENT

Vintage

2020

€/unit

518.90

Available

12

Format

3

Packaging

CB 1

Ratings

JS: 98 , AG: 98 , LPB: 94 , JD: 97

Appellation

PESSAC LEOGNAN ROUGE

Wine

CH PAPE CLEMENT

Vintage

2020

€/unit

1028.80

Available

4

Format

6

Packaging

CB 1

Ratings

JS: 98 , AG: 98 , LPB: 94 , JD: 97

Appellation

PESSAC LEOGNAN BLANC

Wine

CH PAPE CLEMENT BLC

Vintage

2014

€/unit

160.80

Available

2

Format

0.75

Packaging

Unit 1

Ratings

JS: 97 , AG: 92 - 95

Appellation

PESSAC LEOGNAN BLANC

Wine

CH PAPE CLEMENT BLC

Vintage

2015

€/unit

170.40

Available

114

Format

0.75

Packaging

CB 12, CB 6

Ratings

JS: 95 - 96 , AG: 93 - 96 , LPB: 96

Appellation

PESSAC LEOGNAN BLANC

Wine

CH PAPE CLEMENT BLC

Vintage

2016

€/unit

173.90

Available

> 300

Format

0.75

Packaging

CB 6

Ratings

JS: 95 , LPB: 95

Appellation

PESSAC LEOGNAN BLANC

Wine

CH PAPE CLEMENT BLC

Vintage

2017

€/unit

167.40

Available

> 300

Format

0.75

Packaging

CB 6

Ratings

JS: 96 , LPB: 96

Appellation

PESSAC LEOGNAN BLANC

Wine

CH PAPE CLEMENT BLC

Vintage

2018

€/unit

167.40

Available

> 300

Format

0.75

Packaging

CB 6

Ratings

JS: 98 , AG: 93 , LPB: 94 , JA: 92

Appellation

ST EMILION GRAND CRU

Wine

CH PAVIE

Vintage

2012

€/unit

467.20

Available

240

Format

0.75

Packaging

CB 6

Ratings

JS: 94 - 95

Appellation

ST EMILION GRAND CRU

Wine

CH PAVIE

Vintage

2012

€/unit

975.30

Available

21

Format

1.5

Packaging

CB 3

Ratings

JS: 94 - 95

Appellation

ST EMILION GRAND CRU

Wine

CH PAVIE

Vintage

2014

€/unit

393.20

Available

60

Format

0.75

Packaging

CB 6

Ratings

JS: 93 - 94 , AG: 93 - 96

Appellation

ST EMILION GRAND CRU

Wine

CH PAVIE

Vintage

2014

€/unit

725.80

Available

39

Format

1.5

Packaging

CB 3

Ratings

JS: 93 - 94 , AG: 93 - 96

Appellation

ST EMILION GRAND CRU

Wine

CH PAVIE

Vintage

2015

€/unit

499.40

Available

150

Format

0.75

Packaging

CB 6

Ratings

JS: 100 , AG: 95 - 98 , LPB: 98

Appellation

ST EMILION GRAND CRU

Wine

CH PAVIE

Vintage

2015

€/unit

957.30

Available

15

Format

1.5

Packaging

CB 3

Ratings

JS: 100 , AG: 95 - 98 , LPB: 98

Appellation

ST EMILION GRAND CRU

Wine

CH PAVIE

Vintage

2016

€/unit

529.80

Available

66

Format

0.75

Packaging

CB 6

Ratings

JS: 100 , AG: 98 , LPB: 100

Appellation

ST EMILION GRAND CRU

Wine

CH PAVIE

Vintage

2017

€/unit

475.60

Available

186

Format

0.75

Packaging

CB 6

Ratings

JS: 97 , LPB: 98 , JD: 99

Appellation

ST EMILION GRAND CRU

Wine

CH PAVIE

Vintage

2018

€/unit

485.80

Available

240

Format

0.75

Packaging

CB 6

Ratings

JS: 99 , AG: 97 , LPB: 97

Appellation

ST EMILION GRAND CRU

Wine

CH PAVIE

Vintage

2019

€/unit

450.10

Available

> 300

Format

0.75

Packaging

CB 6

Ratings

JS: 98 , AG: 95 - 97 , LPB: 99

Appellation

ST EMILION GRAND CRU

Wine

CH PAVIE

Vintage

2020

€/unit

438.00

Available

219

Format

0.75

Packaging

CB 3, CB 6

Ratings

JS: 99 - 100 , LPB: 99 , JD: 100

Appellation

ST EMILION GRAND CRU

Wine

CH PAVIE

Vintage

2020

€/unit

861.10

Available

57

Format

1.5

Packaging

CB 3

Ratings

JS: 99 - 100 , LPB: 99 , JD: 100

Appellation

ST EMILION GRAND CRU

Wine

CH PAVIE

Vintage

2020

€/unit

1689.80

Available

4

Format

3

Packaging

CB 1

Ratings

JS: 99 - 100 , LPB: 99 , JD: 100

Appellation

ST EMILION GRAND CRU

Wine

CH PAVIE

Vintage

2020

€/unit

3406.70

Available

3

Format

6

Packaging

CB 1

Ratings

JS: 99 - 100 , LPB: 99 , JD: 100

Appellation

ST EMILION GRAND CRU

Wine

CH PAVIE

Vintage

2010

€/unit

554.70

Available

102

Format

0.75

Packaging

CB 6

Ratings

JS: 96 - 97 , JA: 92

Appellation

ST EMILION GRAND CRU

Wine

CH PAVIE DECESSE

Vintage

2014

€/unit

145.00

Available

164

Format

0.75

Packaging

CB 6, Unit 1

Ratings

Appellation

ST EMILION GRAND CRU

Wine

CH PAVIE MACQUIN

Vintage

2019

€/unit

131.50

Available

18

Format

0.75

Packaging

CB 6

Ratings

JS: 97 , AG: 95 , LPB: 97

Appellation

ST EMILION GRAND CRU

Wine

CH PAVIE MACQUIN

Vintage

2020

€/unit

152.30

Available

6

Format

0.75

Packaging

CB 6

Ratings

JS: 95 - 96 , AG: 100 , LPB: 97 , JD: 96

Appellation

PAUILLAC

Wine

CH PEDESCLAUX

Vintage

2016

€/unit

68.60

Available

36

Format

0.75

Packaging

CB 6

Ratings

JS: 95 , LPB: 92

Appellation

PAUILLAC

Wine

CH PEDESCLAUX

Vintage

2016

€/unit

587.00

Available

2

Format

6

Packaging

CB 1

Ratings

JS: 95 , LPB: 92

Appellation

PAUILLAC

Wine

CH PEDESCLAUX

Vintage

2017

€/unit

60.90

Available

270

Format

0.75

Packaging

CB 6, CB 12

Ratings

JS: 94 , LPB: 93

Appellation

PAUILLAC

Wine

CH PEDESCLAUX

Vintage

2018

€/unit

63.10

Available

> 300

Format

0.75

Packaging

CB 6, CB 12, Unit 1

Ratings

JS: 95 , AG: 89 - 92 , LPB: 91 , JA: 93

Appellation

PAUILLAC

Wine

CH PEDESCLAUX

Vintage

2020

€/unit

56.30

Available

> 300

Format

0.75

Packaging

CB 6

Ratings

JS: 95 - 96 , AG: 87 , LPB: 93 , JD: 94

Appellation

POMEROL

Wine

CH PETIT VILLAGE

Vintage

2014

€/unit

88.90

Available

96

Format

0.75

Packaging

CB 12

Ratings

JS: 92 - 93 , AG: 90 - 93

Appellation

POMEROL

Wine

CH PETIT VILLAGE

Vintage

2015

€/unit

107.00

Available

6

Format

0.75

Packaging

CB 6

Ratings

JS: 95 - 96 , AG: 93 - 96

Appellation

HAUT MEDOC

Wine

CH PEYRABON

Vintage

2017

€/unit

19.20

Available

239

Format

0.75

Packaging

CT 6, Unit 1

Ratings

Appellation

ST ESTEPHE

Wine

CH PHELAN SEGUR

Vintage

2015

€/unit

77.90

Available

204

Format

0.75

Packaging

CB 6

Ratings

JS: 93 - 94 , AG: 89 - 92 , LPB: 91

Appellation

ST ESTEPHE

Wine

CH PHELAN SEGUR

Vintage

2017

€/unit

60.90

Available

12

Format

0.75

Packaging

CB 6

Ratings

JS: 93 , LPB: 93

Appellation

ST ESTEPHE

Wine

CH PHELAN SEGUR

Vintage

2020

€/unit

72.30

Available

270

Format

0.75

Packaging

CB 6

Ratings

JS: 95 - 96 , AG: 93 , LPB: 96 , JD: 95 , JA: 94

Appellation

PAUILLAC

Wine

CH PICHON BARON

Vintage

1989

€/unit

4987.40

Available

1

Format

6

Packaging

CB 1

Ratings

Appellation

PAUILLAC

Wine

CH PICHON BARON

Vintage

2016

€/unit

266.80

Available

116

Format

0.75

Packaging

CB 6, Unit 1

Ratings

JS: 98-99

Appellation

PAUILLAC

Wine

CH PICHON BARON

Vintage

2017

€/unit

216.50

Available

> 300

Format

0.75

Packaging

CB 6

Ratings

JS: 95-96

Appellation

PAUILLAC

Wine

CH PICHON BARON

Vintage

2018

€/unit

245.80

Available

78

Format

0.75

Packaging

CB 6

Ratings

JS: 97-98 , AG: 94-97

Appellation

PAUILLAC

Wine

CH PICHON BARON

Vintage

2018

€/unit

506.50

Available

12

Format

1.5

Packaging

CB 6

Ratings

JS: 97-98 , AG: 94-97

Appellation

PAUILLAC

Wine

CH PICHON BARON

Vintage

2018

€/unit

1957.30

Available

1

Format

6

Packaging

CB 1

Ratings

JS: 97-98 , AG: 94-97

Appellation

PAUILLAC

Wine

CH PICHON BARON

Vintage

2019

€/unit

262.50

Available

108

Format

0.75

Packaging

CB 12

Ratings

JS: 97-98

Appellation

PAUILLAC

Wine

CH PICHON BARON

Vintage

2020

€/unit

513.20

Available

12

Format

1.5

Packaging

CB 3

Ratings

Appellation

PAUILLAC

Wine

CH PICHON BARON

Vintage

2020

€/unit

1001.50

Available

2

Format

3

Packaging

CB 1

Ratings

Appellation

PAUILLAC

Wine

CH PICHON BARON

Vintage

2020

€/unit

1957.30

Available

1

Format

6

Packaging

CB 1

Ratings

Appellation

PAUILLAC

Wine

CH PICHON LALANDE

Vintage

1995

€/unit

482.40

Available

24

Format

0.75

Packaging

CB 3

Ratings

LPB: 94

Appellation

PAUILLAC

Wine

CH PICHON LALANDE

Vintage

2005

€/unit

708.70

Available

9

Format

1.5

Packaging

CB 3

Ratings

AG: 89 , LPB: 92

Appellation

PAUILLAC

Wine

CH PICHON LALANDE

Vintage

2008

€/unit

266.80

Available

60

Format

0.75

Packaging

CB 12, CB 6

Ratings

LPB: 95 , JA: 95 - 97

Appellation

PAUILLAC

Wine

CH PICHON LALANDE

Vintage

2009

€/unit

328.20

Available

42

Format

0.75

Packaging

CB 6

Ratings

JS: 95 - 98 , LPB: 97 , JA: 94

Appellation

PAUILLAC

Wine

CH PICHON LALANDE

Vintage

2009

€/unit

708.70

Available

14

Format

1.5

Packaging

CB 1, CB 3

Ratings

JS: 95 - 98 , LPB: 97 , JA: 94

Appellation

PAUILLAC

Wine

CH PICHON LALANDE

Vintage

2010

€/unit

344.30

Available

60

Format

0.75

Packaging

CB 6

Ratings

JS: 94 , LPB: 95 , JA: 94 - 95

Appellation

PAUILLAC

Wine

CH PICHON LALANDE

Vintage

2015

€/unit

335.70

Available

120

Format

0.75

Packaging

CB 6

Ratings

JS: 96 - 97 , AG: 96 - 98 , LPB: 98

Appellation

PAUILLAC

Wine

CH PICHON LALANDE

Vintage

2015

€/unit

664.00

Available

30

Format

1.5

Packaging

CB 3

Ratings

JS: 96 - 97 , AG: 96 - 98 , LPB: 98

Appellation

PAUILLAC

Wine

CH PICHON LALANDE

Vintage

2015

€/unit

1332.20

Available

4

Format

3

Packaging

CB 1

Ratings

JS: 96 - 97 , AG: 96 - 98 , LPB: 98

Appellation

PAUILLAC

Wine

CH PICHON LALANDE

Vintage

2016

€/unit

450.10

Available

30

Format

0.75

Packaging

CB 12, CB 6

Ratings

JS: 98 , LPB: 99 , JA: 100

Appellation

PAUILLAC

Wine

CH PICHON LALANDE

Vintage

2017

€/unit

236.90

Available

36

Format

0.75

Packaging

CB 12

Ratings

JS: 94 , LPB: 96

Appellation

PAUILLAC

Wine

CH PICHON LALANDE

Vintage

2017

€/unit

498.00

Available

51

Format

1.5

Packaging

CB 3

Ratings

JS: 94 , LPB: 96

Appellation

PAUILLAC

Wine

CH PICHON LALANDE

Vintage

2018

€/unit

360.30

Available

240

Format

0.75

Packaging

CB 6

Ratings

JS: 97 , AG: 97 , LPB: 96 , JA: 98

Appellation

PAUILLAC

Wine

CH PICHON LALANDE

Vintage

2020

€/unit

360.30

Available

24

Format

0.75

Packaging

CB 6

Ratings

JS: 98 , AG: 97 , LPB: 98 , JD: 98

Appellation

ST EMILION GRAND CRU

Wine

CH POESIA

Vintage

2020

€/unit

44.30

Available

144

Format

0.75

Packaging

CB 6, Unit 1

Ratings

Appellation

PAUILLAC

Wine

CH PONTET CANET

Vintage

1988

€/unit

270.20

Available

18

Format

0.75

Packaging

CB 6

Ratings

Appellation

PAUILLAC

Wine

CH PONTET CANET

Vintage

1995

€/unit

262.50

Available

12

Format

0.75

Packaging

CB 6

Ratings

Appellation

PAUILLAC

Wine

CH PONTET CANET

Vintage

2002

€/unit

185.90

Available

90

Format

0.75

Packaging

CB 6

Ratings

Appellation

PAUILLAC

Wine

CH PONTET CANET

Vintage

2002

€/unit

376.10

Available

3

Format

1.5

Packaging

CB 3

Ratings

Appellation

PAUILLAC

Wine

CH PONTET CANET

Vintage

2003

€/unit

219.90

Available

6

Format

0.75

Packaging

CB 6

Ratings

Appellation

PAUILLAC

Wine

CH PONTET CANET

Vintage

2006

€/unit

202.90

Available

72

Format

0.75

Packaging

CB 6

Ratings

Appellation

PAUILLAC

Wine

CH PONTET CANET

Vintage

2012

€/unit

162.00

Available

252

Format

0.75

Packaging

CB 12

Ratings

JS: 94 - 95 , LPB: 91

Appellation

PAUILLAC

Wine

CH PONTET CANET VIN BIO ECOCER

Vintage

2016

€/unit

246.60

Available

120

Format

0.75

Packaging

CB 6

Ratings

JS: 97 , LPB: 99

Appellation

PAUILLAC

Wine

CH PONTET CANET VIN BIO ECOCER

Vintage

2016

€/unit

489.50

Available

3

Format

1.5

Packaging

CB 3

Ratings

JS: 97 , LPB: 99

Appellation

PAUILLAC

Wine

CH PONTET CANET VIN BIO ECOCER

Vintage

2017

€/unit

162.00

Available

> 300

Format

0.75

Packaging

CB 6

Ratings

JS: 96 , LPB: 96

Appellation

PAUILLAC

Wine

CH PONTET CANET VIN BIO ECOCER

Vintage

2019

€/unit

185.90

Available

30

Format

0.75

Packaging

CB 6

Ratings

JS: 99 , AG: 96 , LPB: 99

Appellation

PAUILLAC

Wine

CH PONTET CANET VIN BIO ECOCER

Vintage

2019

€/unit

424.70

Available

15

Format

1.5

Packaging

CB 6, CB 3

Ratings

JS: 99 , AG: 96 , LPB: 99

Appellation

PAUILLAC

Wine

CH PONTET CANET VIN BIO ECOCER

Vintage

2020

€/unit

173.90

Available

> 300

Format

0.75

Packaging

CB 6

Ratings

JS: 98 , AG: 95 , LPB: 97 , JD: 97

Appellation

PAUILLAC

Wine

CH PONTET CANET VIN BIO ECOCER

Vintage

2020

€/unit

358.90

Available

85

Format

1.5

Packaging

CB 1, CB 3

Ratings

JS: 98 , AG: 95 , LPB: 97 , JD: 97

Appellation

MEDOC

Wine

CH POTENSAC

Vintage

2007

€/unit

85.60

Available

> 300

Format

1.5

Packaging

CB 6

Ratings

Appellation

MEDOC

Wine

CH POTENSAC

Vintage

2014

€/unit

37.30

Available

> 300

Format

0.75

Packaging

CB 6

Ratings

JS: 91 - 92 , AG: 88 - 90

Appellation

MEDOC

Wine

CH POTENSAC

Vintage

2017

€/unit

38.70

Available

174

Format

0.75

Packaging

CB 6

Ratings

JS: 93 , LPB: 92

Appellation

MEDOC

Wine

CH POTENSAC

Vintage

2018

€/unit

41.00

Available

> 300

Format

0.75

Packaging

CB 6

Ratings

JS: 94 , AG: 92 , LPB: 91 , JA: 91

Appellation

MEDOC

Wine

CH POTENSAC

Vintage

2020

€/unit

37.60

Available

> 300

Format

0.75

Packaging

CB 6

Ratings

JS: 94 , AG: 92 , LPB: 91 , JD: 92

Appellation

MEDOC

Wine

CH POTENSAC

Vintage

2020

€/unit

78.20

Available

60

Format

1.5

Packaging

CB 3

Ratings

JS: 94 , AG: 92 , LPB: 91 , JD: 92

Appellation

MEDOC

Wine

CH POTENSAC

Vintage

2021

€/unit

38.10

Available

> 300

Format

0.75

Packaging

CB 6, CB 6

Ratings

JS: 92 - 93 , AG: 90 - 92 , JA: 89

Appellation

MOULIS

Wine

CH POUJEAUX

Vintage

2017

€/unit

41.00

Available

30

Format

0.75

Packaging

CB 6

Ratings

JS: 91 , LPB: 91

Appellation

MOULIS

Wine

CH POUJEAUX

Vintage

2017

€/unit

96.70

Available

126

Format

1.5

Packaging

CB 6

Ratings

JS: 91 , LPB: 91

Appellation

MOULIS

Wine

CH POUJEAUX

Vintage

2018

€/unit

46.50

Available

> 300

Format

0.75

Packaging

CB 6, Unit 1

Ratings

JS: 93 , AG: 92 , LPB: 91 , JA: 93

Appellation

MOULIS

Wine

CH POUJEAUX

Vintage

2020

€/unit

41.00

Available

> 300

Format

0.75

Packaging

CB 6

Ratings

JS: 93 , AG: 90 , LPB: 88 , JD: 90

Appellation

MOULIS

Wine

CH POUJEAUX

Vintage

2020

€/unit

81.90

Available

45

Format

1.5

Packaging

CB 3

Ratings

JS: 93 , AG: 90 , LPB: 88 , JD: 90

Appellation

MARGAUX

Wine

CH PRIEURE LICHINE

Vintage

2011

€/unit

133.60

Available

> 300

Format

1.5

Packaging

CB 6

Ratings

JS: 89 - 90 , JA: 92 - 93

Appellation

MARGAUX

Wine

CH PRIEURE LICHINE

Vintage

2014

€/unit

64.90

Available

72

Format

0.75

Packaging

CB 12

Ratings

JS: 92 - 93 , AG: 91 - 94

Appellation

MARGAUX

Wine

CH PRIEURE LICHINE

Vintage

2017

€/unit

29.20

Available

11

Format

0.375

Packaging

Unit 1

Ratings

JS: 93 , AG: 92+ MAR 2020 , LPB: 85

Appellation

MARGAUX

Wine

CH PRIEURE LICHINE

Vintage

2017

€/unit

112.50

Available

> 300

Format

1.5

Packaging

CB 6

Ratings

JS: 93 , AG: 92+ MAR 2020 , LPB: 85

Appellation

MARGAUX

Wine

CH PRIEURE LICHINE

Vintage

2018

€/unit

64.90

Available

> 300

Format

0.75

Packaging

CB 6

Ratings

JS: 94 , AG: 94 , LPB: 92 , JA: 94

Appellation

MARGAUX

Wine

CH PRIEURE LICHINE

Vintage

2019

€/unit

66.80

Available

> 300

Format

0.75

Packaging

CB 6

Ratings

JS: 95 , AG: 95 , LPB: 93

Appellation

MARGAUX

Wine

CH PRIEURE LICHINE

Vintage

2020

€/unit

57.60

Available

> 300

Format

0.75

Packaging

CB 6, Unit 1

Ratings

JS: 96 , AG: 93 , LPB: 92 , JD: 92

Appellation

MARGAUX

Wine

CH PRIEURE LICHINE

Vintage

2020

€/unit

118.10

Available

294

Format

1.5

Packaging

CB 3

Ratings

JS: 96 , AG: 93 , LPB: 92 , JD: 92

Appellation

MARGAUX

Wine

CH PRIEURE LICHINE

Vintage

2020

€/unit

228.20

Available

14

Format

3

Packaging

CB 1

Ratings

JS: 96 , AG: 93 , LPB: 92 , JD: 92

Appellation

MARGAUX

Wine

CH PRIEURE LICHINE

Vintage

2021

€/unit

54.20

Available

> 300

Format

0.75

Packaging

CB 6

Ratings

JS: 92 - 93 , JA: 92

Appellation

ST EMILION GRAND CRU

Wine

CH PUYBLANQUET

Vintage

2020

€/unit

44.30

Available

> 300

Format

0.75

Packaging

CT 6

Ratings

Appellation

FRANCS - COTES DE BDX BLANC

Wine

CH PUYGUERAUD

Vintage

2018

€/unit

21.00

Available

287

Format

0.75

Packaging

CT 12, Unit 1

Ratings

JS: 90/91

Appellation

FRANCS - COTES DE BDX ROUGE

Wine

CH PUYGUERAUD

Vintage

2020

€/unit

25.00

Available

60

Format

0.75

Packaging

CT 6

Ratings

Appellation

ST EMILION GRAND CRU

Wine

CH QUINAULT L'ENCLOS

Vintage

2014

€/unit

53.90

Available

> 300

Format

0.75

Packaging

CB 6

Ratings

JS: 93 , AG: 90 - 92

Appellation

ST EMILION GRAND CRU

Wine

CH QUINAULT L'ENCLOS

Vintage

2017

€/unit

47.60

Available

30

Format

0.75

Packaging

CB 6

Ratings

JS: 94 , LPB: 89

Appellation

ST EMILION GRAND CRU

Wine

CH QUINAULT L'ENCLOS

Vintage

2019

€/unit

58.40

Available

216

Format

0.75

Packaging

CB 6

Ratings

JS: 94 , AG: 93 , LPB: 93

Appellation

ST EMILION GRAND CRU

Wine

CH QUINTUS

Vintage

2011

€/unit

162.00

Available

96

Format

0.75

Packaging

CB 6

Ratings

Appellation

ST EMILION GRAND CRU

Wine

CH QUINTUS

Vintage

2014

€/unit

143.70

Available

96

Format

0.75

Packaging

CB 6

Ratings

Appellation

ST EMILION GRAND CRU

Wine

CH QUINTUS

Vintage

2014

€/unit

294.10

Available

6

Format

1.5

Packaging

CB 1

Ratings

Appellation

ST EMILION GRAND CRU

Wine

CH QUINTUS

Vintage

2016

€/unit

178.70

Available

36

Format

0.75

Packaging

CT 1

Ratings

JS: 94-95

Appellation

ST EMILION GRAND CRU

Wine

CH QUINTUS

Vintage

2016

€/unit

358.90

Available

9

Format

1.5

Packaging

CB 3

Ratings

JS: 94-95

Appellation

ST EMILION GRAND CRU

Wine

CH QUINTUS

Vintage

2016

€/unit

696.20

Available

2

Format

3

Packaging

CB 1

Ratings

JS: 94-95

Appellation

ST EMILION GRAND CRU

Wine

CH QUINTUS

Vintage

2016

€/unit

1351.30

Available

1

Format

6

Packaging

CB 1

Ratings

JS: 94-95

Appellation

ST EMILION GRAND CRU

Wine

CH QUINTUS

Vintage

2018

€/unit

178.70

Available

> 300

Format

0.75

Packaging

CB 6

Ratings

JS: 93-94 , AG: 89-92

Appellation

ST EMILION GRAND CRU

Wine

CH QUINTUS

Vintage

2018

€/unit

350.30

Available

9

Format

1.5

Packaging

CB 1

Ratings

JS: 93-94 , AG: 89-92

Appellation

ST EMILION GRAND CRU

Wine

CH QUINTUS

Vintage

2019

€/unit

135.10

Available

162

Format

0.75

Packaging

CB 6

Ratings

JS: 96-97

Appellation

ST EMILION GRAND CRU

Wine

CH QUINTUS

Vintage

2020

€/unit

148.60

Available

240

Format

0.75

Packaging

CB 6

Ratings

Appellation

ST EMILION GRAND CRU

Wine

CH QUINTUS

Vintage

2020

€/unit

287.10

Available

3

Format

1.5

Packaging

CB 3

Ratings

Appellation

MARGAUX

Wine

CH RAUZAN SEGLA

Vintage

1995

€/unit

1316.50

Available

1

Format

5

Packaging

CB 1

Ratings

Appellation

MARGAUX

Wine

CH RAUZAN SEGLA

Vintage

1996

€/unit

377.90

Available

6

Format

1.5

Packaging

CB 6

Ratings

Appellation

MARGAUX

Wine

CH RAUZAN SEGLA

Vintage

1996

€/unit

1316.50

Available

1

Format

5

Packaging

CB 1

Ratings

Appellation

MARGAUX

Wine

CH RAUZAN SEGLA

Vintage

1999

€/unit

332.50

Available

24

Format

1.5

Packaging

CB 6

Ratings

Appellation

MARGAUX

Wine

CH RAUZAN SEGLA

Vintage

1999

€/unit

1053.70

Available

1

Format

5

Packaging

CB 1

Ratings
Appellation

MARGAUX

Wine

CH RAUZAN SEGLA

Vintage

2001

€/unit

391.90

Available

6

Format

1.5

Packaging

CB 6

Ratings

Appellation

MARGAUX

Wine

CH RAUZAN SEGLA

Vintage

2002

€/unit

594.00

Available

6

Format

3

Packaging

CB 1

Ratings

Appellation

MARGAUX

Wine

CH RAUZAN SEGLA

Vintage

2005

€/unit

474.30

Available

6

Format

1.5

Packaging

CB 6

Ratings

JS: 97 , AG: 97 , LPB: 97

Appellation

MARGAUX

Wine

CH RAUZAN SEGLA

Vintage

2005

€/unit

1489.50

Available

1

Format

5

Packaging

CB 1

Ratings

JS: 97 , AG: 97 , LPB: 97

Appellation

MARGAUX

Wine

CH RAUZAN SEGLA

Vintage

2006

€/unit

301.80

Available

12

Format

1.5

Packaging

CB 6

Ratings

Appellation

MARGAUX

Wine

CH RAUZAN SEGLA

Vintage

2010

€/unit

1489.50

Available

1

Format

5

Packaging

CB 1

Ratings

JS: 97 - 98 , JA: 96

Appellation

MARGAUX

Wine

CH RAUZAN SEGLA

Vintage

2016

€/unit

182.30

Available

30

Format

0.75

Packaging

CB 6

Ratings

JS: 98 , LPB: 98

Appellation

MARGAUX

Wine

CH RAUZAN SEGLA

Vintage

2018

€/unit

194.70

Available

48

Format

0.75

Packaging

CB 6

Ratings

JS: 99 , AG: 97 , LPB: 97 , JA: 97

Appellation

MARGAUX

Wine

CH RAUZAN SEGLA

Vintage

2019

€/unit

162.00

Available

54

Format

0.75

Packaging

CB 6

Ratings

JS: 96 , AG: 96 , LPB: 98 , JA: 96

Appellation

MARGAUX

Wine

CH RAUZAN SEGLA

Vintage

2020

€/unit

165.60

Available

24

Format

0.75

Packaging

CB 6

Ratings

JS: 97 , AG: 97 , LPB: 96 , JD: 98

Appellation

COTES DE BORDEAUX ROUGE

Wine

CH REYNON

Vintage

2011

€/unit

19.70

Available

5

Format

0.75

Packaging

Unit 1

Ratings

Appellation

COTES DE BORDEAUX ROUGE

Wine

CH REYNON

Vintage

2014

€/unit

20.90

Available

102

Format

0.75

Packaging

CT 6

Ratings

Appellation

COTES DE BORDEAUX ROUGE

Wine

CH REYNON

Vintage

2017

€/unit

20.90

Available

12

Format

0.75

Packaging

CT 6

Ratings

Appellation

BORDEAUX BLANC

Wine

CH REYNON

Vintage

2018

€/unit

17.20

Available

> 300

Format

0.75

Packaging

CT 12

Ratings

JS: 90

Appellation

COTES DE BORDEAUX ROUGE

Wine

CH REYNON

Vintage

2018

€/unit

21.80

Available

> 300

Format

0.75

Packaging

CT 6

Ratings

JS: 90-91

Appellation

CADILLAC - COTES DE BX

Wine

CH REYNON

Vintage

2020

€/unit

24.20

Available

> 300

Format

0.75

Packaging

CT 6, CT 12

Ratings

Appellation

SAUTERNES

Wine

CH RIEUSSEC

Vintage

2016

€/unit

85.20

Available

90

Format

0.75

Packaging

CB 6

Ratings

JS: 97

Appellation

SAUTERNES

Wine

CH RIEUSSEC

Vintage

2017

€/unit

42.70

Available

> 300

Format

0.375

Packaging

CB 12

Ratings

JS: 98

Appellation

SAUTERNES

Wine

CH RIEUSSEC

Vintage

2017

€/unit

85.20

Available

54

Format

0.75

Packaging

CB 6

Ratings

JS: 98

Appellation

SAUTERNES

Wine

CH RIEUSSEC

Vintage

2019

€/unit

143.70

Available

260

Format

0.75

Packaging

CT 4

Ratings

JS: 93 , LPB: 96

Appellation

SAUTERNES

Wine

CH RIEUSSEC

Vintage

2020

€/unit

143.70

Available

160

Format

0.75

Packaging

CT 4

Ratings

LPB: 95

Appellation

SAUTERNES

Wine

CH RIEUSSEC

Vintage

2021

€/unit

138.30

Available

> 300

Format

0.75

Packaging

CT 4

Ratings

JS: 93-94

Appellation

ST JULIEN

Wine

CH SAINT PIERRE

Vintage

2011

€/unit

72.30

Available

48

Format

0.75

Packaging

CB 12

Ratings

JS: 89 - 90 , LPB: 89 , JA: 92

Appellation

ST JULIEN

Wine

CH SAINT PIERRE

Vintage

2013

€/unit

59.40

Available

> 300

Format

0.75

Packaging

CB 12

Ratings

JS: 91 , LPB: 83

Appellation

ST JULIEN

Wine

CH SAINT PIERRE

Vintage

2015

€/unit

83.40

Available

3

Format

0.75

Packaging

Unit 1

Ratings

JS: 91 - 92 , AG: 90 - 93 , LPB: 95

Appellation

ST JULIEN

Wine

CH SAINT PIERRE

Vintage

2015

€/unit

373.30

Available

14

Format

3

Packaging

CB 1

Ratings

JS: 91 - 92 , AG: 90 - 93 , LPB: 95

Appellation

ST JULIEN

Wine

CH SAINT PIERRE

Vintage

2016

€/unit

91.90

Available

> 300

Format

0.75

Packaging

CB 12

Ratings

JS: 96 , LPB: 94 , JA: 96

Appellation

ST JULIEN

Wine

CH SAINT PIERRE

Vintage

2016

€/unit

91.90

Available

300

Format

0.75

Packaging

CB 6, Unit 1

Ratings

JS: 96 , LPB: 94 , JA: 96

Appellation

ST JULIEN

Wine

CH SAINT PIERRE

Vintage

2016

€/unit

174.30

Available

36

Format

1.5

Packaging

CB 6

Ratings

JS: 96 , LPB: 94 , JA: 96

Appellation

ST JULIEN

Wine

CH SAINT PIERRE

Vintage

2016

€/unit

380.60

Available

19

Format

3

Packaging

CB 1

Ratings

JS: 96 , LPB: 94 , JA: 96

Appellation

ST JULIEN

Wine

CH SAINT PIERRE

Vintage

2017

€/unit

78.60

Available

> 300

Format

0.75

Packaging

CB 6

Ratings

JS: 93 , LPB: 95

Appellation

ST JULIEN

Wine

CH SAINT PIERRE

Vintage

2017

€/unit

162.40

Available

180

Format

1.5

Packaging

CB 6

Ratings

JS: 93 , LPB: 95

Appellation

ST JULIEN

Wine

CH SAINT PIERRE

Vintage

2017

€/unit

345.80

Available

24

Format

3

Packaging

CB 1

Ratings

JS: 93 , LPB: 95

Appellation

ST JULIEN

Wine

CH SAINT PIERRE

Vintage

2018

€/unit

85.20

Available

> 300

Format

0.75

Packaging

CB 12, CB 6

Ratings

JS: 94 , AG: 95 , LPB: 96 , JA: 94

Appellation

ST JULIEN

Wine

CH SAINT PIERRE

Vintage

2018

€/unit

165.90

Available

168

Format

1.5

Packaging

CB 6

Ratings

JS: 94 , AG: 95 , LPB: 96 , JA: 94

Appellation

ST JULIEN

Wine

CH SAINT PIERRE

Vintage

2018

€/unit

389.20

Available

12

Format

3

Packaging

CB 1

Ratings

JS: 94 , AG: 95 , LPB: 96 , JA: 94

Appellation

ST JULIEN

Wine

CH SAINT PIERRE

Vintage

2018

€/unit

747.60

Available

12

Format

6

Packaging

CB 1

Ratings

JS: 94 , AG: 95 , LPB: 96 , JA: 94

Appellation

ST JULIEN

Wine

CH SAINT PIERRE

Vintage

2019

€/unit

79.70

Available

> 300

Format

0.75

Packaging

CB 6

Ratings

JS: 96 , AG: 94 , LPB: 97

Appellation

ST JULIEN

Wine

CH SAINT PIERRE

Vintage

2019

€/unit

165.90

Available

96

Format

1.5

Packaging

CB 6

Ratings

JS: 96 , AG: 94 , LPB: 97

Appellation

ST JULIEN

Wine

CH SAINT PIERRE

Vintage

2019

€/unit

356.10

Available

24

Format

3

Packaging

CB 1

Ratings

JS: 96 , AG: 94 , LPB: 97

Appellation

ST JULIEN

Wine

CH SAINT PIERRE

Vintage

2020

€/unit

78.60

Available

> 300

Format

0.75

Packaging

CB 6

Ratings

JS: 96 , AG: 95 , LPB: 95 , JD: 96

Appellation

ST JULIEN

Wine

CH SAINT PIERRE

Vintage

2020

€/unit

78.60

Available

9

Format

0.75

Packaging

CB 3, Unit 1

Ratings

JS: 96 , AG: 95 , LPB: 95 , JD: 96

Appellation

ST JULIEN

Wine

CH SAINT PIERRE

Vintage

2020

€/unit

159.30

Available

300

Format

1.5

Packaging

CB 3

Ratings

JS: 96 , AG: 95 , LPB: 95 , JD: 96

Appellation

HAUT MEDOC

Wine

CH SENEJAC

Vintage

2015

€/unit

24.00

Available

4

Format

0.75

Packaging

Unit 1

Ratings

JS: 92 - 93 , AG: 87 - 89

Appellation

HAUT MEDOC

Wine

CH SENEJAC

Vintage

2017

€/unit

25.50

Available

156

Format

0.75

Packaging

CT 6

Ratings

Appellation

HAUT MEDOC

Wine

CH SENEJAC

Vintage

2017

€/unit

25.50

Available

5

Format

0.75

Packaging

Unit 1

Ratings

Appellation

HAUT MEDOC

Wine

CH SENEJAC

Vintage

2017

€/unit

52.00

Available

228

Format

1.5

Packaging

CT 6

Ratings

Appellation

HAUT MEDOC

Wine

CH SENEJAC

Vintage

2018

€/unit

26.20

Available

> 300

Format

0.75

Packaging

CT 6, Unit 1

Ratings

JS: 93 , AG: 89 - 91

Appellation

HAUT MEDOC

Wine

CH SENEJAC

Vintage

2020

€/unit

26.60

Available

> 300

Format

0.75

Packaging

CT 6, Unit 1

Ratings

JS: 93 , LPB: 90

Appellation

MARGAUX

Wine

CH SIRAN

Vintage

2014

€/unit

40.70

Available

3

Format

0.75

Packaging

Unit 1

Ratings

JS: 90 - 91 , AG: 89 - 91

Appellation

MARGAUX

Wine

CH SIRAN

Vintage

2017

€/unit

42.10

Available

> 300

Format

0.75

Packaging

CB 12, CB 6, Unit 1

Ratings

JS: 92 , LPB: 89

Appellation

PESSAC LEOGNAN ROUGE

Wine

CH SMITH HAUT LAFITTE

Vintage

2015

€/unit

218.20

Available

12

Format

0.75

Packaging

CB 12

Ratings

JS: 97 - 98 , AG: 93 - 96 , LPB: 98

Appellation

PESSAC LEOGNAN ROUGE

Wine

CH SMITH HAUT LAFITTE

Vintage

2017

€/unit

140.10

Available

24

Format

0.75

Packaging

CB 6

Ratings

JS: 97 , LPB: 97

Appellation

PESSAC LEOGNAN ROUGE

Wine

CH SMITH HAUT LAFITTE

Vintage

2018

€/unit

177.50

Available

78

Format

0.75

Packaging

CB 6

Ratings

JS: 98 , AG: 94 , LPB: 96 , JA: 97

Appellation

PESSAC LEOGNAN ROUGE

Wine

CH SMITH HAUT LAFITTE

Vintage

2019

€/unit

182.30

Available

18

Format

0.75

Packaging

CB 6

Ratings

JS: 99 , AG: 96 , LPB: 99 , JA: 97

Appellation

PESSAC LEOGNAN ROUGE

Wine

CH SMITH HAUT LAFITTE

Vintage

2020

€/unit

286.80

Available

54

Format

0.75

Packaging

CB 6

Ratings

JS: 99 - 100 , AG: 97 , LPB: 98 , JD: 100

Appellation

PESSAC LEOGNAN BLANC

Wine

CH SMITH HAUT LAFITTE BLC

Vintage

2010

€/unit

194.70

Available

48

Format

0.75

Packaging

CB 12

Ratings

JS: 97 , JA: 93

Appellation

PESSAC LEOGNAN ROUGE

Wine

CH SMITH HAUT LAFITTE RFSE

Vintage

2009

€/unit

393.20

Available

36

Format

0.75

Packaging

CB 12

Ratings

JS: 95 - 98

Appellation

HAUT MEDOC

Wine

CH SOCIANDO MALLET

Vintage

2000

€/unit

114.00

Available

24

Format

0.75

Packaging

CB 12

Ratings

Appellation

HAUT MEDOC

Wine

CH SOCIANDO MALLET

Vintage

2012

€/unit

56.60

Available

> 300

Format

0.75

Packaging

CT 6

Ratings

Appellation

HAUT MEDOC

Wine

CH SOCIANDO MALLET

Vintage

2018

€/unit

53.90

Available

90

Format

0.75

Packaging

CB 6

Ratings

JS: 95 , AG: 90 - 93 , LPB: 92

Appellation

HAUT MEDOC

Wine

CH SOCIANDO MALLET

Vintage

2020

€/unit

103.70

Available

30

Format

1.5

Packaging

CB 3

Ratings

JS: 94 , LPB: 92

Appellation

HAUT MEDOC

Wine

CH SOCIANDO MALLET

Vintage

2020

€/unit

249.40

Available

6

Format

3

Packaging

CB 1

Ratings

JS: 94 , LPB: 92

Appellation

HAUT MEDOC

Wine

CH SOCIANDO MALLET

Vintage

2020

€/unit

481.40

Available

3

Format

6

Packaging

CB 1

Ratings

JS: 94 , LPB: 92

Appellation

HAUT MEDOC

Wine

CH SOCIANDO MALLET

Vintage

2021

€/unit

48.70

Available

> 300

Format

0.75

Packaging

CB 6

Ratings

JS: 92 - 93 , JA: 91

Appellation

ST EMILION GRAND CRU

Wine

CH SOUTARD

Vintage

2010

€/unit

69.70

Available

> 300

Format

0.75

Packaging

CB 6

Ratings

Appellation

ST EMILION GRAND CRU

Wine

CH SOUTARD

Vintage

2011

€/unit

52.00

Available

> 300

Format

0.75

Packaging

CB 6

Ratings

JA: 91 - 92

Appellation

ST EMILION GRAND CRU

Wine

CH SOUTARD

Vintage

2012

€/unit

52.00

Available

> 300

Format

0.75

Packaging

CB 6

Ratings

JS: 90 - 91

Appellation

ST EMILION GRAND CRU

Wine

CH SOUTARD

Vintage

2015

€/unit

66.80

Available

> 300

Format

0.75

Packaging

CB 6

Ratings

JS: 93 - 94 , LPB: 94

Appellation

ST EMILION GRAND CRU

Wine

CH SOUTARD

Vintage

2019

€/unit

72.30

Available

> 300

Format

0.75

Packaging

CB 6

Ratings

JS: 93 , AG: 94 , LPB: 91

Appellation

SAUTERNES

Wine

CH SUDUIRAUT

Vintage

2010

€/unit

74.20

Available

72

Format

0.75

Packaging

CB 6

Ratings

JS: 95 , JA: 92

Appellation

SAUTERNES

Wine

CH SUDUIRAUT

Vintage

2013

€/unit

74.20

Available

> 300

Format

0.75

Packaging

CB 6

Ratings

JS: 92 - 93 , AG: 94 - 96 , LPB: 96

Appellation

SAUTERNES

Wine

CH SUDUIRAUT

Vintage

2014

€/unit

85.20

Available

> 300

Format

0.75

Packaging

CB 6

Ratings

JS: 97 - 98 , AG: 91 - 94

Appellation

SAUTERNES

Wine

CH SUDUIRAUT

Vintage

2017

€/unit

46.00

Available

240

Format

0.375

Packaging

CB 24

Ratings

JS: 97 , LPB: 97

Appellation

SAUTERNES

Wine

CH SUDUIRAUT

Vintage

2018

€/unit

80.80

Available

> 300

Format

0.75

Packaging

CB 6

Ratings

JS: 97 , AG: 92 , LPB: 93 , JA: 93

Appellation

SAUTERNES

Wine

CH SUDUIRAUT

Vintage

2019

€/unit

37.10

Available

> 300

Format

0.375

Packaging

CB 12

Ratings

JS: 95 , AG: 94 - 96 , LPB: 97

Appellation

SAUTERNES

Wine

CH SUDUIRAUT

Vintage

2020

€/unit

43.50

Available

84

Format

0.375

Packaging

CB 12

Ratings

JS: 97 - 98 , AG: 96 , LPB: 97 , JD: 98

Appellation

SAUTERNES

Wine

CH SUDUIRAUT

Vintage

2020

€/unit

85.20

Available

78

Format

0.75

Packaging

CB 6

Ratings

JS: 97 - 98 , AG: 96 , LPB: 97 , JD: 98

Appellation

BORDEAUX BLANC

Wine

CH SUDUIRAUT VIEILLES VIGNES

Vintage

2022

€/unit

74.20

Available

114

Format

0.75

Packaging

CB 6

Ratings

Appellation

ST JULIEN

Wine

CH TALBOT

Vintage

2014

€/unit

227.40

Available

24

Format

1.5

Packaging

CB 6

Ratings

JS: 94 - 95 , AG: 92 - 95

Appellation

ST JULIEN

Wine

CH TALBOT

Vintage

2015

€/unit

126.40

Available

30

Format

0.75

Packaging

CB 12, CB 6

Ratings

JS: 92 - 93 , AG: 90 - 93

Appellation

ST JULIEN

Wine

CH TALBOT

Vintage

2016

€/unit

120.90

Available

30

Format

0.75

Packaging

CB 6, CB 12

Ratings

JS: 94 , JA: 94

Appellation

ST JULIEN

Wine

CH TALBOT

Vintage

2017

€/unit

107.00

Available

12

Format

0.75

Packaging

CB 6

Ratings

JS: 93

Appellation

ST JULIEN

Wine

CH TALBOT

Vintage

2018

€/unit

117.70

Available

36

Format

0.75

Packaging

CB 6

Ratings

JS: 96 , AG: 93 , LPB: 92 , JA: 94

Appellation

ST JULIEN

Wine

CH TALBOT

Vintage

2019

€/unit

108.90

Available

42

Format

0.75

Packaging

CB 6

Ratings

JS: 95 , AG: 92

Appellation

ST JULIEN

Wine

CH TALBOT

Vintage

2020

€/unit

108.90

Available

54

Format

0.75

Packaging

CB 6

Ratings

JS: 94 , AG: 95 , LPB: 90 , JD: 94

Appellation

BORDEAUX BLANC

Wine

CH TALBOT CAILLOU BLANC

Vintage

2021

€/unit

57.60

Available

204

Format

0.75

Packaging

CB 6, CB 12

Ratings

LPB: 89 - 91

Appellation

ST ESTEPHE

Wine

CH TOUR DES TERMES

Vintage

2014

€/unit

27.40

Available

> 300

Format

0.75

Packaging

CT 12, CB 6, Unit 1

Ratings

Appellation

ST ESTEPHE

Wine

CH TOUR DES TERMES

Vintage

2015

€/unit

29.30

Available

> 300

Format

0.75

Packaging

CT 6, Unit 1

Ratings

Appellation

ST ESTEPHE

Wine

CH TOUR DES TERMES

Vintage

2018

€/unit

27.40

Available

5

Format

0.75

Packaging

Unit 1

Ratings

Appellation

PESSAC LEOGNAN BLANC

Wine

CH TOUR LEOGNAN

Vintage

2017

€/unit

24.40

Available

1

Format

0.75

Packaging

Unit 1

Ratings

Appellation

ST EMILION GRAND CRU

Wine

CH TOUR SAINT CHRISTOPHE

Vintage

2019

€/unit

52.00

Available

281

Format

0.75

Packaging

CB 6, CB 12, Unit 1

Ratings

JS: 96-97 , LPB: 94

Appellation

ST ESTEPHE

Wine

CH TRONQUOY LALANDE

Vintage

2011

€/unit

38.10

Available

188

Format

0.75

Packaging

CB 6, Unit 1

Ratings

Appellation

ST EMILION GRAND CRU

Wine

CH TROPLONG MONDOT

Vintage

1999

€/unit

177.50

Available

60

Format

0.75

Packaging

CB 6

Ratings

Appellation

ST EMILION GRAND CRU

Wine

CH TROPLONG MONDOT

Vintage

2002

€/unit

152.30

Available

30

Format

0.75

Packaging

CB 6

Ratings

Appellation

ST EMILION GRAND CRU

Wine

CH TROPLONG MONDOT

Vintage

2006

€/unit

182.30

Available

240

Format

0.75

Packaging

CB 6

Ratings

Appellation

ST EMILION GRAND CRU

Wine

CH TROPLONG MONDOT

Vintage

2011

€/unit

155.30

Available

162

Format

0.75

Packaging

CB 6

Ratings

JS: 93 - 94 , JA: - 88

Appellation

ST EMILION GRAND CRU

Wine

CH TROPLONG MONDOT

Vintage

2014

€/unit

131.50

Available

36

Format

0.75

Packaging

CB 6

Ratings

JS: 93 - 94 , AG: 92 - 95

Appellation

ST EMILION GRAND CRU

Wine

CH TROPLONG MONDOT

Vintage

2015

€/unit

177.50

Available

108

Format

0.75

Packaging

CB 6

Ratings

JS: 96 - 97 , LPB: 96

Appellation

ST EMILION GRAND CRU

Wine

CH TROPLONG MONDOT

Vintage

2016

€/unit

197.70

Available

18

Format

0.75

Packaging

CB 6

Ratings

JS: 92 , LPB: 97

Appellation

ST EMILION GRAND CRU

Wine

CH TROPLONG MONDOT

Vintage

2017

€/unit

138.30

Available

> 300

Format

0.75

Packaging

CB 6

Ratings

JS: 96 , LPB: 96

Appellation

ST EMILION GRAND CRU

Wine

CH TROPLONG MONDOT

Vintage

2018

€/unit

142.60

Available

242

Format

0.75

Packaging

CB 1, CB 6, CB 12

Ratings

JS: 98 , AG: 97 , LPB: 96

Appellation

ST EMILION GRAND CRU

Wine

CH TROPLONG MONDOT

Vintage

2019

€/unit

160.80

Available

6

Format

0.75

Packaging

CB 6

Ratings

JS: 98 , AG: 97 , LPB: 96

Appellation

ST EMILION GRAND CRU

Wine

CH TROPLONG MONDOT

Vintage

2020

€/unit

165.60

Available

132

Format

0.75

Packaging

CB 6

Ratings

JS: 98 - 99 , AG: 98 , LPB: 98 , JD: 97

Appellation

ST EMILION GRAND CRU

Wine

CH TROTTE VIEILLE

Vintage

2014

€/unit

150.40

Available

24

Format

0.75

Packaging

CB 6

Ratings

Appellation

ST EMILION GRAND CRU

Wine

CH TROTTEVIEILLE

Vintage

2018

€/unit

124.60

Available

12

Format

0.75

Packaging

CB 6

Ratings

Appellation

ST EMILION GRAND CRU

Wine

CH VALANDRAUD

Vintage

2018

€/unit

235.10

Available

12

Format

0.75

Packaging

CB 6

Ratings

JS: 98 , AG: 97 , LPB: 95 , JA: 95

Appellation

ST EMILION GRAND CRU

Wine

CH VALANDRAUD

Vintage

2019

€/unit

202.90

Available

102

Format

0.75

Packaging

CB 6

Ratings

JS: 98 , AG: 97 , LPB: 97

Appellation

ST EMILION GRAND CRU

Wine

CH VILLEMAURINE

Vintage

2018

€/unit

67.80

Available

168

Format

0.75

Packaging

CB 6

Ratings

JS: 96 , AG: 91 , LPB: 90 , JA: 92

Appellation

ST EMILION GRAND CRU

Wine

CH VILLEMAURINE

Vintage

2018

€/unit

138.60

Available

30

Format

1.5

Packaging

CB 3

Ratings

JS: 96 , AG: 91 , LPB: 90 , JA: 92

Appellation

ST EMILION GRAND CRU

Wine

CH VILLEMAURINE

Vintage

2019

€/unit

63.10

Available

> 300

Format

0.75

Packaging

CB 6

Ratings

JS: 95 - 2021 , AG: 88 , LPB: 90

Appellation

PAUILLAC

Wine

CHAPELLE DE HAUT BAGES LIBERAL

Vintage

2018

€/unit

34.30

Available

300

Format

0.75

Packaging

CB 12

Ratings

Appellation

PAUILLAC

Wine

CHAPELLE DE HAUT BAGES LIBERAL

Vintage

2019

€/unit

35.40

Available

> 300

Format

0.75

Packaging

CT 6

Ratings

Appellation

MEDOC

Wine

CHAPELLE DE POTENSAC

Vintage

2010

€/unit

32.60

Available

5

Format

0.75

Packaging

Unit 1

Ratings

JS: 87 - 88 , JA: 89

Appellation

BORDEAUX BLANC

Wine

CHATEAU COS D'ESTOURNEL

Vintage

2020

€/unit

177.50

Available

6

Format

0.75

Packaging

CB 6

Ratings

JS: 98 - 99 , AG: 95 , LPB: 95 , JD: 96

Appellation

ST EMILION GRAND CRU

Wine

CHATEAU LA CONFESSION

Vintage

2016

€/unit

52.00

Available

12

Format

0.75

Packaging

CB 6

Ratings

JS: 92-93

Appellation

MARGAUX

Wine

CHEVALIER DE LASCOMBES

Vintage

2017

€/unit

46.50

Available

8

Format

0.75

Packaging

Unit 1

Ratings

JS: 91

Appellation

MARGAUX

Wine

CHEVALIER DE LASCOMBES

Vintage

2021

€/unit

46.50

Available

90

Format

0.75

Packaging

CB 6

Ratings

AG: 88 - 90 , JA: 88

Appellation

PESSAC LEOGNAN ROUGE

Wine

CLEMENTIN DE PAPE CLEMENT

Vintage

2012

€/unit

63.10

Available

18

Format

0.75

Packaging

CB 6

Ratings

Appellation

PESSAC LEOGNAN ROUGE

Wine

CLEMENTIN DE PAPE CLEMENT

Vintage

2013

€/unit

36.90

Available

3

Format

0.75

Packaging

Unit 1

Ratings

JS: 88

Appellation

PESSAC LEOGNAN BLANC

Wine

CLEMENTIN DE PAPE CLEMENT

Vintage

2018

€/unit

63.10

Available

> 300

Format

0.75

Packaging

CB 6, Unit 1

Ratings

JS: 92-93 , AG: 86-88

Appellation

PESSAC LEOGNAN BLANC

Wine

CLEMENTIN DE PAPE CLEMENT

Vintage

2019

€/unit

58.70

Available

> 300

Format

0.75

Packaging

CB 6, CB 6

Ratings

Appellation

PESSAC LEOGNAN ROUGE

Wine

CLEMENTIN DE PAPE CLEMENT

Vintage

2019

€/unit

52.00

Available

> 300

Format

0.75

Packaging

CB 6

Ratings

JS: 92 , AG: 90 - 92

Appellation

ST EMILION GRAND CRU

Wine

CLOS DE L'ORATOIRE

Vintage

2016

€/unit

63.10

Available

5

Format

0.75

Packaging

Unit 1

Ratings

JS: 96 , LPB: 93

Appellation

ST EMILION GRAND CRU

Wine

CLOS DE L'ORATOIRE

Vintage

2018

€/unit

60.90

Available

6

Format

0.75

Packaging

CB 6

Ratings

JS: 94 , AG: 95 , LPB: 88 , JA: 93

Appellation

BORDEAUX BLANC

Wine

CLOS DES LUNES - LUNE D'ARGENT

Vintage

2021

€/unit

22.50

Available

6

Format

0.75

Packaging

Unit 1, Unit 1

Ratings

Appellation

BORDEAUX BLANC

Wine

CLOS DES LUNES - LUNE D'ARGENT

Vintage

2022

€/unit

22.50

Available

> 300

Format

0.75

Packaging

CT 6

Ratings

Appellation

BORDEAUX BLANC

Wine

CLOS DES LUNES - LUNE D'OR

Vintage

2014

€/unit

63.10

Available

27

Format

0.75

Packaging

CB 3

Ratings

Appellation

ST JULIEN

Wine

CLOS DU MARQUIS

Vintage

2003

€/unit

133.20

Available

24

Format

0.75

Packaging

CB 12

Ratings

Appellation

ST JULIEN

Wine

CLOS DU MARQUIS

Vintage

2004

€/unit

179.10

Available

12

Format

1.5

Packaging

CB 6

Ratings

Appellation

ST JULIEN

Wine

CLOS DU MARQUIS

Vintage

2005

€/unit

143.70

Available

30

Format

0.75

Packaging

CB 6, CB 12

Ratings

AG: 91

Appellation

ST JULIEN

Wine

CLOS DU MARQUIS

Vintage

2007

€/unit

169.50

Available

> 300

Format

1.5

Packaging

CB 6

Ratings

Appellation

ST JULIEN

Wine

CLOS DU MARQUIS

Vintage

2012

€/unit

88.90

Available

6

Format

0.75

Packaging

CB 6

Ratings

JS: 91 - 92

Appellation

ST JULIEN

Wine

CLOS DU MARQUIS

Vintage

2013

€/unit

77.90

Available

14

Format

0.75

Packaging

Unit 1

Ratings

JS: 93 , LPB: 87

Appellation

ST JULIEN

Wine

CLOS DU MARQUIS

Vintage

2014

€/unit

83.40

Available

6

Format

0.75

Packaging

CB 6

Ratings

JS: 92 - 93 , AG: 90 - 92

Appellation

ST JULIEN

Wine

CLOS DU MARQUIS

Vintage

2017

€/unit

80.80

Available

12

Format

0.75

Packaging

CB 6

Ratings

JS: 94 , LPB: 93

Appellation

ST JULIEN

Wine

CLOS DU MARQUIS

Vintage

2019

€/unit

92.60

Available

6

Format

0.75

Packaging

CB 6

Ratings

JS: 93 , AG: 94 , LPB: 94

Appellation

GRAVES BLANC

Wine

CLOS FLORIDENE BLC

Vintage

2016

€/unit

20.30

Available

> 300

Format

0.75

Packaging

CT 6, Unit 1

Ratings

Appellation

GRAVES BLANC

Wine

CLOS FLORIDENE BLC

Vintage

2018

€/unit

31.00

Available

213

Format

0.75

Packaging

CB 12, Unit 1

Ratings

JS: 91 , AG: 90

Appellation

GRAVES BLANC

Wine

CLOS FLORIDENE BLC

Vintage

2020

€/unit

29.90

Available

102

Format

0.75

Packaging

CB 6

Ratings

JS: 90 , AG: 90 , LPB: 90

Appellation

GRAVES BLANC

Wine

CLOS FLORIDENE BLC

Vintage

2021

€/unit

29.90

Available

228

Format

0.75

Packaging

CB 12

Ratings

AG: 90 - 91 , JA: 93

Appellation

GRAVES BLANC

Wine

CLOS FLORIDENE BLC

Vintage

2022

€/unit

29.90

Available

> 300

Format

0.75

Packaging

CB 6, CT 6

Ratings

LPB: 85 - 87

Appellation

GRAVES ROUGE

Wine

CLOS FLORIDENE RGE

Vintage

2017

€/unit

27.10

Available

24

Format

0.75

Packaging

CB 6

Ratings

Appellation

GRAVES ROUGE

Wine

CLOS FLORIDENE RGE

Vintage

2018

€/unit

25.20

Available

> 300

Format

0.75

Packaging

CB 6

Ratings

JS: 89 , AG: 91

Appellation

GRAVES ROUGE

Wine

CLOS FLORIDENE RGE

Vintage

2019

€/unit

27.40

Available

24

Format

0.75

Packaging

CB 12

Ratings

JS: 90 - 91 , AG: 92 , LPB: 86

Appellation

GRAVES ROUGE

Wine

CLOS FLORIDENE RGE

Vintage

2020

€/unit

27.90

Available

120

Format

0.75

Packaging

CB 6

Ratings

JS: 90 , AG: 90 , LPB: 89

Appellation

ST EMILION GRAND CRU

Wine

CLOS FOURTET

Vintage

2008

€/unit

194.70

Available

18

Format

0.75

Packaging

CB 12, CB 6

Ratings

Appellation

ST EMILION GRAND CRU

Wine

CLOS FOURTET

Vintage

2009

€/unit

410.50

Available

18

Format

0.75

Packaging

CB 12, CB 6

Ratings

JS: 94 - 97 , JA: 93 - 94

Appellation

ST EMILION GRAND CRU

Wine

CLOS FOURTET

Vintage

2017

€/unit

169.10

Available

36

Format

0.75

Packaging

CB 12

Ratings

JS: 94 , LPB: 95

Appellation

ST EMILION GRAND CRU

Wine

CLOS FOURTET

Vintage

2018

€/unit

194.70

Available

60

Format

0.75

Packaging

CB 6

Ratings

JS: 96 , AG: 98 , LPB: 95

Appellation

ST EMILION GRAND CRU

Wine

CLOS FOURTET

Vintage

2019

€/unit

177.50

Available

90

Format

0.75

Packaging

CB 6, CB 12

Ratings

JS: 95 - 96 , AG: 97 , LPB: 97

Appellation

ST EMILION GRAND CRU

Wine

CLOS FOURTET

Vintage

2020

€/unit

177.50

Available

240

Format

0.75

Packaging

CB 6

Ratings

JS: 97 , AG: 98 , LPB: 98 , JD: 97

Appellation

ST EMILION GRAND CRU

Wine

CLOS FOURTET

Vintage

2020

€/unit

358.90

Available

36

Format

1.5

Packaging

CB 3

Ratings

JS: 97 , AG: 98 , LPB: 98 , JD: 97

Appellation

SAUTERNES

Wine

CLOS HAUT-PEYRAGUEY

Vintage

2016

€/unit

52.00

Available

60

Format

0.75

Packaging

CB 6

Ratings

JS: 95

Appellation

SAUTERNES

Wine

CLOS HAUT-PEYRAGUEY

Vintage

2018

€/unit

25.10

Available

> 300

Format

0.375

Packaging

CB 24

Ratings

JS: 92 , AG: 94 , LPB: 89 , JA: 96

Appellation

ST EMILION GRAND CRU

Wine

CLOS LA GAFFELIERE

Vintage

2020

€/unit

34.30

Available

> 300

Format

0.75

Packaging

CT 6

Ratings

Appellation

POMEROL

Wine

CLOS L'EGLISE

Vintage

2011

€/unit

110.30

Available

282

Format

0.75

Packaging

CB 6

Ratings

JS: 94 , AG: 92 , LPB: 93 , JD: 93

Appellation

POMEROL

Wine

CLOS L'EGLISE

Vintage

2012

€/unit

110.30

Available

> 300

Format

0.75

Packaging

CB 6, Unit 1

Ratings

JS: 93 , AG: 94 , LPB: 94 , JD: 93

Appellation

POMEROL

Wine

CLOS L'EGLISE

Vintage

2018

€/unit

123.90

Available

96

Format

0.75

Packaging

CB 6

Ratings

JS: 96 , AG: 95 , LPB: 96 , JD: 94

Appellation

POMEROL

Wine

CLOS L'EGLISE RFSE

Vintage

2004

€/unit

129.60

Available

> 300

Format

0.75

Packaging

CB 6

Ratings

LPB: 91

Appellation

CASTILLON - COTES DE BX

Wine

CLOS LUNELLES

Vintage

2014

€/unit

32.80

Available

3

Format

0.75

Packaging

Unit 1

Ratings

Appellation

CASTILLON - COTES DE BX

Wine

CLOS LUNELLES

Vintage

2019

€/unit

38.10

Available

> 300

Format

0.75

Packaging

CT 6

Ratings

Appellation

PESSAC LEOGNAN ROUGE

Wine

CLOS MARSALETTE

Vintage

2017

€/unit

35.40

Available

> 300

Format

0.75

Packaging

CB 6

Ratings

JS: 90/91

Appellation

PESSAC LEOGNAN ROUGE

Wine

CLOS MARSALETTE

Vintage

2018

€/unit

34.40

Available

294

Format

0.75

Packaging

CB 6

Ratings

JS: 89-90 , AG: 89-91

Appellation

PESSAC LEOGNAN BLANC

Wine

CLOS MARSALETTE

Vintage

2018

€/unit

37.10

Available

258

Format

0.75

Packaging

CB 6

Ratings

JS: 90-91

Appellation

POMEROL

Wine

CLOS RENE

Vintage

2021

€/unit

45.40

Available

> 300

Format

0.75

Packaging

CB 6

Ratings

JS: 91 - 92

Appellation

MARGAUX

Wine

CONFIDENCES DE PRIEURE LICHINE

Vintage

2016

€/unit

36.00

Available

74

Format

0.75

Packaging

CB 6, Unit 1

Ratings

JS: 91 FEB 2019

Appellation

MARGAUX

Wine

CONFIDENCES DE PRIEURE LICHINE

Vintage

2017

€/unit

31.60

Available

6

Format

0.75

Packaging

CB 6

Ratings

Appellation

MARGAUX

Wine

CONFIDENCES DE PRIEURE LICHINE

Vintage

2019

€/unit

31.00

Available

4

Format

0.75

Packaging

Unit 1

Ratings

Appellation

MARGAUX

Wine

CONFIDENCES DE PRIEURE LICHINE

Vintage

2020

€/unit

31.70

Available

> 300

Format

0.75

Packaging

CT 6

Ratings

Appellation

MARGAUX

Wine

CONFIDENCES DE PRIEURE LICHINE

Vintage

2021

€/unit

31.00

Available

> 300

Format

0.75

Packaging

CT 6

Ratings

Appellation

ST JULIEN

Wine

CONNETABLE TALBOT

Vintage

2016

€/unit

50.20

Available

4

Format

0.75

Packaging

Unit 1

Ratings

JS: 92

Appellation

ST JULIEN

Wine

CONNETABLE TALBOT

Vintage

2017

€/unit

47.40

Available

4

Format

0.75

Packaging

Unit 1

Ratings

JS: 92

Appellation

ST JULIEN

Wine

CONNETABLE TALBOT

Vintage

2020

€/unit

48.30

Available

7

Format

0.75

Packaging

CB 6, Unit 1

Ratings

JS: 92 , LPB: 87

Appellation

BORDEAUX BLANC

Wine

COS D'ESTOURNEL

Vintage

2018

€/unit

185.90

Available

132

Format

0.75

Packaging

CB 6

Ratings

JS: 97 , AG: 93 , JA: 94

Appellation

BORDEAUX ROUGE

Wine

D DE DAUZAC

Vintage

2017

€/unit

15.50

Available

4

Format

0.75

Packaging

Unit 1

Ratings

Appellation

MONTAGNE SAINT EMILION

Wine

DAME DE BOUARD

Vintage

2017

€/unit

23.40

Available

156

Format

0.75

Packaging

CT 6

Ratings

JS: 88-89

Appellation

ST ESTEPHE

Wine

DEVISE DE LILIAN L

Vintage

2018

€/unit

25.20

Available

> 300

Format

0.75

Packaging

CT 6, Unit 1

Ratings

Appellation

PESSAC LEOGNAN ROUGE

Wine

DOMAINE DE CHEVALIER

Vintage

2000

€/unit

236.90

Available

12

Format

0.75

Packaging

CB 6

Ratings

Appellation

PESSAC LEOGNAN ROUGE

Wine

DOMAINE DE CHEVALIER

Vintage

2000

€/unit

457.20

Available

27

Format

1.5

Packaging

CB 3

Ratings

Appellation

PESSAC LEOGNAN ROUGE

Wine

DOMAINE DE CHEVALIER

Vintage

2014

€/unit

96.30

Available

222

Format

0.75

Packaging

CB 6

Ratings

JS: 93 - 94 , AG: 92 - 95

Appellation

PESSAC LEOGNAN ROUGE

Wine

DOMAINE DE CHEVALIER

Vintage

2016

€/unit

117.70

Available

> 300

Format

0.75

Packaging

CB 6, CB 12, Unit 1

Ratings

JS: 97 , LPB: 96

Appellation

PESSAC LEOGNAN ROUGE

Wine

DOMAINE DE CHEVALIER

Vintage

2017

€/unit

85.20

Available

84

Format

0.75

Packaging

CB 6

Ratings

JS: 96 , LPB: 96

Appellation

PESSAC LEOGNAN ROUGE

Wine

DOMAINE DE CHEVALIER

Vintage

2018

€/unit

117.70

Available

138

Format

0.75

Packaging

CB 6

Ratings

JS: 99 , AG: 97 , LPB: 95 , JA: 96

Appellation

PESSAC LEOGNAN ROUGE

Wine

DOMAINE DE CHEVALIER

Vintage

2018

€/unit

261.00

Available

6

Format

1.5

Packaging

CB 6

Ratings

JS: 99 , AG: 97 , LPB: 95 , JA: 96

Appellation

PESSAC LEOGNAN ROUGE

Wine

DOMAINE DE CHEVALIER

Vintage

2018

€/unit

1028.80

Available

1

Format

6

Packaging

CB 1

Ratings

JS: 99 , AG: 97 , LPB: 95 , JA: 96

Appellation

PESSAC LEOGNAN ROUGE

Wine

DOMAINE DE CHEVALIER

Vintage

2019

€/unit

114.00

Available

60

Format

0.75

Packaging

CB 6

Ratings

JS: 97 , AG: 97 , LPB: 96

Appellation

PESSAC LEOGNAN ROUGE

Wine

DOMAINE DE CHEVALIER

Vintage

2019

€/unit

261.00

Available

54

Format

1.5

Packaging

CB 3

Ratings

JS: 97 , AG: 97 , LPB: 96

Appellation

PESSAC LEOGNAN ROUGE

Wine

DOMAINE DE CHEVALIER

Vintage

2019

€/unit

535.80

Available

6

Format

3

Packaging

CB 1

Ratings

JS: 97 , AG: 97 , LPB: 96

Appellation

PESSAC LEOGNAN ROUGE

Wine

DOMAINE DE CHEVALIER

Vintage

2019

€/unit

1028.80

Available

3

Format

6

Packaging

CB 1

Ratings

JS: 97 , AG: 97 , LPB: 96

Appellation

PESSAC LEOGNAN ROUGE

Wine

DOMAINE DE CHEVALIER

Vintage

2020

€/unit

114.00

Available

216

Format

0.75

Packaging

CB 6

Ratings

JS: 96 - 97 , AG: 96 , LPB: 96 , JD: 98

Appellation

PESSAC LEOGNAN ROUGE

Wine

DOMAINE DE CHEVALIER

Vintage

2020

€/unit

114.00

Available

12

Format

0.75

Packaging

CB 12

Ratings

JS: 96 - 97 , AG: 96 , LPB: 96 , JD: 98

Appellation

PESSAC LEOGNAN ROUGE

Wine

DOMAINE DE CHEVALIER

Vintage

2020

€/unit

244.30

Available

30

Format

1.5

Packaging

CB 3

Ratings

JS: 96 - 97 , AG: 96 , LPB: 96 , JD: 98

Appellation

PESSAC LEOGNAN BLANC

Wine

DOMAINE DE CHEVALIER BLC

Vintage

2015

€/unit

124.60

Available

72

Format

0.75

Packaging

CB 6

Ratings

JS: 97 - 98 , AG: 93 - 96 , LPB: 94

Appellation

PESSAC LEOGNAN BLANC

Wine

DOMAINE DE CHEVALIER BLC

Vintage

2016

€/unit

493.60

Available

12

Format

3

Packaging

CB 1

Ratings

JS: 98 , LPB: 96

Appellation

PESSAC LEOGNAN BLANC

Wine

DOMAINE DE CHEVALIER BLC

Vintage

2018

€/unit

133.20

Available

84

Format

0.75

Packaging

CB 6

Ratings

JS: 98 , AG: 95 , LPB: 95 , JA: 94

Appellation

PESSAC LEOGNAN BLANC

Wine

DOMAINE DE CHEVALIER BLC

Vintage

2020

€/unit

135.10

Available

30

Format

0.75

Packaging

CB 6

Ratings

JS: 96 - 97 , AG: 95 , LPB: 98 , JD: 95

Appellation

PESSAC LEOGNAN BLANC

Wine

DOMAINE DE LA SOLITUDE

Vintage

2016

€/unit

33.50

Available

30

Format

0.75

Packaging

CT 6

Ratings

Appellation

PESSAC LEOGNAN ROUGE

Wine

DOMAINE DE LA SOLITUDE

Vintage

2019

€/unit

33.50

Available

196

Format

0.75

Packaging

CT 6, Unit 1

Ratings

LPB: 89

Appellation

ST EMILION GRAND CRU

Wine

DRAGON DE QUINTUS

Vintage

2013

€/unit

37.30

Available

12

Format

0.75

Packaging

CB 12

Ratings

JS: 91

Appellation

ST EMILION GRAND CRU

Wine

DRAGON DE QUINTUS

Vintage

2016

€/unit

59.40

Available

30

Format

0.75

Packaging

CB 6

Ratings

JS: 95

Appellation

ST EMILION GRAND CRU

Wine

DRAGON DE QUINTUS

Vintage

2016

€/unit

125.00

Available

9

Format

1.5

Packaging

CB 1

Ratings

JS: 95

Appellation

ST EMILION GRAND CRU

Wine

DRAGON DE QUINTUS

Vintage

2017

€/unit

59.40

Available

> 300

Format

0.75

Packaging

CB 6

Ratings

JS: 92

Appellation

ST EMILION GRAND CRU

Wine

DRAGON DE QUINTUS

Vintage

2018

€/unit

59.40

Available

> 300

Format

0.75

Packaging

CB 6

Ratings

JS: 92 , AG: 93

Appellation

ST EMILION GRAND CRU

Wine

DRAGON DE QUINTUS

Vintage

2018

€/unit

118.10

Available

2

Format

1.5

Packaging

CB 1

Ratings

JS: 92 , AG: 93

Appellation

ST EMILION GRAND CRU

Wine

DRAGON DE QUINTUS

Vintage

2019

€/unit

53.90

Available

90

Format

0.75

Packaging

CB 6

Ratings

JS: 92 , AG: 93

Appellation

ST EMILION GRAND CRU

Wine

DRAGON DE QUINTUS

Vintage

2020

€/unit

53.90

Available

> 300

Format

0.75

Packaging

CB 6

Ratings

JS: 88 - 89 , LPB: 91 , JD: 92

Appellation

ST EMILION GRAND CRU

Wine

DRAGON DE QUINTUS

Vintage

2020

€/unit

107.40

Available

30

Format

1.5

Packaging

CB 3

Ratings

JS: 88 - 89 , LPB: 91 , JD: 92

Appellation

ST JULIEN

Wine

DULUC DE BRANAIRE DUCRU

Vintage

2014

€/unit

39.90

Available

1

Format

0.75

Packaging

Unit 1

Ratings

Appellation

ST JULIEN

Wine

DULUC DE BRANAIRE DUCRU

Vintage

2017

€/unit

34.20

Available

2

Format

0.75

Packaging

Unit 1

Ratings

Appellation

ST JULIEN

Wine

DULUC DE BRANAIRE DUCRU

Vintage

2018

€/unit

39.40

Available

> 300

Format

0.75

Packaging

CB 6, Unit 1

Ratings

Appellation

ST JULIEN

Wine

DULUC DE BRANAIRE DUCRU

Vintage

2019

€/unit

39.40

Available

> 300

Format

0.75

Packaging

CT 6

Ratings

Appellation

EAU DE VIE

Wine

EAU DE VIE DE PRUNES DE MR

Vintage

NV

€/unit

639.80

Available

31

Format

0.7

Packaging

CB 1

Ratings

Appellation

EAU DE VIE

Wine

EAU DE VIE DE VIN DE MR

Vintage

NV

€/unit

639.80

Available

35

Format

0.7

Packaging

CB 1

Ratings

Appellation

PAUILLAC

Wine

ECHO DE LYNCH-BAGES

Vintage

2019

€/unit

66.80

Available

156

Format

0.75

Packaging

CB 6

Ratings

AG: 92 , LPB: 92

Appellation

ST JULIEN

Wine

ESPRIT DE GLORIA

Vintage

2018

€/unit

71.10

Available

> 300

Format

1.5

Packaging

CB 6

Ratings

Appellation

ST JULIEN

Wine

ESPRIT DE GLORIA

Vintage

2017

€/unit

32.60

Available

> 300

Format

0.75

Packaging

CB 6, Unit 1

Ratings

Appellation

ST JULIEN

Wine

ESPRIT DE GLORIA

Vintage

2019

€/unit

34.40

Available

> 300

Format

0.75

Packaging

CT 6, Unit 1

Ratings

Appellation

ST EMILION GRAND CRU

Wine

FLEUR DE FONPLEGADE

Vintage

2014

€/unit

26.80

Available

> 300

Format

0.75

Packaging

CT 6

Ratings

Appellation

ST EMILION GRAND CRU

Wine

FLEUR DE FONPLEGADE VIN BIO EC

Vintage

2018

€/unit

30.80

Available

> 300

Format

0.75

Packaging

CT 6, Unit 1

Ratings

Appellation

ST EMILION GRAND CRU

Wine

FLEUR DE FONPLEGADE VIN BIO EC

Vintage

2020

€/unit

32.60

Available

> 300

Format

0.75

Packaging

CT 6

Ratings

Appellation

PAUILLAC

Wine

FLEUR DE PEDESCLAUX

Vintage

2011

€/unit

31.00

Available

2

Format

0.75

Packaging

Unit 1

Ratings

Appellation

PAUILLAC

Wine

FLEUR DE PEDESCLAUX

Vintage

2019

€/unit

34.40

Available

153

Format

0.75

Packaging

CT 6, Unit 1

Ratings

Appellation

PAUILLAC

Wine

FLEUR DE PEDESCLAUX

Vintage

2020

€/unit

34.30

Available

> 300

Format

0.75

Packaging

CT 6

Ratings

Appellation

ST ESTEPHE

Wine

FRANK PHELAN

Vintage

2015

€/unit

37.90

Available

1

Format

0.75

Packaging

Unit 1

Ratings

Appellation

ST ESTEPHE

Wine

FRANK PHELAN

Vintage

2017

€/unit

33.20

Available

87

Format

0.75

Packaging

CB 6, Unit 1

Ratings

Appellation

ST ESTEPHE

Wine

FRANK PHELAN

Vintage

2017

€/unit

72.70

Available

36

Format

1.5

Packaging

CB 6

Ratings

Appellation

ST ESTEPHE

Wine

FRANK PHELAN

Vintage

2019

€/unit

78.20

Available

60

Format

1.5

Packaging

CB 6

Ratings

Appellation

ST ESTEPHE

Wine

FRANK PHELAN

Vintage

2020

€/unit

37.10

Available

> 300

Format

0.75

Packaging

CT 6

Ratings

Appellation

ST ESTEPHE

Wine

FRANK PHELAN

Vintage

2020

€/unit

79.70

Available

60

Format

1.5

Packaging

CB 6

Ratings

Appellation

POMEROL

Wine

FUGUE DE NENIN

Vintage

2019

€/unit

44.30

Available

> 300

Format

0.75

Packaging

CB 6

Ratings

JS: 93

Appellation

POMEROL

Wine

FUGUE DE NENIN

Vintage

2020

€/unit

44.30

Available

> 300

Format

0.75

Packaging

CB 6, Unit 1

Ratings

JS: 93 - 94

Appellation

BORDEAUX BLANC

Wine

G DE GUIRAUD

Vintage

2016

€/unit

20.70

Available

3

Format

0.75

Packaging

Unit 1

Ratings

JS: 91 - 92

Appellation

BORDEAUX BLANC

Wine

G DE GUIRAUD VIN BIO ECOCERT

Vintage

2017

€/unit

20.70

Available

4

Format

0.75

Packaging

Unit 1

Ratings

JS: 91 - 92

Appellation

BORDEAUX BLANC

Wine

G DE GUIRAUD VIN BIO ECOCERT

Vintage

2022

€/unit

25.10

Available

12

Format

0.75

Packaging

CT 6

Ratings

Appellation

MEDOC

Wine

G D'ESTOURNEL

Vintage

2019

€/unit

41.00

Available

> 300

Format

0.75

Packaging

CB 6

Ratings

Appellation

MEDOC

Wine

G D'ESTOURNEL

Vintage

2020

€/unit

39.50

Available

> 300

Format

0.75

Packaging

CB 6

Ratings

Appellation

MEDOC

Wine

G D'ESTOURNEL

Vintage

2020

€/unit

78.20

Available

60

Format

1.5

Packaging

CB 3

Ratings

Appellation

MEDOC

Wine

GOULEE

Vintage

2017

€/unit

37.30

Available

> 300

Format

0.75

Packaging

CB 6

Ratings

JS: 93-JAN 2020

Appellation

MEDOC

Wine

GOULEE

Vintage

2017

€/unit

80.10

Available

72

Format

1.5

Packaging

CB 3

Ratings

JS: 93-JAN 2020

Appellation

MEDOC

Wine

GOULEE

Vintage

2017

€/unit

192.20

Available

12

Format

3

Packaging

CB 1

Ratings

JS: 93-JAN 2020

Appellation

MEDOC

Wine

GOULEE

Vintage

2018

€/unit

80.10

Available

105

Format

1.5

Packaging

CB 3

Ratings

Appellation

MEDOC

Wine

GOULEE

Vintage

2018

€/unit

192.20

Available

7

Format

3

Packaging

CB 1

Ratings

Appellation

BORDEAUX BLANC

Wine

GOULEE BLANC

Vintage

2016

€/unit

35.40

Available

15

Format

0.75

Packaging

CT 6, Unit 1

Ratings

Appellation

PESSAC LEOGNAN ROUGE

Wine

LA CHAPELLE MISSION HT BRION

Vintage

2011

€/unit

114.00

Available

36

Format

0.75

Packaging

CB 6

Ratings

JS: 90 - 91 , JA: 92

Appellation

PESSAC LEOGNAN ROUGE

Wine

LA CHAPELLE MISSION HT BRION

Vintage

2017

€/unit

117.70

Available

234

Format

0.75

Packaging

CB 6

Ratings

JS: 92 , LPB: 91

Appellation

PESSAC LEOGNAN ROUGE

Wine

LA CHAPELLE MISSION HT BRION

Vintage

2019

€/unit

108.90

Available

78

Format

0.75

Packaging

CB 6

Ratings

JS: 95 , AG: 92

Appellation

PESSAC LEOGNAN ROUGE

Wine

LA CHAPELLE MISSION HT BRION

Vintage

2020

€/unit

117.70

Available

> 300

Format

0.75

Packaging

CB 6

Ratings

JS: 93 - 94

Appellation

PESSAC LEOGNAN BLANC

Wine

LA CLARTE DE HAUT BRION

Vintage

2012

€/unit

152.30

Available

24

Format

0.75

Packaging

CB 6, CB 12

Ratings

Appellation

PESSAC LEOGNAN BLANC

Wine

LA CLARTE DE HAUT BRION

Vintage

2012

€/unit

294.10

Available

3

Format

1.5

Packaging

CB 1

Ratings

Appellation

PESSAC LEOGNAN BLANC

Wine

LA CLARTE DE HAUT BRION

Vintage

2018

€/unit

117.70

Available

36

Format

0.75

Packaging

CB 6

Ratings

JS: 94-95

Appellation

PESSAC LEOGNAN BLANC

Wine

LA CLARTE DE HAUT BRION

Vintage

2020

€/unit

143.70

Available

30

Format

0.75

Packaging

CB 6

Ratings

Appellation

PESSAC LEOGNAN BLANC

Wine

LA CLARTE DE HAUT-BRION

Vintage

2019

€/unit

127.80

Available

84

Format

0.75

Packaging

CB 6

Ratings

JS: 93-94

Appellation

HAUT MEDOC

Wine

LA CLOSERIE DE CAMENSAC

Vintage

2016

€/unit

27.70

Available

> 300

Format

0.75

Packaging

CT 6, Unit 1

Ratings

Appellation

HAUT MEDOC

Wine

LA CLOSERIE DE CAMENSAC

Vintage

2017

€/unit

25.20

Available

> 300

Format

0.75

Packaging

CT 6, Unit 1

Ratings

JS: 90

Appellation

HAUT MEDOC

Wine

LA CLOSERIE DE CAMENSAC

Vintage

2018

€/unit

23.20

Available

> 300

Format

0.75

Packaging

CT 6

Ratings

JA: 88

Appellation

HAUT MEDOC

Wine

LA CLOSERIE DE CAMENSAC

Vintage

2019

€/unit

23.20

Available

228

Format

0.75

Packaging

CT 6

Ratings

Appellation

HAUT MEDOC

Wine

LA CLOSERIE DE CAMENSAC

Vintage

2020

€/unit

23.20

Available

300

Format

0.75

Packaging

CT 6

Ratings

JS: 91

Appellation

HAUT MEDOC

Wine

LA CLOSERIE DE CAMENSAC MA

Vintage

2012

€/unit

20.70

Available

5

Format

0.75

Packaging

Unit 1

Ratings

SILVER PARIS 2014

Appellation

MARGAUX

Wine

LA COURONNE MARQUIS DE TERME

Vintage

2012

€/unit

33.00

Available

1

Format

0.75

Packaging

Unit 1

Ratings

Appellation

MARGAUX

Wine

LA COURONNE MARQUIS DE TERME

Vintage

2014

€/unit

33.00

Available

> 300

Format

0.75

Packaging

CT 6, Unit 1

Ratings

Appellation

MARGAUX

Wine

LA COURONNE MARQUIS DE TERME

Vintage

2016

€/unit

33.80

Available

101

Format

0.75

Packaging

CT 6, Unit 1

Ratings

Appellation

ST JULIEN

Wine

LA CROIX DUCRU-BEAUCAILLOU

Vintage

2014

€/unit

72.30

Available

> 300

Format

0.75

Packaging

CB 6

Ratings

Appellation

ST JULIEN

Wine

LA CROIX DUCRU-BEAUCAILLOU

Vintage

2015

€/unit

81.50

Available

24

Format

0.75

Packaging

CB 6

Ratings

Appellation

ST JULIEN

Wine

LA CROIX DUCRU-BEAUCAILLOU

Vintage

2017

€/unit

63.10

Available

15

Format

0.75

Packaging

CB 6, CB 1, Unit 1

Ratings

JS: 92-93

Appellation

ST JULIEN

Wine

LA CROIX DUCRU-BEAUCAILLOU

Vintage

2019

€/unit

70.50

Available

> 300

Format

0.75

Packaging

CB 6

Ratings

JS: 93-94

Appellation

ST JULIEN

Wine

LA CROIX DUCRU-BEAUCAILLOU

Vintage

2020

€/unit

63.10

Available

> 300

Format

0.75

Packaging

CB 6

Ratings

Appellation

ST JULIEN

Wine

LA CROIX DUCRU-BEAUCAILLOU

Vintage

2020

€/unit

133.60

Available

60

Format

1.5

Packaging

CB 6

Ratings

Appellation

ST JULIEN

Wine

LA CROIX DUCRU-BEAUCAILLOU

Vintage

2020

€/unit

307.70

Available

6

Format

3

Packaging

CB 1

Ratings

Appellation

PESSAC LEOGNAN BLANC

Wine

LA DAME DE COUHINS BLC

Vintage

2011

€/unit

23.60

Available

20

Format

0.75

Packaging

CT 6, Unit 1

Ratings

Appellation

ST ESTEPHE

Wine

LA DAME DE MONTROSE

Vintage

2013

€/unit

50.20

Available

> 300

Format

0.75

Packaging

CB 6, CB 12

Ratings

JS: 87

Appellation

ST ESTEPHE

Wine

LA DAME DE MONTROSE

Vintage

2017

€/unit

53.90

Available

> 300

Format

0.75

Packaging

CB 6

Ratings

JS: 94 , LPB: 92

Appellation

ST ESTEPHE

Wine

LA DAME DE MONTROSE

Vintage

2018

€/unit

63.10

Available

100

Format

0.75

Packaging

CB 1, CB 6

Ratings

JS: 94 , AG: 92 , LPB: 92 , JA: 93

Appellation

ST ESTEPHE

Wine

LA DAME DE MONTROSE

Vintage

2019

€/unit

59.40

Available

> 300

Format

0.75

Packaging

CB 6

Ratings

JS: 93 , AG: 89 , LPB: 93

Appellation

ST ESTEPHE

Wine

LA DAME DE MONTROSE

Vintage

2020

€/unit

61.30

Available

> 300

Format

0.75

Packaging

CB 6

Ratings

AG: 94 , LPB: 93 , JD: 92

Appellation

ST ESTEPHE

Wine

LA DAME DE MONTROSE

Vintage

2020

€/unit

125.00

Available

120

Format

1.5

Packaging

CB 3

Ratings

AG: 94 , LPB: 93 , JD: 92

Appellation

HAUT MEDOC

Wine

LA DEMOISELLE DE SOCIANDO

Vintage

2017

€/unit

26.60

Available

> 300

Format

0.75

Packaging

CT 6, Unit 1

Ratings

JS: 90

Appellation

HAUT MEDOC

Wine

LA DEMOISELLE DE SOCIANDO

Vintage

2020

€/unit

31.00

Available

210

Format

0.75

Packaging

CT 6

Ratings

JS: 92

Appellation

HAUT MEDOC

Wine

LA DEMOISELLE DE SOCIANDO

Vintage

2021

€/unit

31.00

Available

> 300

Format

0.75

Packaging

CT 6

Ratings

JA: 87

Appellation

ST EMILION GRAND CRU

Wine

LA MONDOTTE

Vintage

2004

€/unit

236.90

Available

180

Format

0.75

Packaging

CB 6

Ratings

Appellation

ST EMILION GRAND CRU

Wine

LA MONDOTTE

Vintage

2007

€/unit

240.30

Available

30

Format

0.75

Packaging

CB 6

Ratings

Appellation

ST EMILION GRAND CRU

Wine

LA MONDOTTE

Vintage

2017

€/unit

219.90

Available

18

Format

0.75

Packaging

CB 6

Ratings

JS: 97 , LPB: 96

Appellation

ST EMILION GRAND CRU

Wine

LA MONDOTTE

Vintage

2018

€/unit

299.80

Available

36

Format

0.75

Packaging

CB 6

Ratings

JS: 98 , AG: 96 , LPB: 95 , JA: 93

Appellation

ST EMILION GRAND CRU

Wine

LA MONDOTTE VIN BIO ECOCERT

Vintage

2016

€/unit

358.50

Available

144

Format

0.75

Packaging

CB 6

Ratings

JS: 97 , LPB: 95

Appellation

PAUILLAC

Wine

LA PASTOURELLE DE CLERC MILON

Vintage

2011

€/unit

51.00

Available

> 300

Format

0.75

Packaging

CB 6

Ratings

Appellation

PAUILLAC

Wine

LA PASTOURELLE DE CLERC MILON

Vintage

2012

€/unit

54.70

Available

> 300

Format

0.75

Packaging

CB 6

Ratings

Appellation

PAUILLAC

Wine

LA PASTOURELLE DE CLERC MILON

Vintage

2015

€/unit

54.70

Available

108

Format

0.75

Packaging

CB 6

Ratings

Appellation

PAUILLAC

Wine

LA PASTOURELLE DE CLERC MILON

Vintage

2016

€/unit

53.90

Available

> 300

Format

0.75

Packaging

CB 6

Ratings

Appellation

PAUILLAC

Wine

LA PASTOURELLE DE CLERC MILON

Vintage

2020

€/unit

45.40

Available

> 300

Format

0.75

Packaging

CB 6

Ratings

Appellation

PESSAC LEOGNAN ROUGE

Wine

LA RESERVE DE MALARTIC

Vintage

2018

€/unit

35.40

Available

> 300

Format

0.75

Packaging

CT 6, Unit 1

Ratings

JS: 91-92

Appellation

PESSAC LEOGNAN ROUGE

Wine

LA RESERVE DE MALARTIC

Vintage

2019

€/unit

32.60

Available

174

Format

0.75

Packaging

CT 6

Ratings

JS: 93-94

Appellation

PESSAC LEOGNAN BLANC

Wine

LA RESERVE DE MALARTIC BLC

Vintage

2009

€/unit

33.90

Available

15

Format

0.75

Packaging

Unit 1

Ratings

Appellation

PESSAC LEOGNAN BLANC

Wine

LA RESERVE DE MALARTIC BLC

Vintage

2010

€/unit

33.00

Available

5

Format

0.75

Packaging

Unit 1

Ratings

Appellation

PESSAC LEOGNAN BLANC

Wine

LA RESERVE DE MALARTIC BLC

Vintage

2017

€/unit

34.80

Available

3

Format

0.75

Packaging

Unit 1

Ratings

Appellation

PESSAC LEOGNAN BLANC

Wine

LA RESERVE DE MALARTIC BLC

Vintage

2018

€/unit

37.30

Available

132

Format

0.75

Packaging

CT 6

Ratings

JS: 92-93

Appellation

MARGAUX

Wine

LA SIRENE DE GISCOURS

Vintage

2015

€/unit

53.90

Available

> 300

Format

0.75

Packaging

CB 6, Unit 1

Ratings

JS: 92 - 93 , AG: 89 - 91

Appellation

MARGAUX

Wine

LA SIRENE DE GISCOURS

Vintage

2016

€/unit

52.00

Available

246

Format

0.75

Packaging

CB 6

Ratings

JS: 92

Appellation

BORDEAUX BLANC

Wine

LA TOUR CARNET

Vintage

2018

€/unit

49.80

Available

60

Format

0.75

Packaging

CB 6

Ratings

JS: 92-93

Appellation

PESSAC LEOGNAN ROUGE

Wine

L'ABEILLE DE FIEUZAL

Vintage

2014

€/unit

63.50

Available

162

Format

1.5

Packaging

CB 6

Ratings

Appellation

PESSAC LEOGNAN ROUGE

Wine

L'ABEILLE DE FIEUZAL

Vintage

2014

€/unit

63.50

Available

1

Format

1.5

Packaging

Unit 1

Ratings

Appellation

PESSAC LEOGNAN ROUGE

Wine

L'ABEILLE DE FIEUZAL

Vintage

2014

€/unit

187.00

Available

244

Format

3

Packaging

CB 1

Ratings

Appellation

PESSAC LEOGNAN ROUGE

Wine

L'ABEILLE DE FIEUZAL

Vintage

2018

€/unit

67.20

Available

> 300

Format

1.5

Packaging

CB 1, CB 6

Ratings

Appellation

PESSAC LEOGNAN BLANC

Wine

L'ABEILLE DE FIEUZAL BLC

Vintage

2016

€/unit

32.10

Available

1

Format

0.75

Packaging

Unit 1

Ratings

Appellation

PESSAC LEOGNAN BLANC

Wine

L'ABEILLE DE FIEUZAL BLC

Vintage

2018

€/unit

27.70

Available

15

Format

0.75

Packaging

CB 6, Unit 1

Ratings

Appellation

BORDEAUX BLANC

Wine

LE BLANC SEC DE SUDUIRAUT

Vintage

2018

€/unit

23.20

Available

283

Format

0.75

Packaging

CT 6, Unit 1

Ratings

Appellation

BORDEAUX BLANC

Wine

LE BLANC SEC DE SUDUIRAUT

Vintage

2019

€/unit

22.10

Available

119

Format

0.75

Packaging

CT 6, Unit 1

Ratings

Appellation

ST EMILION GRAND CRU

Wine

LE CARILLON D'ANGELUS

Vintage

2014

€/unit

160.80

Available

120

Format

0.75

Packaging

CB 6

Ratings

JS: 91-92-MAR 15

Appellation

ST EMILION GRAND CRU

Wine

LE CARILLON D'ANGELUS

Vintage

2015

€/unit

169.10

Available

45

Format

0.75

Packaging

CB 3, CB 6

Ratings

Appellation

ST EMILION GRAND CRU

Wine

LE CARILLON D'ANGELUS

Vintage

2017

€/unit

148.60

Available

120

Format

0.75

Packaging

CB 6

Ratings

JS: 93-94

Appellation

ST EMILION GRAND CRU

Wine

LE CARILLON D'ANGELUS

Vintage

2018

€/unit

169.10

Available

138

Format

0.75

Packaging

CB 6

Ratings

JS: 94-95

Appellation

ST EMILION GRAND CRU

Wine

LE CARILLON D'ANGELUS

Vintage

2019

€/unit

169.10

Available

222

Format

0.75

Packaging

CB 6

Ratings

JS: 94-95

Appellation

ST EMILION GRAND CRU

Wine

LE CARILLON D'ANGELUS

Vintage

2020

€/unit

143.70

Available

54

Format

0.75

Packaging

CB 6

Ratings

Appellation

PESSAC LEOGNAN ROUGE

Wine

LE CLARENCE DE HAUT BRION

Vintage

2011

€/unit

211.80

Available

60

Format

0.75

Packaging

CB 6

Ratings

JS: 91 - 92 , JA: 90 - 91

Appellation

PESSAC LEOGNAN ROUGE

Wine

LE CLARENCE DE HAUT BRION

Vintage

2019

€/unit

219.90

Available

> 300

Format

0.75

Packaging

CB 6

Ratings

JS: 96 , AG: 93

Appellation

PESSAC LEOGNAN ROUGE

Wine

LE CLARENCE DE HAUT BRION

Vintage

2019

€/unit

441.80

Available

6

Format

1.5

Packaging

CB 1

Ratings

JS: 96 , AG: 93

Appellation

PESSAC LEOGNAN ROUGE

Wine

LE CLARENCE DE HAUT BRION

Vintage

2020

€/unit

219.90

Available

> 300

Format

0.75

Packaging

CB 6

Ratings

JS: 96 - 97

Appellation

HAUT MEDOC

Wine

LE CLOCHER DU PRIEURE

Vintage

2018

€/unit

23.20

Available

> 300

Format

0.75

Packaging

CT 6, Unit 1

Ratings

Appellation

HAUT MEDOC

Wine

LE CLOCHER DU PRIEURE

Vintage

2019

€/unit

23.20

Available

> 300

Format

0.75

Packaging

CT 6

Ratings

Appellation

MARGAUX

Wine

LE CLOITRE CH PRIEURE LICHINE

Vintage

2013

€/unit

31.00

Available

1

Format

0.75

Packaging

Unit 1

Ratings

Appellation

MARGAUX

Wine

LE CLOITRE CH PRIEURE LICHINE

Vintage

2014

€/unit

33.60

Available

4

Format

0.75

Packaging

Unit 1

Ratings

Appellation

MARGAUX

Wine

LE CLOITRE CH PRIEURE LICHINE

Vintage

2015

€/unit

36.00

Available

1

Format

0.75

Packaging

Unit 1

Ratings

Appellation

MARGAUX

Wine

LE CLOITRE CH PRIEURE LICHINE

Vintage

2017

€/unit

33.00

Available

4

Format

0.75

Packaging

Unit 1

Ratings

Appellation

MARGAUX

Wine

LE CLOITRE CH PRIEURE LICHINE

Vintage

2018

€/unit

32.10

Available

2

Format

0.75

Packaging

Unit 1

Ratings

Appellation

MARGAUX

Wine

LE CLOITRE CH PRIEURE LICHINE

Vintage

2020

€/unit

31.70

Available

> 300

Format

0.75

Packaging

CT 6, Unit 1

Ratings

Appellation

PESSAC LEOGNAN ROUGE

Wine

LE COMTE DE MALARTIC

Vintage

2019

€/unit

32.60

Available

> 300

Format

0.75

Packaging

CT 6

Ratings

Appellation

PESSAC LEOGNAN ROUGE

Wine

LE COMTE DE MALARTIC

Vintage

2020

€/unit

31.70

Available

> 300

Format

0.75

Packaging

CT 6

Ratings

Appellation

PESSAC LEOGNAN ROUGE

Wine

LE COMTE DE MALARTIC

Vintage

2020

€/unit

31.70

Available

4

Format

0.75

Packaging

Unit 1

Ratings

Appellation

PESSAC LEOGNAN ROUGE

Wine

LE COMTE DE MALARTIC

Vintage

2020

€/unit

63.50

Available

228

Format

1.5

Packaging

CB 3

Ratings

Appellation

PESSAC LEOGNAN BLANC

Wine

LE COMTE DE MALARTIC BLC

Vintage

2019

€/unit

33.20

Available

> 300

Format

0.75

Packaging

CT 6

Ratings

Appellation

PESSAC LEOGNAN BLANC

Wine

LE COMTE DE MALARTIC BLC

Vintage

2020

€/unit

31.70

Available

> 300

Format

0.75

Packaging

CT 6, Unit 1

Ratings

Appellation

PESSAC LEOGNAN BLANC

Wine

LE COMTE DE MALARTIC BLC

Vintage

2021

€/unit

30.80

Available

> 300

Format

0.75

Packaging

CT 6, Unit 1

Ratings

Appellation

PESSAC LEOGNAN BLANC

Wine

LE DAUPHIN D'OLIVIER

Vintage

2017

€/unit

25.60

Available

79

Format

0.75

Packaging

CT 6, Unit 1

Ratings

Appellation

PESSAC LEOGNAN ROUGE

Wine

LE DAUPHIN D'OLIVIER

Vintage

2019

€/unit

26.10

Available

> 300

Format

0.75

Packaging

CT 6, Unit 1

Ratings

Appellation

PESSAC LEOGNAN ROUGE

Wine

LE DAUPHIN D'OLIVIER

Vintage

2020

€/unit

27.70

Available

> 300

Format

0.75

Packaging

CT 6

Ratings

Appellation

HAUT MEDOC

Wine

LE HAUT MEDOC DE DAUZAC

Vintage

2014

€/unit

24.20

Available

> 300

Format

0.75

Packaging

CT 6, CT 6

Ratings

Appellation

HAUT MEDOC

Wine

LE HAUT MEDOC DE DAUZAC

Vintage

2015

€/unit

24.00

Available

125

Format

0.75

Packaging

CT 6, Unit 1

Ratings

Appellation

HAUT MEDOC

Wine

LE HAUT MEDOC DE DAUZAC

Vintage

2016

€/unit

17.00

Available

189

Format

0.75

Packaging

CT 6, Unit 1

Ratings

Appellation

HAUT MEDOC

Wine

LE HAUT MEDOC DE DAUZAC

Vintage

2017

€/unit

15.10

Available

> 300

Format

0.75

Packaging

CT 6, Unit 1

Ratings

Appellation

HAUT MEDOC

Wine

LE HAUT MEDOC DE GISCOURS

Vintage

2015

€/unit

32.80

Available

3

Format

0.75

Packaging

Unit 1

Ratings

Appellation

HAUT MEDOC

Wine

LE HAUT MEDOC DE LAGRANGE

Vintage

2014

€/unit

22.00

Available

> 300

Format

0.75

Packaging

CT 6, Unit 1

Ratings

Appellation

HAUT MEDOC

Wine

LE HAUT MEDOC DE LAGRANGE

Vintage

2015

€/unit

22.40

Available

> 300

Format

0.75

Packaging

CT 6

Ratings

Appellation

HAUT MEDOC

Wine

LE HAUT MEDOC DE LAGRANGE

Vintage

2016

€/unit

22.40

Available

> 300

Format

0.75

Packaging

CT 6, Unit 1

Ratings

Appellation

HAUT MEDOC

Wine

LE HAUT MEDOC GISCOURS

Vintage

2016

€/unit

30.10

Available

2

Format

0.75

Packaging

Unit 1

Ratings

Appellation

HAUT MEDOC

Wine

LE HAUT MEDOC GISCOURS

Vintage

2017

€/unit

29.20

Available

5

Format

0.75

Packaging

Unit 1

Ratings

Appellation

HAUT MEDOC

Wine

LE HAUT MEDOC GISCOURS

Vintage

2018

€/unit

29.50

Available

> 300

Format

0.75

Packaging

CT 6

Ratings

Appellation

ST ESTEPHE

Wine

LE MARQUIS DE CALON SEGUR

Vintage

2020

€/unit

53.90

Available

36

Format

0.75

Packaging

CB 6

Ratings

Appellation

ST ESTEPHE

Wine

LE MARQUIS DE CALON SEGUR

Vintage

2021

€/unit

48.30

Available

> 300

Format

0.75

Packaging

CB 12, CB 6

Ratings

Appellation

ST EMILION GRAND CRU

Wine

LE PETIT CHEVAL

Vintage

2018

€/unit

303.20

Available

12

Format

0.75

Packaging

CB 6

Ratings

JS: 94 , AG: 93 , LPB: 92 , JA: 93

Appellation

ST EMILION GRAND CRU

Wine

LE PETIT CHEVAL

Vintage

2019

€/unit

270.20

Available

6

Format

0.75

Packaging

CB 6

Ratings

JS: 96 , AG: 94 , LPB: 94

Appellation

ST EMILION GRAND CRU

Wine

LE PETIT CHEVAL

Vintage

2020

€/unit

270.20

Available

102

Format

0.75

Packaging

CB 6

Ratings

AG: 94 , LPB: 93 , JD: 94

Appellation

ST JULIEN

Wine

LE PETIT LION DE LAS CASES

Vintage

2018

€/unit

137.50

Available

120

Format

0.75

Packaging

CB 6

Ratings

JS: 92-93 , AG: 91-94

Appellation

ST JULIEN

Wine

LE PETIT LION DE LAS CASES

Vintage

2019

€/unit

121.20

Available

36

Format

0.75

Packaging

CB 6

Ratings

JS: 95-96

Appellation

PAUILLAC

Wine

LE PETIT MOUTON DE MR

Vintage

2016

€/unit

475.60

Available

30

Format

0.75

Packaging

CB 6

Ratings

JS: 95

Appellation

PAUILLAC

Wine

LE PETIT MOUTON DE MR

Vintage

2017

€/unit

360.30

Available

66

Format

0.75

Packaging

CB 6

Ratings

JS: 93

Appellation

PAUILLAC

Wine

LE PETIT MOUTON DE MR

Vintage

2018

€/unit

450.10

Available

60

Format

0.75

Packaging

CB 6

Ratings

JS: 97 , AG: 93 , LPB: 93 , JA: 94

Appellation

PAUILLAC

Wine

LE PETIT MOUTON DE MR

Vintage

2019

€/unit

434.60

Available

60

Format

0.75

Packaging

CB 1, CB 6, CB 3

Ratings

JS: 97 , AG: 94 , LPB: 94

Appellation

PAUILLAC

Wine

LE PETIT MOUTON DE MR

Vintage

2020

€/unit

434.60

Available

141

Format

0.75

Packaging

CB 6, CB 3

Ratings

JS: 97 - 98 , AG: 95 , LPB: 93 , JD: 94

Appellation

LALANDE DE POMEROL

Wine

LE PLUS DE LA FLEUR DE BOUARD

Vintage

2005

€/unit

236.90

Available

12

Format

0.75

Packaging

CB 6

Ratings

Appellation

LALANDE DE POMEROL

Wine

LE PLUS DE LA FLEUR DE BOUARD

Vintage

2014

€/unit

108.90

Available

12

Format

0.75

Packaging

CB 6

Ratings

JS: 92 - 93 , AG: 87 - 90

Appellation

BORDEAUX ROSE

Wine

LE ROSE DE POTENSAC

Vintage

2015

€/unit

10.70

Available

> 300

Format

0.75

Packaging

CT 6

Ratings

Appellation

BORDEAUX ROSE

Wine

LE ROSE DE POTENSAC

Vintage

2016

€/unit

10.60

Available

> 300

Format

0.75

Packaging

CT 6

Ratings

Appellation

ST ESTEPHE

Wine

L'ECLAT DE TOUR DE PEZ

Vintage

2014

€/unit

26.20

Available

3

Format

0.75

Packaging

Unit 1

Ratings

Appellation

HAUT MEDOC

Wine

LES ALLEES DE CANTEMERLE

Vintage

2013

€/unit

24.20

Available

> 300

Format

0.75

Packaging

CT 6

Ratings

Appellation

HAUT MEDOC

Wine

LES ALLEES DE CANTEMERLE

Vintage

2018

€/unit

24.20

Available

> 300

Format

0.75

Packaging

CT 6

Ratings

JA: 88

Appellation

HAUT MEDOC

Wine

LES ALLEES DE CANTEMERLE

Vintage

2019

€/unit

25.80

Available

> 300

Format

0.75

Packaging

CT 6

Ratings

Appellation

ST EMILION GRAND CRU

Wine

LES ANGELOTS DE VILLEMAURINE

Vintage

2012

€/unit

26.40

Available

92

Format

0.75

Packaging

CT 6, Unit 1

Ratings

JS: 90 FEB 15

Appellation

ST EMILION GRAND CRU

Wine

LES ANGELOTS DE VILLEMAURINE

Vintage

2013

€/unit

26.10

Available

> 300

Format

0.75

Packaging

CT 6, Unit 1

Ratings

Appellation

BORDEAUX BLANC

Wine

LES ARUMS DE LAGRANGE

Vintage

2014

€/unit

30.80

Available

3

Format

0.75

Packaging

Unit 1

Ratings

Appellation

BORDEAUX BLANC

Wine

LES ARUMS DE LAGRANGE

Vintage

2021

€/unit

37.90

Available

108

Format

0.75

Packaging

CB 6

Ratings

LPB: 88 - 90 , JA: 92

Appellation

ST EMILION GRAND CRU

Wine

LES CHARMES DE GRAND CORBIN

Vintage

2013

€/unit

20.30

Available

> 300

Format

0.75

Packaging

CT 6, Unit 1

Ratings

Appellation

MOULIS

Wine

LES ECLATS DE BRANAS

Vintage

2006

€/unit

26.20

Available

12

Format

0.75

Packaging

Unit 1

Ratings

Appellation

MOULIS

Wine

LES ECLATS DE BRANAS

Vintage

2007

€/unit

23.60

Available

4

Format

0.75

Packaging

Unit 1

Ratings

Appellation

MOULIS

Wine

LES ECLATS DE BRANAS

Vintage

2008

€/unit

26.20

Available

5

Format

0.75

Packaging

Unit 1

Ratings

Appellation

MOULIS

Wine

LES ECLATS DE BRANAS

Vintage

2012

€/unit

26.20

Available

171

Format

0.75

Packaging

CT 6, Unit 1

Ratings

Appellation

MOULIS

Wine

LES ECLATS DE BRANAS

Vintage

2013

€/unit

17.00

Available

> 300

Format

0.75

Packaging

CT 6, Unit 1

Ratings

Appellation

MOULIS

Wine

LES ECLATS DE BRANAS

Vintage

2014

€/unit

24.20

Available

> 300

Format

0.75

Packaging

CT 6

Ratings

Appellation

ST JULIEN

Wine

LES FIEFS DE LAGRANGE

Vintage

2013

€/unit

36.90

Available

3

Format

0.75

Packaging

Unit 1

Ratings

JS: 87 - 88

Appellation

ST JULIEN

Wine

LES FIEFS DE LAGRANGE

Vintage

2017

€/unit

41.30

Available

> 300

Format

0.75

Packaging

CT 6

Ratings

JS: 89 - 90 , LPB: 89

Appellation

ST JULIEN

Wine

LES FIEFS DE LAGRANGE

Vintage

2018

€/unit

44.40

Available

> 300

Format

0.75

Packaging

CB 12

Ratings

JS: 92 - 93 , AG: 88 - 90 , LPB: 91 , JA: 89

Appellation

ST JULIEN

Wine

LES FIEFS DE LAGRANGE

Vintage

2019

€/unit

44.60

Available

> 300

Format

0.75

Packaging

CB 12, CB 6

Ratings

JS: 92 , AG: 91 , LPB: 90

Appellation

ST JULIEN

Wine

LES FIEFS DE LAGRANGE

Vintage

2020

€/unit

40.00

Available

> 300

Format

0.75

Packaging

CB 6

Ratings

JS: 92 , AG: 90 , LPB: 90

Appellation

BORDEAUX BLANC

Wine

LES FLEURS DU LAC

Vintage

2017

€/unit

22.10

Available

33

Format

0.75

Packaging

CT 6, Unit 1

Ratings

Appellation

BORDEAUX BLANC

Wine

LES FLEURS DU LAC

Vintage

2018

€/unit

22.50

Available

287

Format

0.75

Packaging

CT 6, Unit 1

Ratings

Appellation

PAUILLAC

Wine

LES GRIFFONS DE PICHON BARON

Vintage

2017

€/unit

55.40

Available

> 300

Format

0.75

Packaging

CB 6

Ratings

Appellation

PAUILLAC

Wine

LES GRIFFONS DE PICHON BARON

Vintage

2019

€/unit

65.30

Available

> 300

Format

0.75

Packaging

CB 6

Ratings

Appellation

PAUILLAC

Wine

LES GRIFFONS DE PICHON BARON

Vintage

2020

€/unit

60.90

Available

> 300

Format

0.75

Packaging

CB 6

Ratings

Appellation

PAUILLAC

Wine

LES GRIFFONS DE PICHON BARON

Vintage

2020

€/unit

123.10

Available

60

Format

1.5

Packaging

CB 6

Ratings

Appellation

PESSAC LEOGNAN BLANC

Wine

LES HAUTS DE SMITH BLC

Vintage

2014

€/unit

36.00

Available

4

Format

0.75

Packaging

Unit 1

Ratings

JS: 91-92 , AG: 91 - 94

Appellation

PESSAC LEOGNAN BLANC

Wine

LES HAUTS DE SMITH BLC

Vintage

2020

€/unit

98.50

Available

72

Format

1.5

Packaging

CB 6

Ratings

JS: 92 - 93

Appellation

MARGAUX

Wine

LES HAUTS DU TERTRE

Vintage

2012

€/unit

42.60

Available

2

Format

0.75

Packaging

Unit 1

Ratings

Appellation

MARGAUX

Wine

LES HAUTS DU TERTRE

Vintage

2013

€/unit

33.00

Available

10

Format

0.75

Packaging

Unit 1

Ratings

Appellation

MARGAUX

Wine

LES HAUTS DU TERTRE

Vintage

2014

€/unit

36.90

Available

> 300

Format

0.75

Packaging

CB 12, CB 6, Unit 1

Ratings

Appellation

MARGAUX

Wine

LES HAUTS DU TERTRE

Vintage

2018

€/unit

34.40

Available

> 300

Format

0.75

Packaging

CB 6

Ratings

JS: 89-90 , AG: 86-88

Appellation

ST EMILION GRAND CRU

Wine

LES JARDINS DE SOUTARD

Vintage

2014

€/unit

23.60

Available

2

Format

0.75

Packaging

Unit 1

Ratings

Appellation

ST ESTEPHE

Wine

LES PAGODES DE COS

Vintage

2012

€/unit

72.30

Available

48

Format

0.75

Packaging

CB 6

Ratings

JS: 89 - 90

Appellation

ST ESTEPHE

Wine

LES PAGODES DE COS

Vintage

2013

€/unit

60.40

Available

> 300

Format

0.75

Packaging

CB 6

Ratings

JS: 87 - 88

Appellation

ST ESTEPHE

Wine

LES PAGODES DE COS

Vintage

2017

€/unit

63.10

Available

60

Format

0.75

Packaging

CB 6

Ratings

JS: 94 , LPB: 92

Appellation

ST ESTEPHE

Wine

LES PAGODES DE COS

Vintage

2018

€/unit

74.20

Available

90

Format

0.75

Packaging

CB 6

Ratings

JS: 95 , AG: 92 , LPB: 89 , JA: 92

Appellation

ST ESTEPHE

Wine

LES PAGODES DE COS

Vintage

2019

€/unit

74.20

Available

48

Format

0.75

Packaging

CB 12

Ratings

JS: 94 , AG: 93 , LPB: 93

Appellation

ST ESTEPHE

Wine

LES PAGODES DE COS

Vintage

2020

€/unit

65.30

Available

156

Format

0.75

Packaging

CB 6

Ratings

JS: 93 , AG: 93 , LPB: 91 , JD: 94

Appellation

ST ESTEPHE

Wine

LES PAGODES DE COS

Vintage

2020

€/unit

133.60

Available

60

Format

1.5

Packaging

CB 3

Ratings

JS: 93 , AG: 93 , LPB: 91 , JD: 94

Appellation

ST ESTEPHE

Wine

LES PELERINS DE LAFON ROCHET

Vintage

2020

€/unit

35.40

Available

30

Format

0.75

Packaging

CT 6

Ratings

Appellation

HAUT MEDOC

Wine

LES PENSEES DE LA TOUR CARNET

Vintage

2014

€/unit

26.20

Available

1

Format

0.75

Packaging

Unit 1

Ratings

Appellation

ST EMILION GRAND CRU

Wine

LES TERRASSES DE ST CHRISTOPHE

Vintage

2016

€/unit

26.20

Available

7

Format

0.75

Packaging

Unit 1

Ratings

JS: 90 FEB 19

Appellation

ST EMILION GRAND CRU

Wine

LES TERRASSES DE ST CHRISTOPHE

Vintage

2019

€/unit

26.20

Available

2

Format

0.75

Packaging

Unit 1

Ratings

Appellation

ST EMILION GRAND CRU

Wine

LES TERRASSES DE ST CHRISTOPHE

Vintage

2020

€/unit

26.20

Available

150

Format

0.75

Packaging

CT 6

Ratings

Appellation

ST EMILION GRAND CRU

Wine

LES TOURS DE BELCIER

Vintage

2016

€/unit

30.80

Available

81

Format

0.75

Packaging

CT 6, Unit 1

Ratings

JS: 91 FEB 19

Appellation

ST EMILION GRAND CRU

Wine

LES TOURS DE LAROQUE

Vintage

2018

€/unit

25.50

Available

> 300

Format

0.75

Packaging

CT 6, Unit 1

Ratings

Appellation

ST EMILION GRAND CRU

Wine

LES TOURS DE LAROQUE

Vintage

2019

€/unit

25.50

Available

> 300

Format

0.75

Packaging

CT 6

Ratings

Appellation

PESSAC LEOGNAN BLANC

Wine

L'ESPRIT DE CHEVALIER BLANC

Vintage

2017

€/unit

38.70

Available

6

Format

0.75

Packaging

Unit 1

Ratings

JS: 95

Appellation

PESSAC LEOGNAN ROUGE

Wine

L'ESPRIT DE CHEVALIER ROUGE

Vintage

2017

€/unit

35.10

Available

51

Format

0.75

Packaging

CT 6, Unit 1

Ratings

JS: 94

Appellation

PESSAC LEOGNAN ROUGE

Wine

L'ESPRIT DE CHEVALIER ROUGE

Vintage

2018

€/unit

38.70

Available

6

Format

0.75

Packaging

CT 6

Ratings

JS: 95 , AG: 92 , JA: 89

Appellation

SAUTERNES

Wine

L'EXTRAVAGANT DE DOISY DAENE

Vintage

2018

€/unit

246.40

Available

3

Format

0.375

Packaging

CB 1

Ratings

JS: 90 - 91 , JA: 92

Appellation

SAUTERNES

Wine

L'EXTRAVAGANT DE DOISY DAENE

Vintage

2019

€/unit

266.50

Available

3

Format

0.375

Packaging

CB 1

Ratings

JS: 91 - 92

Appellation

HAUT MEDOC

Wine

L'HERITAGE DE CHASSE SPLEEN

Vintage

2016

€/unit

39.10

Available

144

Format

0.75

Packaging

CT 6

Ratings

Appellation

HAUT MEDOC

Wine

L'HERITAGE DE CHASSE SPLEEN

Vintage

2019

€/unit

31.00

Available

198

Format

0.75

Packaging

CT 6

Ratings

Appellation

HAUT MEDOC

Wine

L'HERITAGE DE CHASSE SPLEEN

Vintage

2021

€/unit

26.60

Available

60

Format

0.75

Packaging

CT 6

Ratings

Appellation

BORDEAUX BLANC

Wine

LIONS DE SUDUIRAUT

Vintage

2021

€/unit

23.20

Available

> 300

Format

0.75

Packaging

CT 6

Ratings

Appellation

BORDEAUX BLANC

Wine

LIONS DE SUDUIRAUT

Vintage

2022

€/unit

25.10

Available

> 300

Format

0.75

Packaging

CT 6

Ratings

Appellation

HAUT MEDOC

Wine

L'ORME DE RAUZAN GASSIES

Vintage

2012

€/unit

24.40

Available

> 300

Format

0.75

Packaging

CT 6, Unit 1

Ratings

Appellation

HAUT MEDOC

Wine

L'ORME DE RAUZAN GASSIES

Vintage

2013

€/unit

22.00

Available

> 300

Format

0.75

Packaging

CT 6, Unit 1

Ratings

Appellation

HAUT MEDOC

Wine

L'ORME DE RAUZAN GASSIES

Vintage

2014

€/unit

24.40

Available

2

Format

0.75

Packaging

Unit 1

Ratings

Appellation

ST EMILION GRAND CRU

Wine

LYNSOLENCE

Vintage

2018

€/unit

53.10

Available

48

Format

0.75

Packaging

CB 6

Ratings

JS: 93 , AG: 91 , JA: 92

Appellation

HAUT MEDOC

Wine

MADAME DE BEAUCAILLOU

Vintage

2019

€/unit

29.90

Available

> 300

Format

0.75

Packaging

CT 6, Unit 1

Ratings

Appellation

HAUT MEDOC

Wine

MADAME DE BEAUCAILLOU

Vintage

2020

€/unit

29.90

Available

> 300

Format

0.75

Packaging

CT 6, Unit 1

Ratings

Appellation

MARGAUX

Wine

MARGAUX DE BRANE

Vintage

2017

€/unit

33.20

Available

2

Format

0.75

Packaging

Unit 1

Ratings

Appellation

MARGAUX

Wine

MARGAUX DE BRANE

Vintage

2019

€/unit

33.20

Available

108

Format

0.75

Packaging

CT 6

Ratings

Appellation

MARGAUX

Wine

MARGAUX DE BRANE

Vintage

2020

€/unit

35.40

Available

150

Format

0.75

Packaging

CT 6

Ratings

Appellation

MARGAUX

Wine

MARGAUX DE BRANE

Vintage

2021

€/unit

34.30

Available

300

Format

0.75

Packaging

CT 6

Ratings

Appellation

MARGAUX

Wine

MAROJALLIA

Vintage

2020

€/unit

58.40

Available

228

Format

0.75

Packaging

CB 6

Ratings

JS: 95 , AG: 94 , LPB: 94 , JD: 93

Appellation

HAUT MEDOC

Wine

MAUCAILLOU HAUT MEDOC

Vintage

2016

€/unit

23.20

Available

2

Format

0.75

Packaging

Unit 1

Ratings

Appellation

ST EMILION GRAND CRU

Wine

MONDOT BY TROPLONG MONDOT

Vintage

2018

€/unit

52.00

Available

8

Format

0.75

Packaging

CB 6, Unit 1

Ratings

Appellation

ST EMILION GRAND CRU

Wine

MONDOT BY TROPLONG MONDOT

Vintage

2019

€/unit

52.00

Available

> 300

Format

0.75

Packaging

CT 6

Ratings

Appellation

ST EMILION GRAND CRU

Wine

MONDOT BY TROPLONG MONDOT

Vintage

2020

€/unit

52.00

Available

> 300

Format

0.75

Packaging

CT 6

Ratings

Appellation

HAUT MEDOC

Wine

MOULIN CH LA LAGUNE

Vintage

2019

€/unit

29.90

Available

> 300

Format

0.75

Packaging

CT 6

Ratings

Appellation

HAUT MEDOC

Wine

PAGUS DE LAGRANGE

Vintage

2019

€/unit

24.40

Available

> 300

Format

0.75

Packaging

CT 6, Unit 1

Ratings

Appellation

CAISSE PANACHEE

Wine

PAN 14EXCEPTIONNELS CRUS BOURG

Vintage

2019

€/unit

41.00

Available

> 300

Format

0.75

Packaging

CB 14

Ratings

Appellation

CAISSE PANACHEE

Wine

PAN 14EXCEPTIONNELS CRUS BOURG

Vintage

2020

€/unit

41.00

Available

> 300

Format

0.75

Packaging

CB 14

Ratings

Appellation

CAISSE PANACHEE

Wine

PAN 5 ETOILES SAUTERNES 1ERS

Vintage

2009

€/unit

74.20

Available

80

Format

0.75

Packaging

CB 5

Ratings

Appellation

CAISSE PANACHEE

Wine

PAN 5 ETOILES SAUTERNES 1ERS

Vintage

2017

€/unit

100.00

Available

114

Format

0.75

Packaging

CB 6

Ratings

Appellation

CAISSE PANACHEE

Wine

PAN COFFRET ACTE 1 VALANDRAUD

Vintage

NV

€/unit

344.80

Available

45

Format

0.75

Packaging

CB 3

Ratings

Appellation

CAISSE PANACHEE

Wine

PAN COFFRET EN OR B.MAGREZ

Vintage

2016

€/unit

173.90

Available

4

Format

0.75

Packaging

CB 4

Ratings

Appellation

CAISSE PANACHEE

Wine

PAN COFFRET HAUT BAILLY

Vintage

NV

€/unit

194.70

Available

6

Format

0.75

Packaging

CB 6

Ratings

Appellation

CAISSE PANACHEE

Wine

PAN COFFRET LUNAR LAFITE ROTHS

Vintage

NV

€/unit

514.50

Available

30

Format

0.75

Packaging

CB 6

Ratings

Appellation

ST JULIEN

Wine

PAN COLLECTION CEPAGES DE LLC

Vintage

1988

€/unit

427.80

Available

6

Format

0.75

Packaging

CB 6

Ratings

Appellation

CAISSE PANACHEE

Wine

PAN COLLECTION COUTET

Vintage

NV

€/unit

81.50

Available

84

Format

0.75

Packaging

CB 6

Ratings

Appellation

ST JULIEN

Wine

PAN PARCELLAIRE HAUTS BOIS

Vintage

NV

€/unit

185.90

Available

30

Format

0.75

Packaging

CB 6

Ratings

Appellation

CAISSE PANACHEE

Wine

PAN TROPLONG MONDOT08-18

Vintage

NV

€/unit

211.80

Available

11

Format

0.75

Packaging

CT 11

Ratings

Appellation

BORDEAUX BLANC

Wine

PAVILLON BLC DU CH MARGAUX

Vintage

2014

€/unit

410.70

Available

3

Format

0.75

Packaging

CB 3

Ratings

Appellation

BORDEAUX BLANC

Wine

PAVILLON BLC DU CH MARGAUX

Vintage

2018

€/unit

393.20

Available

1

Format

0.75

Packaging

CB 1

Ratings

LPB: 96

Appellation

BORDEAUX BLANC

Wine

PAVILLON BLC DU CH MARGAUX

Vintage

2019

€/unit

410.50

Available

6

Format

0.75

Packaging

CB 6

Ratings

LPB: 96 , JD: 97

Appellation

MARGAUX

Wine

PAVILLON RGE DU CH MARGAUX

Vintage

2009

€/unit

344.30

Available

180

Format

0.75

Packaging

CB 6

Ratings

JS: 90 - 93 , JA: 93 - 94

Appellation

MARGAUX

Wine

PAVILLON RGE DU CH MARGAUX

Vintage

2014

€/unit

319.40

Available

240

Format

0.75

Packaging

CB 6

Ratings

JS: 92 - 93 , AG: 90 - 92

Appellation

MARGAUX

Wine

PAVILLON RGE DU CH MARGAUX

Vintage

2016

€/unit

328.20

Available

120

Format

0.75

Packaging

CB 1, CB 6

Ratings

JS: 95 , LPB: 95

Appellation

MARGAUX

Wine

PAVILLON RGE DU CH MARGAUX

Vintage

2018

€/unit

311.90

Available

30

Format

0.75

Packaging

CB 6

Ratings

JS: 95 , AG: 94 , LPB: 93 , JA: 93

Appellation

MARGAUX

Wine

PAVILLON RGE DU CH MARGAUX

Vintage

2018

€/unit

616.20

Available

21

Format

1.5

Packaging

CB 3

Ratings

JS: 95 , AG: 94 , LPB: 93 , JA: 93

Appellation

MARGAUX

Wine

PAVILLON RGE DU CH MARGAUX

Vintage

2018

€/unit

1224.10

Available

6

Format

3

Packaging

CB 1

Ratings

JS: 95 , AG: 94 , LPB: 93 , JA: 93

Appellation

MARGAUX

Wine

PAVILLON RGE DU CH MARGAUX

Vintage

2018

€/unit

2405.00

Available

6

Format

6

Packaging

CB 1

Ratings

JS: 95 , AG: 94 , LPB: 93 , JA: 93

Appellation

MARGAUX

Wine

PAVILLON RGE DU CH MARGAUX

Vintage

2019

€/unit

311.90

Available

120

Format

0.75

Packaging

CB 3

Ratings

JS: 96 , AG: 93 , LPB: 94 , JD: 95

Appellation

MARGAUX

Wine

PAVILLON RGE DU CH MARGAUX

Vintage

2020

€/unit

311.90

Available

180

Format

0.75

Packaging

CB 6

Ratings

JS: 96 - 97 , AG: 94 , LPB: 93 , JD: 94

Appellation

BORDEAUX BLANC

Wine

PETIT CHEVAL BLANC

Vintage

2020

€/unit

202.90

Available

36

Format

0.75

Packaging

CB 3

Ratings

Appellation

ST JULIEN

Wine

PETIT DUCRU DE BEAUCAILLOU

Vintage

2020

€/unit

98.50

Available

30

Format

1.5

Packaging

CB 3

Ratings

Appellation

SAINT EMILION

Wine

PETIT SOUTARD

Vintage

2014

€/unit

19.20

Available

> 300

Format

0.75

Packaging

CT 6, Unit 1

Ratings

Appellation

ST JULIEN

Wine

PETITE MARQUISE DU CS MARQUIS

Vintage

2018

€/unit

43.20

Available

18

Format

0.75

Packaging

CB 6

Ratings

Appellation

PAUILLAC

Wine

PICHON COMTESSE RESERVE

Vintage

2019

€/unit

74.20

Available

24

Format

0.75

Packaging

CB 6

Ratings

JS: 93-94

Appellation

GRAVES BLANC

Wine

PRELAT DE PAPE CLEMENT BLANC

Vintage

2018

€/unit

32.10

Available

138

Format

0.75

Packaging

CB 6

Ratings

Appellation

BORDEAUX BLANC

Wine

R RIEUSSEC

Vintage

2015

€/unit

30.30

Available

12

Format

0.75

Packaging

CT 6

Ratings

Appellation

BORDEAUX BLANC

Wine

R RIEUSSEC

Vintage

2022

€/unit

41.00

Available

> 300

Format

0.75

Packaging

CT 6

Ratings

JA: 92

Appellation

ST EMILION GRAND CRU

Wine

RELAIS DE LA DOMINIQUE

Vintage

2014

€/unit

33.50

Available

219

Format

0.75

Packaging

CB 6, Unit 1

Ratings

Appellation

ST EMILION GRAND CRU

Wine

RELAIS DE LA DOMINIQUE

Vintage

2015

€/unit

33.50

Available

14

Format

0.75

Packaging

CB 6, Unit 1

Ratings

Appellation

ST EMILION GRAND CRU

Wine

RELAIS DE LA DOMINIQUE

Vintage

2016

€/unit

33.50

Available

> 300

Format

0.75

Packaging

CB 6

Ratings

JS: 91 FEB 2019

Appellation

ST EMILION GRAND CRU

Wine

RELAIS DE LA DOMINIQUE

Vintage

2018

€/unit

33.50

Available

> 300

Format

0.75

Packaging

CT 6, Unit 1

Ratings

Appellation

ST EMILION GRAND CRU

Wine

RELAIS DE LA DOMINIQUE

Vintage

2019

€/unit

32.10

Available

> 300

Format

0.75

Packaging

CT 6

Ratings

Appellation

ST EMILION GRAND CRU

Wine

RELAIS DE LA DOMINIQUE

Vintage

2020

€/unit

32.10

Available

> 300

Format

0.75

Packaging

CT 6, Unit 1

Ratings

Appellation

PAUILLAC

Wine

RESERVE DE LA COMTESSE

Vintage

2014

€/unit

155.70

Available

60

Format

1.5

Packaging

CB 6

Ratings

JS: 92 , AG: 90 - 92

Appellation

PAUILLAC

Wine

RESERVE DE LA COMTESSE

Vintage

2015

€/unit

81.50

Available

180

Format

0.75

Packaging

CB 6

Ratings

JS: 92 - 93 , AG: 90 - 93 , LPB: 93

Appellation

PAUILLAC

Wine

RESERVE DE LA COMTESSE

Vintage

2016

€/unit

92.60

Available

120

Format

0.75

Packaging

CB 6

Ratings

JS: 94 , LPB: 91

Appellation

BORDEAUX ROUGE

Wine

RONAN BY CLINET

Vintage

2012

€/unit

14.30

Available

> 300

Format

0.75

Packaging

CT 6

Ratings

Appellation

BORDEAUX ROUGE

Wine

RONAN BY CLINET

Vintage

2014

€/unit

9.10

Available

10

Format

0.375

Packaging

Unit 1

Ratings

Appellation

BORDEAUX ROUGE

Wine

RONAN BY CLINET

Vintage

2014

€/unit

10.60

Available

> 300

Format

0.75

Packaging

CT 6, Unit 1

Ratings

Appellation

BORDEAUX ROUGE

Wine

RONAN BY CLINET

Vintage

2015

€/unit

9.10

Available

> 300

Format

0.375

Packaging

CT 12

Ratings

Appellation

BORDEAUX BLANC

Wine

RONAN BY CLINET

Vintage

2017

€/unit

16.00

Available

6

Format

0.75

Packaging

CT 6

Ratings

Appellation

BORDEAUX ROUGE

Wine

RONAN BY CLINET PUR'CAB

Vintage

2015

€/unit

19.90

Available

3

Format

0.75

Packaging

Unit 1

Ratings

Appellation

BORDEAUX ROSE

Wine

ROSE DE CHEVALIER

Vintage

2018

€/unit

17.80

Available

78

Format

0.75

Packaging

CT 6

Ratings

Appellation

BORDEAUX ROSE

Wine

ROSE DE CHEVALIER

Vintage

2021

€/unit

4557.10

Available

120

Format

0.75

Packaging

CT 6

Ratings

Appellation

BORDEAUX ROSE

Wine

ROSE DE CHEVALIER

Vintage

2022

€/unit

19.60

Available

90

Format

0.75

Packaging

CT 6

Ratings

Appellation

BORDEAUX ROSE

Wine

ROSE DE LA SOLITUDE

Vintage

2021

€/unit

35.30

Available

24

Format

1.5

Packaging

CT 3

Ratings

Appellation

MARGAUX

Wine

S DE SIRAN

Vintage

2019

€/unit

31.00

Available

> 300

Format

0.75

Packaging

CT 6

Ratings

Appellation

MARGAUX

Wine

S DE SIRAN

Vintage

2020

€/unit

33.20

Available

> 300

Format

0.75

Packaging

CT 6

Ratings

Appellation

ST JULIEN

Wine

SARGET DE GRUAUD LAROSE

Vintage

2014

€/unit

43.70

Available

2

Format

0.75

Packaging

Unit 1

Ratings

JS: 90 - 91

Appellation

ST JULIEN

Wine

SARGET DE GRUAUD LAROSE

Vintage

2017

€/unit

41.80

Available

6

Format

0.75

Packaging

CT 6

Ratings

JS: 88 - 89

Appellation

ST JULIEN

Wine

SARGET DE GRUAUD LAROSE

Vintage

2019

€/unit

46.50

Available

54

Format

0.75

Packaging

CT 6

Ratings

AG: 88

Appellation

SAUTERNES

Wine

SYMPHONIE DE HAUT-PEYRAGUEY

Vintage

2016

€/unit

33.20

Available

246

Format

0.75

Packaging

CT 6

Ratings

Appellation

SAUTERNES

Wine

SYMPHONIE DE HAUT-PEYRAGUEY

Vintage

2018

€/unit

33.20

Available

144

Format

0.75

Packaging

CT 6

Ratings

JS: 89/90

Appellation

PAUILLAC

Wine

VERSO HAUT BATAILLEY

Vintage

2019

€/unit

38.70

Available

> 300

Format

0.75

Packaging

CB 6

Ratings

Appellation

PAUILLAC

Wine

VERSO HAUT BATAILLEY

Vintage

2020

€/unit

38.70

Available

> 300

Format

0.75

Packaging

CT 6

Ratings

Appellation

ST EMILION GRAND CRU

Wine

VIRGINIE DE VALANDRAUD

Vintage

2016

€/unit

63.10

Available

> 300

Format

0.75

Packaging

CT 6

Ratings

JS: 92-93

Appellation

ST EMILION GRAND CRU

Wine

VIRGINIE DE VALANDRAUD

Vintage

2019

€/unit

50.20

Available

> 300

Format

0.75

Packaging

CT 6

Ratings

JS: 93-94

Appellation

BORDEAUX BLANC

Wine

Y D'YQUEM

Vintage

2020

€/unit

553.40

Available

3

Format

1.5

Packaging

CB 1

Ratings

Appellation

BORDEAUX BLANC

Wine

Y D'YQUEM

Vintage

2021

€/unit

270.20

Available

18

Format

0.75

Packaging

CB 3

Ratings

JS: 97

Appellation

BORDEAUX BLANC

Wine

Y D'YQUEM

Vintage

2021

€/unit

441.80

Available

6

Format

1.5

Packaging

CB 1

Ratings

JS: 97
Investment wines (non-Bordeaux)

Appellation

SONOMA USA - SONOMA COUNTY

Wine

ACAIBO

Vintage

2016

€/unit

81.50

Available/unit

> 300

Format

0.75

Packaging

CB 6

Ratings

Appellation

SONOMA USA - SONOMA COUNTY

Wine

ACAIBO

Vintage

2017

€/unit

81.50

Available/unit

> 300

Format

0.75

Packaging

CB 6

Ratings

Appellation

MENDOZA RGE

Wine

ACHAVAL FERRER FINCA ALTAMIRA

Vintage

2015

€/unit

100.00

Available/unit

5

Format

0.75

Packaging

Unit 1

Ratings

Appellation

MENDOZA RGE

Wine

ACHAVAL FERRER FINCA BELLA VIS

Vintage

2013

€/unit

100.00

Available/unit

> 300

Format

0.75

Packaging

CT 6

Ratings

JS: 95

Appellation

MENDOZA RGE

Wine

ACHAVAL FERRER FINCA BELLA VIS

Vintage

2014

€/unit

100.00

Available/unit

2

Format

0.75

Packaging

Unit 1

Ratings

JS: 94

Appellation

MENDOZA RGE

Wine

ACHAVAL FERRER FINCA BELLA VIS

Vintage

2015

€/unit

100.00

Available/unit

> 300

Format

0.75

Packaging

CT 6, Unit 1

Ratings

Appellation

MENDOZA RGE

Wine

ACHAVAL FERRER FINCA MIRADOR

Vintage

2013

€/unit

100.00

Available/unit

83

Format

0.75

Packaging

CT 6, Unit 1

Ratings

JS: 95

Appellation

MENDOZA RGE

Wine

ACHAVAL FERRER FINCA MIRADOR

Vintage

2014

€/unit

100.00

Available/unit

> 300

Format

0.75

Packaging

CT 6, Unit 1

Ratings

JS: 95

Appellation

MENDOZA RGE

Wine

ACHAVAL FERRER FINCA MIRADOR

Vintage

2015

€/unit

100.00

Available/unit

> 300

Format

0.75

Packaging

CT 6, Unit 1

Ratings

Appellation

TOSCANA ROSSO

Wine

ARIA DI CAIAROSSA VIN BIO ECOC

Vintage

2019

€/unit

42.60

Available/unit

121

Format

0.75

Packaging

CT 6, Unit 1

Ratings

Appellation

PAGO DE ARINZANO TINTO

Wine

ARINZANO GRAN VINO

Vintage

2010

€/unit

88.10

Available/unit

1

Format

0.75

Packaging

Unit 1

Ratings

JS: 91-JUL 2017

Appellation

PAGO DE ARINZANO TINTO

Wine

ARINZANO GRAN VINO

Vintage

2014

€/unit

88.10

Available/unit

78

Format

0.75

Packaging

CB 6

Ratings

Appellation

PAGO DE ARINZANO BLANCO

Wine

ARINZANO GRAN VINO BLANCO

Vintage

2014

€/unit

67.80

Available/unit

43

Format

0.75

Packaging

CB 6, Unit 1

Ratings

Appellation

PAGO DE ARINZANO TINTO

Wine

ARINZANO LA CASONA

Vintage

2010

€/unit

40.70

Available/unit

6

Format

0.75

Packaging

CT 6

Ratings

JS: 91-JUL 2017

Appellation

TOSCANA BIANCO

Wine

CAIAROSSA BIANCO

Vintage

2018

€/unit

40.00

Available/unit

1

Format

0.75

Packaging

Unit 1

Ratings

Appellation

TOSCANA BIANCO

Wine

CAIAROSSA BIANCO

Vintage

2019

€/unit

40.00

Available/unit

1

Format

0.75

Packaging

Unit 1

Ratings

Appellation

TOSCANA BIANCO

Wine

CAIAROSSA BIANCO

Vintage

2020

€/unit

40.00

Available/unit

108

Format

0.75

Packaging

CB 6

Ratings

Appellation

TOSCANA ROSSO

Wine

CAIAROSSA VIN BIO ECOCERT

Vintage

2016

€/unit

66.80

Available/unit

30

Format

0.75

Packaging

CB 6

Ratings

JS: 97

Appellation

TOSCANA ROSSO

Wine

CAIAROSSA VIN BIO ECOCERT

Vintage

2017

€/unit

60.90

Available/unit

> 300

Format

0.75

Packaging

CB 6, Unit 1

Ratings

JS: 93

Appellation

TOSCANA ROSSO

Wine

CAIAROSSA VIN BIO ECOCERT

Vintage

2018

€/unit

67.80

Available/unit

6

Format

0.75

Packaging

CB 6

Ratings

Appellation

TOSCANA ROSSO

Wine

CAIAROSSA VIN BIO ECOCERT

Vintage

2019

€/unit

72.30

Available/unit

> 300

Format

0.75

Packaging

CB 6, Unit 1

Ratings

JS: 96 , JA: 93

Appellation

LIMOUX ROUGE

Wine

CAPITELLE DOMAINE BARONARQUES

Vintage

2015

€/unit

27.90

Available/unit

8

Format

0.75

Packaging

Unit 1

Ratings

Appellation

LIMOUX ROUGE

Wine

CAPITELLE DOMAINE BARONARQUES

Vintage

2017

€/unit

29.30

Available/unit

> 300

Format

0.75

Packaging

CT 12, Unit 1

Ratings

Appellation

LIMOUX ROUGE

Wine

CAPITELLE DOMAINE BARONARQUES

Vintage

2018

€/unit

29.30

Available/unit

> 300

Format

0.75

Packaging

CT 6, Unit 1

Ratings

Appellation

LIMOUX ROUGE

Wine

CAPITELLE DOMAINE BARONARQUES

Vintage

2019

€/unit

29.30

Available/unit

> 300

Format

0.75

Packaging

CB 6

Ratings

Appellation

LIMOUX ROUGE

Wine

CAPITELLE DOMAINE BARONARQUES

Vintage

2020

€/unit

29.90

Available/unit

> 300

Format

0.75

Packaging

CT 12

Ratings

Appellation

LIMOUX ROUGE

Wine

CAPITELLE DOMAINE BARONARQUES

Vintage

2021

€/unit

30.50

Available/unit

> 300

Format

0.75

Packaging

CT 6

Ratings

Appellation

TOSCANA ROSSO

Wine

COLORE

Vintage

2015

€/unit

647.30

Available/unit

44

Format

1.5

Packaging

CB 1

Ratings

JS: 98

Appellation

TOSCANA ROSSO

Wine

COLORE

Vintage

2015

€/unit

1288.80

Available/unit

11

Format

3

Packaging

CB 1

Ratings

JS: 98

Appellation

TOSCANA ROSSO

Wine

COLORE

Vintage

2015

€/unit

2499.10

Available/unit

2

Format

6

Packaging

CB 1

Ratings

JS: 98

Appellation

TOSCANA ROSSO

Wine

COLORE

Vintage

2015

€/unit

5946.40

Available/unit

1

Format

15

Packaging

CB 1

Ratings

JS: 98

Appellation

TOSCANA ROSSO

Wine

COLORE

Vintage

2016

€/unit

335.70

Available/unit

> 300

Format

0.75

Packaging

CB 3

Ratings

JS: 98

Appellation

TOSCANA ROSSO

Wine

COLORE

Vintage

2016

€/unit

335.70

Available/unit

1

Format

0.75

Packaging

Unit 1

Ratings

JS: 98

Appellation

TOSCANA ROSSO

Wine

COLORE

Vintage

2016

€/unit

633.00

Available/unit

90

Format

1.5

Packaging

CB 1

Ratings

JS: 98

Appellation

TOSCANA ROSSO

Wine

COLORE

Vintage

2016

€/unit

1256.40

Available/unit

18

Format

3

Packaging

CB 1

Ratings

JS: 98

Appellation

TOSCANA ROSSO

Wine

COLORE

Vintage

2016

€/unit

2436.40

Available/unit

5

Format

6

Packaging

CB 1

Ratings

JS: 98

Appellation

TOSCANA ROSSO

Wine

COLORE

Vintage

2016

€/unit

5804.50

Available/unit

1

Format

15

Packaging

CB 1

Ratings

JS: 98

Appellation

TOSCANA ROSSO

Wine

COLORE

Vintage

2018

€/unit

335.70

Available/unit

258

Format

0.75

Packaging

CB 3

Ratings

Appellation

TOSCANA ROSSO

Wine

COLORE

Vintage

2018

€/unit

1001.50

Available/unit

9

Format

3

Packaging

CB 1

Ratings

Appellation

TOSCANA ROSSO

Wine

COLORE

Vintage

2018

€/unit

1957.30

Available/unit

1

Format

6

Packaging

CB 1

Ratings

Appellation

TOSCANA ROSSO

Wine

COLORE

Vintage

2019

€/unit

335.70

Available/unit

30

Format

0.75

Packaging

CB 3

Ratings

Appellation

TOSCANA ROSSO

Wine

COLORE

Vintage

2020

€/unit

235.10

Available/unit

> 300

Format

0.75

Packaging

CB 3

Ratings

JS: 98 , JA: 98

Appellation

TOSCANA ROSSO

Wine

COLORE

Vintage

2020

€/unit

481.10

Available/unit

57

Format

1.5

Packaging

CB 1

Ratings

JS: 98 , JA: 98

Appellation

TOSCANA ROSSO

Wine

COLORE

Vintage

2020

€/unit

1001.50

Available/unit

12

Format

3

Packaging

CB 1, Unit 1

Ratings

JS: 98 , JA: 98

Appellation

TOSCANA ROSSO

Wine

COLORE

Vintage

2020

€/unit

1957.30

Available/unit

2

Format

6

Packaging

CB 1

Ratings

JS: 98 , JA: 98

Appellation

TOSCANA ROSSO

Wine

COLORE

Vintage

2020

€/unit

4552.80

Available/unit

1

Format

15

Packaging

CB 1

Ratings

JS: 98 , JA: 98

Appellation

TOSCANA BIANCO

Wine

COLORE BIANCO

Vintage

2021

€/unit

235.10

Available/unit

60

Format

0.75

Packaging

CB 3

Ratings

Appellation

TOSCANA ROSSO

Wine

CONCERTO DI FONTERUTOLI

Vintage

2019

€/unit

63.10

Available/unit

> 300

Format

0.75

Packaging

CB 6, Unit 1

Ratings

JS: 95 , AG: 95

Appellation

TOSCANA ROSSO

Wine

CONCERTO DI FONTERUTOLI

Vintage

2020

€/unit

63.10

Available/unit

> 300

Format

0.75

Packaging

CB 6

Ratings

JS: 96 , AG: 95

Appellation

RIOJA ROUGE

Wine

CVNE REAL DE ASUA

Vintage

2019

€/unit

96.30

Available/unit

> 300

Format

0.75

Packaging

CB 6

Ratings

JS: 97 , JA: 96

Appellation

LIMOUX BLANC

Wine

DOMAINE BARONARQUES CHARDONNAY

Vintage

2015

€/unit

45.40

Available/unit

2

Format

0.75

Packaging

Unit 1

Ratings

Appellation

LIMOUX BLANC

Wine

DOMAINE BARONARQUES CHARDONNAY

Vintage

2016

€/unit

46.50

Available/unit

2

Format

0.75

Packaging

Unit 1

Ratings

Appellation

LIMOUX BLANC

Wine

DOMAINE BARONARQUES CHARDONNAY

Vintage

2017

€/unit

47.60

Available/unit

4

Format

0.75

Packaging

Unit 1

Ratings

Appellation

LIMOUX BLANC

Wine

DOMAINE BARONARQUES CHARDONNAY

Vintage

2018

€/unit

49.80

Available/unit

> 300

Format

0.75

Packaging

CB 6

Ratings

Appellation

LIMOUX BLANC

Wine

DOMAINE BARONARQUES GD V BLANC

Vintage

2018

€/unit

49.80

Available/unit

> 300

Format

0.75

Packaging

CB 6, Unit 1

Ratings

Appellation

LIMOUX BLANC

Wine

DOMAINE BARONARQUES GD V BLANC

Vintage

2018

€/unit

112.50

Available/unit

28

Format

1.5

Packaging

CB 1

Ratings

Appellation

LIMOUX BLANC

Wine

DOMAINE BARONARQUES GD V BLANC

Vintage

2019

€/unit

50.90

Available/unit

6

Format

0.75

Packaging

CB 6

Ratings

Appellation

LIMOUX BLANC

Wine

DOMAINE BARONARQUES GD V BLANC

Vintage

2020

€/unit

55.40

Available/unit

167

Format

0.75

Packaging

CB 6, Unit 1

Ratings

Appellation

LIMOUX BLANC

Wine

DOMAINE BARONARQUES GD V BLANC

Vintage

2021

€/unit

63.10

Available/unit

300

Format

0.75

Packaging

CB 6

Ratings

JS: 95

Appellation

LIMOUX ROUGE

Wine

DOMAINE DE BARONARQUES

Vintage

2011

€/unit

48.30

Available/unit

240

Format

0.75

Packaging

CB 6

Ratings

JA: 92

Appellation

LIMOUX ROUGE

Wine

DOMAINE DE BARONARQUES

Vintage

2011

€/unit

103.70

Available/unit

66

Format

1.5

Packaging

CB 6

Ratings

JA: 92

Appellation

LIMOUX ROUGE

Wine

DOMAINE DE BARONARQUES

Vintage

2014

€/unit

45.40

Available/unit

1

Format

0.75

Packaging

Unit 1

Ratings

Appellation

LIMOUX ROUGE

Wine

DOMAINE DE BARONARQUES

Vintage

2015

€/unit

45.40

Available/unit

1

Format

0.75

Packaging

Unit 1

Ratings

Appellation

LIMOUX ROUGE

Wine

DOMAINE DE BARONARQUES

Vintage

2016

€/unit

48.30

Available/unit

9

Format

0.75

Packaging

CB 6, Unit 1

Ratings

Appellation

LIMOUX ROUGE

Wine

DOMAINE DE BARONARQUES

Vintage

2017

€/unit

49.80

Available/unit

> 300

Format

0.75

Packaging

Unit 1

Ratings

Appellation

LIMOUX ROUGE

Wine

DOMAINE DE BARONARQUES

Vintage

2017

€/unit

49.80

Available/unit

> 300

Format

0.75

Packaging

CB 6

Ratings

Appellation

LIMOUX ROUGE

Wine

DOMAINE DE BARONARQUES

Vintage

2017

€/unit

100.40

Available/unit

36

Format

1.5

Packaging

CB 6

Ratings

Appellation

LIMOUX ROUGE

Wine

DOMAINE DE BARONARQUES

Vintage

2017

€/unit

266.00

Available/unit

6

Format

3

Packaging

CB 1

Ratings

Appellation

LIMOUX ROUGE

Wine

DOMAINE DE BARONARQUES

Vintage

2017

€/unit

513.50

Available/unit

1

Format

6

Packaging

CB 1

Ratings

Appellation

LIMOUX ROUGE

Wine

DOMAINE DE BARONARQUES

Vintage

2018

€/unit

49.80

Available/unit

2

Format

0.75

Packaging

Unit 1

Ratings

Appellation

LIMOUX ROUGE

Wine

DOMAINE DE BARONARQUES

Vintage

2018

€/unit

107.40

Available/unit

36

Format

1.5

Packaging

CB 6

Ratings

Appellation

LIMOUX ROUGE

Wine

DOMAINE DE BARONARQUES

Vintage

2018

€/unit

274.80

Available/unit

6

Format

3

Packaging

CB 1

Ratings

Appellation

LIMOUX ROUGE

Wine

DOMAINE DE BARONARQUES

Vintage

2018

€/unit

415.50

Available/unit

2

Format

5

Packaging

CB 1

Ratings

Appellation

LIMOUX ROUGE

Wine

DOMAINE DE BARONARQUES

Vintage

2018

€/unit

530.40

Available/unit

2

Format

6

Packaging

CB 1

Ratings

Appellation

LIMOUX ROUGE

Wine

DOMAINE DE BARONARQUES

Vintage

2019

€/unit

50.90

Available/unit

> 300

Format

0.75

Packaging

CB 6

Ratings

Appellation

LIMOUX ROUGE

Wine

DOMAINE DE BARONARQUES

Vintage

2020

€/unit

55.40

Available/unit

> 300

Format

0.75

Packaging

CB 6, Unit 1

Ratings

Appellation

LIMOUX ROUGE

Wine

DOMAINE DE BARON'ARQUES

Vintage

2007

€/unit

41.00

Available/unit

3

Format

0.75

Packaging

Unit 1

Ratings

JA: 91

Appellation

AMARONE DELLA VALPOLICELLA DOC

Wine

FIERAMONTE CLASSICO RISERVA

Vintage

2015

€/unit

266.80

Available/unit

237

Format

0.75

Packaging

CB 3

Ratings

JS: 95

Appellation

AMARONE DELLA VALPOLICELLA DOC

Wine

FIERAMONTE CLASSICO RISERVA

Vintage

2015

€/unit

553.40

Available/unit

19

Format

1.5

Packaging

CB 1

Ratings

JS: 95

Appellation

TOSCANA ROSSO

Wine

GALATRONA PETROLO

Vintage

2003

€/unit

294.10

Available/unit

1

Format

1.5

Packaging

CB 1

Ratings

Appellation

TOSCANA ROSSO

Wine

GALATRONA PETROLO

Vintage

2008

€/unit

135.10

Available/unit

2

Format

0.75

Packaging

CT 1

Ratings

Appellation

TOSCANA ROSSO

Wine

GALATRONA PETROLO

Vintage

2008

€/unit

535.80

Available/unit

1

Format

3

Packaging

CB 1

Ratings

Appellation

TOSCANA MERLOT RGE

Wine

GALATRONA PETROLO

Vintage

2010

€/unit

152.30

Available/unit

2

Format

0.75

Packaging

CT 1

Ratings

Appellation

TOSCANA MERLOT RGE

Wine

GALATRONA PETROLO

Vintage

2010

€/unit

613.50

Available/unit

1

Format

3

Packaging

CB 1

Ratings

Appellation

TOSCANA MERLOT RGE

Wine

GALATRONA PETROLO

Vintage

2011

€/unit

257.60

Available/unit

3

Format

1.5

Packaging

CB 1

Ratings

Appellation

TOSCANA MERLOT RGE

Wine

GALATRONA PETROLO

Vintage

2012

€/unit

252.30

Available/unit

1

Format

1.5

Packaging

CB 1

Ratings

Appellation

VAL D ARNO DI SOPRA RG

Wine

GALATRONA PETROLO

Vintage

2013

€/unit

550.70

Available/unit

1

Format

3

Packaging

CB 1

Ratings

Appellation

VAL D ARNO DI SOPRA RG

Wine

GALATRONA PETROLO

Vintage

2017

€/unit

103.30

Available/unit

6

Format

0.75

Packaging

CB 6

Ratings

JS: 94-95

Appellation

VAL D ARNO DI SOPRA RG

Wine

GALATRONA PETROLO

Vintage

2017

€/unit

218.60

Available/unit

90

Format

1.5

Packaging

CB 1

Ratings

JS: 94-95

Appellation

VAL D ARNO DI SOPRA RG

Wine

GALATRONA PETROLO

Vintage

2017

€/unit

413.40

Available/unit

23

Format

3

Packaging

CB 1

Ratings

JS: 94-95

Appellation

VAL D ARNO DI SOPRA RG

Wine

GALATRONA PETROLO

Vintage

2017

€/unit

791.10

Available/unit

6

Format

6

Packaging

CB 1

Ratings

JS: 94-95

Appellation

TOSCANA ROSSO

Wine

GALATRONA PETROLO

Vintage

2020

€/unit

114.00

Available/unit

54

Format

0.75

Packaging

CT 6

Ratings

Appellation

TOSCANA ROSSO

Wine

GALATRONA PETROLO

Vintage

2020

€/unit

244.30

Available/unit

63

Format

1.5

Packaging

CT 1

Ratings

Appellation

TOSCANA ROSSO

Wine

GALATRONA PETROLO

Vintage

2020

€/unit

471.60

Available/unit

24

Format

3

Packaging

CB 1

Ratings

Appellation

TOSCANA ROSSO

Wine

GALATRONA PETROLO

Vintage

2020

€/unit

902.20

Available/unit

3

Format

6

Packaging

CB 1

Ratings

Appellation

TOSCANA ROSSO

Wine

GALATRONA PETROLO

Vintage

2020

€/unit

2081.90

Available/unit

1

Format

12

Packaging

CB 1

Ratings

Appellation

TOSCANA ROSSO

Wine

GALATRONA PETROLO

Vintage

2020

€/unit

3076.20

Available/unit

1

Format

18

Packaging

CB 1

Ratings

Appellation

TOSCANA ROSSO

Wine

GALATRONA PETROLO VIN BIO ECO

Vintage

2018

€/unit

135.10

Available/unit

78

Format

0.75

Packaging

CT 6

Ratings

Appellation

TOSCANA ROSSO

Wine

GALATRONA PETROLO VIN BIO ECO

Vintage

2018

€/unit

252.30

Available/unit

80

Format

1.5

Packaging

CT 1

Ratings

Appellation

TOSCANA ROSSO

Wine

GALATRONA PETROLO VIN BIO ECO

Vintage

2018

€/unit

503.80

Available/unit

9

Format

3

Packaging

CB 1

Ratings

Appellation

TOSCANA ROSSO

Wine

GALATRONA PETROLO VIN BIO ECO

Vintage

2018

€/unit

996.30

Available/unit

4

Format

6

Packaging

CB 1

Ratings

Appellation

TOSCANA ROSSO

Wine

GALATRONA PETROLO VIN BIO ECO

Vintage

2019

€/unit

126.40

Available/unit

90

Format

0.75

Packaging

CT 6

Ratings

Appellation

TOSCANA ROSSO

Wine

GALATRONA PETROLO VIN BIO ECO

Vintage

2019

€/unit

439.10

Available/unit

1

Format

3

Packaging

CB 1

Ratings

Appellation

PAGO DE ARINZANO BLANCO

Wine

HACIENDA DE ARINZANO BLANCO

Vintage

2016

€/unit

26.20

Available/unit

3

Format

0.75

Packaging

Unit 1

Ratings

JS: 91

Appellation

PAGO DE ARINZANO BLANCO

Wine

HACIENDA DE ARINZANO BLANCO

Vintage

2018

€/unit

22.50

Available/unit

164

Format

0.75

Packaging

CT 12, Unit 1

Ratings

Appellation

COLCHAGUA VALLEY

Wine

KOYLE AUMA BIO ORGANIC

Vintage

2014

€/unit

72.90

Available/unit

> 300

Format

0.75

Packaging

CB 6

Ratings

Appellation

RIBERA DEL DUERO DO RG

Wine

LA FLEUR VIVALTUS

Vintage

2016

€/unit

51.40

Available/unit

> 300

Format

0.75

Packaging

CB 1, CB 3, CB 6

Ratings

Appellation

RIBERA DEL DUERO DO RG

Wine

LA FLEUR VIVALTUS

Vintage

2016

€/unit

102.60

Available/unit

87

Format

1.5

Packaging

CB 3

Ratings

Appellation

RIBERA DEL DUERO DO RG

Wine

LA FLEUR VIVALTUS

Vintage

2016

€/unit

266.00

Available/unit

40

Format

3

Packaging

CB 1

Ratings

Appellation

RIBERA DEL DUERO DO RG

Wine

LA FLEUR VIVALTUS

Vintage

2016

€/unit

408.40

Available/unit

8

Format

5

Packaging

CB 1

Ratings

Appellation

RIBERA DEL DUERO DO RG

Wine

LA FLEUR VIVALTUS

Vintage

2017

€/unit

51.40

Available/unit

> 300

Format

0.75

Packaging

CB 6

Ratings

Appellation

RIBERA DEL DUERO DO RG

Wine

LA FLEUR VIVALTUS

Vintage

2017

€/unit

51.40

Available/unit

41

Format

0.75

Packaging

Unit 1

Ratings

Appellation

RIBERA DEL DUERO DO RG

Wine

LA FLEUR VIVALTUS

Vintage

2017

€/unit

102.60

Available/unit

78

Format

1.5

Packaging

CB 3

Ratings

Appellation

RIBERA DEL DUERO DO RG

Wine

LA FLEUR VIVALTUS

Vintage

2017

€/unit

266.00

Available/unit

15

Format

3

Packaging

CB 1

Ratings

Appellation

RIBERA DEL DUERO DO RG

Wine

LA FLEUR VIVALTUS

Vintage

2017

€/unit

408.40

Available/unit

3

Format

5

Packaging

CB 1

Ratings

Appellation

VERONESE IGT

Wine

LA POJA

Vintage

2017

€/unit

108.90

Available/unit

> 300

Format

0.75

Packaging

CB 6

Ratings

JS: 95

Appellation

VERONESE IGT

Wine

LA POJA

Vintage

2017

€/unit

108.90

Available/unit

2

Format

0.75

Packaging

Unit 1

Ratings

JS: 95

Appellation

VERONESE IGT

Wine

LA POJA

Vintage

2017

€/unit

235.40

Available/unit

30

Format

1.5

Packaging

CB 1

Ratings

JS: 95

Appellation

VERONESE IGT

Wine

LA POJA

Vintage

2017

€/unit

495.30

Available/unit

5

Format

3

Packaging

CB 1

Ratings

JS: 95

Appellation

TOKAJ BLC

Wine

LADIVA FURMINT DRY

Vintage

2016

€/unit

14.90

Available/unit

78

Format

0.75

Packaging

CT 6

Ratings

Appellation

MENDOZA RGE

Wine

LAS NOTAS DE JEAN CLAUDE

Vintage

2013

€/unit

89.90

Available/unit

> 300

Format

0.75

Packaging

CB 6, Unit 1

Ratings

Appellation

PASO ROBLES

Wine

L'AVENTURE OPTIMUS

Vintage

2000

€/unit

52.30

Available/unit

2

Format

0.75

Packaging

Unit 1

Ratings

Appellation

CHAMPAGNE

Wine

LOUIS ROEDERER CUVEE CRISTAL

Vintage

2015

€/unit

434.60

Available/unit

12

Format

0.75

Packaging

CT 6

Ratings

Appellation

MENDOZA RGE

Wine

LTU

Vintage

2012

€/unit

61.30

Available/unit

2

Format

0.75

Packaging

Unit 1

Ratings

JS: 93-JUN 2017

Appellation

MENDOZA RGE

Wine

LTU

Vintage

2015

€/unit

61.30

Available/unit

> 300

Format

0.75

Packaging

CT 6, Unit 1

Ratings

JS: 93-MAR 2019

Appellation

NAPA VALLEY TINTO

Wine

MORLET "COEUR DE VALLEY" OAKVI

Vintage

2019

€/unit

262.50

Available/unit

> 300

Format

0.75

Packaging

CT 6

Ratings

AG: 95 -2022 , JA: 96 - 2022

Appellation

TOSCANA ROSSO

Wine

ORMA

Vintage

2017

€/unit

85.20

Available/unit

> 300

Format

0.75

Packaging

CB 6, Unit 1

Ratings

JS: 95-96

Appellation

TOSCANA ROSSO

Wine

ORMA

Vintage

2017

€/unit

331.50

Available/unit

24

Format

3

Packaging

CB 1

Ratings

JS: 95-96

Appellation

TOSCANA ROSSO

Wine

ORMA

Vintage

2017

€/unit

664.30

Available/unit

6

Format

6

Packaging

CB 1

Ratings

JS: 95-96

Appellation

TOSCANA ROSSO

Wine

ORMA

Vintage

2018

€/unit

85.20

Available/unit

6

Format

0.75

Packaging

CB 6

Ratings

JS: 96

Appellation

TOSCANA ROSSO

Wine

ORMA

Vintage

2018

€/unit

167.80

Available/unit

36

Format

1.5

Packaging

CB 1

Ratings

JS: 96

Appellation

TOSCANA ROSSO

Wine

ORMA

Vintage

2018

€/unit

331.50

Available/unit

6

Format

3

Packaging

CB 1

Ratings

JS: 96

Appellation

TOSCANA ROSSO

Wine

ORMA

Vintage

2018

€/unit

664.30

Available/unit

1

Format

6

Packaging

CB 1

Ratings

JS: 96

Appellation

TOSCANA ROSSO

Wine

ORMA

Vintage

2019

€/unit

85.20

Available/unit

192

Format

0.75

Packaging

CB 6

Ratings

JS: 97

Appellation

TOSCANA ROSSO

Wine

ORMA

Vintage

2019

€/unit

167.80

Available/unit

73

Format

1.5

Packaging

CB 1

Ratings

JS: 97

Appellation

TOSCANA ROSSO

Wine

ORMA

Vintage

2019

€/unit

331.50

Available/unit

4

Format

3

Packaging

CB 1

Ratings

JS: 97

Appellation

TOSCANA ROSSO

Wine

ORMA

Vintage

2019

€/unit

664.30

Available/unit

2

Format

6

Packaging

CB 1

Ratings

JS: 97

Appellation

TOSCANA ROSSO

Wine

ORMA

Vintage

2020

€/unit

86.20

Available/unit

> 300

Format

0.75

Packaging

CB 6

Ratings

JS: 97

Appellation

TOSCANA ROSSO

Wine

ORMA

Vintage

2020

€/unit

180.80

Available/unit

120

Format

1.5

Packaging

CB 1

Ratings

JS: 97

Appellation

TOSCANA ROSSO

Wine

ORMA

Vintage

2020

€/unit

352.60

Available/unit

12

Format

3

Packaging

CB 1

Ratings

JS: 97

Appellation

TOSCANA ROSSO

Wine

ORMA

Vintage

2020

€/unit

717.30

Available/unit

2

Format

6

Packaging

CB 1

Ratings

JS: 97

Appellation

CAISSE PANACHEE

Wine

PAN BALOCCHI DI COLORE

Vintage

2020

€/unit

1595.80

Available/unit

96

Format

0.75

Packaging

CB 6

Ratings

Appellation

TOSCANA ROSSO

Wine

PAN COLORE 20EME ANNIV

Vintage

NV

€/unit

317.70

Available/unit

60

Format

0.75

Packaging

CB 6

Ratings

Appellation

TOSCANA ROSSO

Wine

PAN TESTAMATTA 20E ANN

Vintage

NV

€/unit

135.10

Available/unit

96

Format

0.75

Packaging

CB 6

Ratings

Appellation

TOSCANA ROSSO

Wine

PERGOLAIA VIN BIO ECOCERT

Vintage

2019

€/unit

32.60

Available/unit

78

Format

0.75

Packaging

CT 6

Ratings

Appellation

VAL D ARNO DI SOPRA RG

Wine

PETROLO BOGGINA C

Vintage

2020

€/unit

88.90

Available/unit

> 300

Format

0.75

Packaging

CT 6

Ratings

JS: 95

Appellation

BARBARESCO

Wine

PIO CESARE BARBARESCO

Vintage

2013

€/unit

85.20

Available/unit

6

Format

0.75

Packaging

CT 6

Ratings

Appellation

BOLGHERI SASSICAIA DOC RGE

Wine

SASSICAIA

Vintage

2019

€/unit

499.40

Available/unit

12

Format

0.75

Packaging

CB 12

Ratings

Appellation

TOSCANA ROSSO

Wine

SIEPI

Vintage

2016

€/unit

103.30

Available/unit

6

Format

0.75

Packaging

CB 6

Ratings

JS: 98

Appellation

TOSCANA ROSSO

Wine

SIEPI

Vintage

2017

€/unit

103.30

Available/unit

> 300

Format

0.75

Packaging

CB 6

Ratings

JS: 94-95

Appellation

TOSCANA ROSSO

Wine

SIEPI

Vintage

2017

€/unit

210.50

Available/unit

8

Format

1.5

Packaging

CB 1

Ratings

JS: 94-95

Appellation

TOSCANA ROSSO

Wine

SIEPI

Vintage

2017

€/unit

422.00

Available/unit

1

Format

3

Packaging

CB 1

Ratings

JS: 94-95

Appellation

TOSCANA ROSSO

Wine

SIEPI

Vintage

2017

€/unit

815.60

Available/unit

1

Format

6

Packaging

CB 1

Ratings

JS: 94-95

Appellation

TOSCANA ROSSO

Wine

SIEPI

Vintage

2018

€/unit

815.60

Available/unit

1

Format

6

Packaging

CB 1

Ratings

Appellation

TOSCANA ROSSO

Wine

SIEPI

Vintage

2019

€/unit

126.40

Available/unit

> 300

Format

0.75

Packaging

CB 6

Ratings

Appellation

TOSCANA ROSSO

Wine

SIEPI

Vintage

2019

€/unit

210.50

Available/unit

6

Format

1.5

Packaging

CB 1

Ratings

Appellation

TOSCANA ROSSO

Wine

SIEPI

Vintage

2020

€/unit

110.30

Available/unit

> 300

Format

0.75

Packaging

CB 6

Ratings

JS: 98

Appellation

TOSCANA ROSSO

Wine

SIEPI

Vintage

2020

€/unit

225.70

Available/unit

27

Format

1.5

Packaging

CB 1

Ratings

JS: 98

Appellation

TOSCANA ROSSO

Wine

SIEPI

Vintage

2020

€/unit

454.50

Available/unit

1

Format

3

Packaging

CB 1

Ratings

JS: 98

Appellation

TOSCANA ROSSO

Wine

SIEPI

Vintage

2020

€/unit

889.20

Available/unit

1

Format

6

Packaging

CB 1

Ratings

JS: 98

Appellation

TOSCANA ROSSO

Wine

TESTAMATTA

Vintage

2016

€/unit

126.40

Available/unit

294

Format

0.75

Packaging

CB 6

Ratings

JS: 98

Appellation

TOSCANA ROSSO

Wine

TESTAMATTA

Vintage

2016

€/unit

446.00

Available/unit

21

Format

3

Packaging

CB 1

Ratings

JS: 98

Appellation

TOSCANA ROSSO

Wine

TESTAMATTA

Vintage

2016

€/unit

853.40

Available/unit

5

Format

6

Packaging

CB 1

Ratings

JS: 98

Appellation

TOSCANA ROSSO

Wine

TESTAMATTA

Vintage

2018

€/unit

126.40

Available/unit

42

Format

0.75

Packaging

CB 6

Ratings

Appellation

TOSCANA ROSSO

Wine

TESTAMATTA

Vintage

2018

€/unit

807.50

Available/unit

7

Format

6

Packaging

CB 1

Ratings

Appellation

TOSCANA ROSSO

Wine

TESTAMATTA

Vintage

2019

€/unit

126.40

Available/unit

> 300

Format

0.75

Packaging

CB 6

Ratings

Appellation

TOSCANA ROSSO

Wine

TESTAMATTA

Vintage

2019

€/unit

210.50

Available/unit

78

Format

1.5

Packaging

CB 1

Ratings

Appellation

TOSCANA ROSSO

Wine

TESTAMATTA

Vintage

2019

€/unit

422.00

Available/unit

15

Format

3

Packaging

CB 1

Ratings

Appellation

TOSCANA ROSSO

Wine

TESTAMATTA

Vintage

2019

€/unit

807.50

Available/unit

6

Format

6

Packaging

CB 1

Ratings

Appellation

TOSCANA ROSSO

Wine

TESTAMATTA

Vintage

2020

€/unit

117.70

Available/unit

> 300

Format

0.75

Packaging

CB 6

Ratings

JS: 94 , JA: 97

Appellation

TOSCANA ROSSO

Wine

TESTAMATTA

Vintage

2020

€/unit

117.70

Available/unit

5

Format

0.75

Packaging

Unit 1

Ratings

JS: 94 , JA: 97

Appellation

TOSCANA ROSSO

Wine

TESTAMATTA

Vintage

2020

€/unit

193.40

Available/unit

109

Format

1.5

Packaging

CB 1

Ratings

JS: 94 , JA: 97

Appellation

TOSCANA ROSSO

Wine

TESTAMATTA

Vintage

2020

€/unit

406.30

Available/unit

19

Format

3

Packaging

CB 1

Ratings

JS: 94 , JA: 97

Appellation

TOSCANA ROSSO

Wine

TESTAMATTA

Vintage

2020

€/unit

777.70

Available/unit

3

Format

6

Packaging

CB 1

Ratings

JS: 94 , JA: 97

Appellation

TOSCANA ROSSO

Wine

TESTAMATTA

Vintage

2020

€/unit

2021.50

Available/unit

1

Format

15

Packaging

CB 1

Ratings

JS: 94 , JA: 97

Appellation

RIBERA DEL DUERO DO RG

Wine

VIVALTUS

Vintage

2016

€/unit

133.20

Available/unit

65

Format

0.75

Packaging

CB 6, Unit 1

Ratings

Appellation

RIBERA DEL DUERO DO RG

Wine

VIVALTUS

Vintage

2016

€/unit

942.10

Available/unit

1

Format

5

Packaging

CB 1

Ratings

Appellation

RIBERA DEL DUERO DO RG

Wine

VIVALTUS

Vintage

2017

€/unit

114.00

Available/unit

> 300

Format

0.75

Packaging

CB 6

Ratings

Appellation

RIBERA DEL DUERO DO RG

Wine

VIVALTUS

Vintage

2017

€/unit

114.00

Available/unit

12

Format

0.75

Packaging

Unit 1

Ratings

Appellation

RIBERA DEL DUERO DO RG

Wine

VIVALTUS

Vintage

2017

€/unit

220.30

Available/unit

90

Format

1.5

Packaging

CB 3

Ratings

Appellation

RIBERA DEL DUERO DO RG

Wine

VIVALTUS

Vintage

2017

€/unit

507.10

Available/unit

12

Format

3

Packaging

CB 1

Ratings

Appellation

RIBERA DEL DUERO DO RG

Wine

VIVALTUS

Vintage

2017

€/unit

784.90

Available/unit

3

Format

5

Packaging

CB 1

Ratings

Appellation

COONAWARRA

Wine

WYNNS JOHN RIDDOCH

Vintage

2018

€/unit

130.50

Available/unit

> 300

Format

0.75

Packaging

CB 6, Unit 1

Ratings

Appellation

COONAWARRA

Wine

WYNNS JOHN RIDDOCH

Vintage

2019

€/unit

133.20

Available/unit

> 300

Format

0.75

Packaging

CB 6

Ratings

JS: 95 , JA: 96