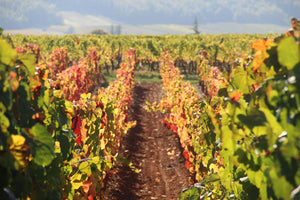 We offer an en primeur service allowing you to buy good Bordeaux at a special pre-release price (even before the wine has been bottled).

In the year after the vintage, you pay in full for your selections at an ex-tax, ex-duty price. When the wine has been bottled, it is delivered to our bonded warehouse in Cork.
Once your goods have arrived, you can then choose to release them from bond by paying the applicable duty and tax (currently €3.19 per 75 cl bottle of still wine, and double for sparkling wines; Irish VAT on these items is currently @ 21%).
If you're not collecting your purchase yourself, we'll be happy to discuss onward delivery within Ireland.

Alternatively, you may wish to discuss with us the possibility of further storage in our warehouse.
When you buy en primeur you are participating in a futures market. It pays to 'study the form' of the wines you are interested in and keep a close eye on what the critics have to say. If your concern is to lay in some bottles from a favourite estate at a good price, the eventual market value of your choice may not matter too much; but if you are buying as an investment, it's well worth also investing some time in research.
We aim to offer a friendly service if any of the wines on our list are of interest to you. 
Please note:
Initial enquiries should be made by telephone or placed through our office by e-mail.
We supply these wines under bond, in full cases only. A small handling and shipping charge will apply if you need onward delivery in Ireland.
Orders will be shipped from Bordeaux on release—we will let you know when your purchase arrives in Cork.
Don't hesitate to get in touch if you need any further information or advice.