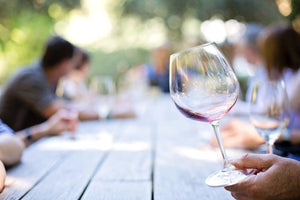 There's no business like the wine business...
and this is the space to watch if you'd like to be a part of a lively, independent wine company
Based in Cork but with a national reputation for great wines and great service. Any vacancies we have (what's seldom is wonderful) are posted here first.
From time to time we welcome international students on placement from wine-related degree courses and so on. If you don't have access to one of those schemes, but have appropriate skills and would like to get some experience of the Irish wine trade in a small, busy company as an 'intern' – please do get in touch.
Fancy a taste of what we do?
We need some temporary help in our busy English Market shop in Cork's city centre.
We are looking for someone with some wine knowledge, retail experience and really good customer service skills to work with us one day a week (maybe more) until the end of the year. 
Please do get in touch with Ross in the shop if you're interested, or write to us if you would like to know more.
Based in Cork, Bubble Brothers has been selling fine wines and champagnes to the Irish on-trade and retail markets for twenty years.
As the company embarks on its next phase of growth, we are seeking a dynamic Key Accounts Sales Manager with an established record in wine sales.
Reporting to the Managing Director, the successful candidate will join a small, motivated team and help to drive the company's growth by selling to key retail, hospitality and restaurant accounts throughout Ireland.
This is an exciting opportunity to develop your career while playing a key role in our rapidly expanding business.
We expect to appoint someone who can demonstrate:
good wine knowledge
3-5 years sales experience
professional presence
excellent time management
strong organizational skills
self-motivation
If you're interested, please send us a line or two to introduce yourself and we'll be in touch.
Love selling wine?
We need a retail sales and operations manager for our busy English Market shop in Cork's city centre.
The person we choose will have a lively, current knowledge of wine, as well as the ability to convert relevant experience in a similar role, and their own genuine enthusiasm, into sales by exceeding the expectations of customers new and old.
About Bubble Brothers:
We have been importing and selling wine for more than twenty years, offering an alternative to the ubiquitous brands by working closely with wineries in Europe and further afield to develop a tempting and varied portfolio of delicious and interesting wines, on sale from bubblebrothers.ie, chosen retailers around Ireland, and our own outlets in Cork: the English Market shop and Little Island collection point.
We are a small team, hard-working, energetic and self-reliant.
We need someone who can:
Promote Bubble Brothers' reputation as a friendly place to buy great wine
Open and close the shop, and cash up
Work with the MD to develop marketing strategies and meet sales targets
Manage stock, placing orders and receiving deliveries
Keep the shelves looking good, and design and refresh promotional displays
Contribute to social media
Join in with other BB events as an adaptable member of a small team
You will need:
An instinct for memorably excellent customer service
A good knowledge of wine (preferably a WSET qualification)
Retail or other sales experience
Familiarity with MS Office and, ideally, Sage
A certain cheery resilience
This job is what you make it.
If you'd like to make it into something amazing, write to jobs@bubblebrothers.ie and convince us.
We're looking for an experienced accounts person to cover maternity leave from the 1st February, 2017.
The position is part-time and flexible (sixteen hours a week) and the salary is €12/hour.
You will need at least four years experience in accounting and bookkeeping, and preferably a recognized accounting qualification.
The job involves, amongst other duties:
General accounts duties using Sage 50 Accounts: Accounts payable & receivable
Bank reconciliations
Online banking
Invoice discounting
Payroll using Thesaurus
Direct Debit collection
Annual P30 returns
Annual VAT 3 returns
P35 & year end accounts
Preparation of monthly management accounts
General office administration
We're a small, busy team, so if you are interested in what we do and happy to be a bit adaptable, so much the better.
Send a cv to jobs [at] bubblebrothers.com and we'll be in touch.