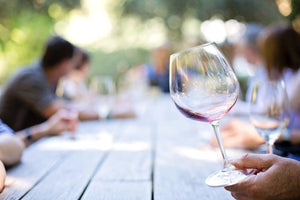 Bubble Brothers began in 1997 with just bubbles, and a lively desire to share those first exciting wine discoveries.

Since the early days, it's been our business to find distinctive and delicious wines and to keep up with evolving tastes in food and drink in Ireland. From our base in Cork we offer a friendly, independent and forward-looking approach to importing, distributing and retailing fine wine and champagne.
Along the way, our reputation for finding and promoting unfamiliar, authentic wines has grown. We work with a number of smaller wineries around the world, but we are also agents for internationally recognized brands, and offer a range of 'investment' wines and an en primeur service through our connexions in Bordeaux.
As well as browsing and buying direct through this website, you can visit the Bubble Brothers stall in Cork's famous English Market (from which we also sell a range of cigars) and get first-hand advice on all our wines, including ideas of what to match with the amazing variety of produce available from the Market's other independent traders.
A small staff of enthusiasts manages all aspects of our business, dealing with suppliers, shippers, retail and trade customers from warehouse offices in Little Island.
We like to help. Just drop a line or give us a call with any enquiries you may have about our products or services.
Meet the team
Billy Forrester
Managing Director

The original. More than a hint of sparkle, with impressive complexity and persistence.
Billy is the managing director of Bubble Brothers. He does everything (and more). If you absolutely must go straight to the top, he's the one to ask for.
LinkedIn Profile
Julian Alubaidy
Customer and Supplier Service

Zesty, light-bodied and versatile, with subtle attack and a lingering finish.
Julian takes care of the website, marketing, communications and an ever-changing variety of office and warehouse jobs.
LinkedIn Profile
JOHN PASSMORE
English Market and Operations

Immediately approachable but never overstated, a great all-rounder from sunny climes.
John runs our English Market shop, behind the counter and also behind the scenes, where his wide business experience is invaluable.
LinkedIn Profile
Billy Forrester and the staff at Bubble Brothers are a pleasure to deal with. Even for last minute orders, which is the norm for me. The finished product is always professionally done and to the highest standard. I have used Bubble Brothers for the last few years and I have to say they are so professional they take the hassle out of buying gifts. Whether you are buying one bottle or twenty you are treated with the same professional courtesy. I cannot recommend them enough.

Yvonne Fenlon Office Manager

McCarthy Developments
Wonderful selection of wines, they handpicked my selection for Christmas to take the pain out of choosing. Great value for top quality wine. Very attentive and helpful, matched quality with budget every time. There should be a sixth star for Bubble Brother reviews!

Tim Starr
What a wonderful service! Wow! I went on to your website on Wednesday looking to send a bottle of champagne to Kildare for a special engagement. I didn't realise personalising the bottle label was an option! Not only did it make the gift even more special but it was literally delivered 24 hours later! I couldn't believe it. Easy to use website. Fabulous gift. Thrilled recipients. Delighted customer :) Thank you!

Eavan